Kevin Smith loves many things—movies, comic books, hockey. But there are few things he speaks as passionately about as his home state of New Jersey and his love of smoking cannabis. In his films, he frequently combines the two, dating all the way back to his debut feature, 1994's Clerks, which introduced the iconic recurring characters of pot-smoking slackers Jay and Silent Bob and was set in the Garden State.
On Tuesday night, Smith took to Twitter to rejoice the news that voters in New Jersey approved the ballot measure to allow the recreational use of marijuana for adults.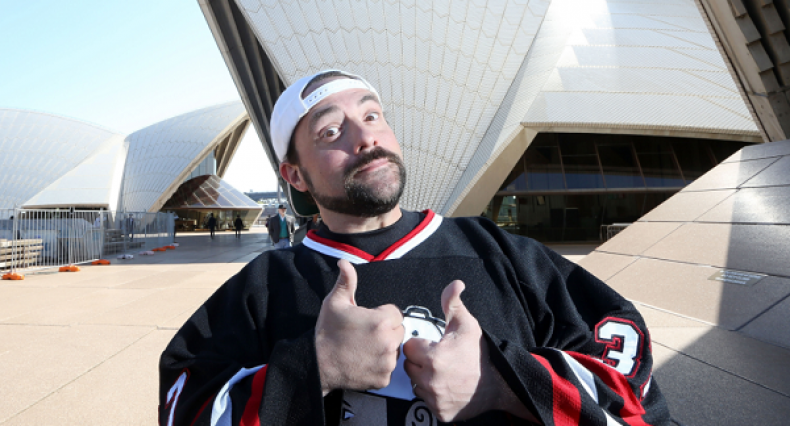 Smith tweeted the following congratulatory post while also sharing a message from the state's governor, Phil Murphy, who excitedly announced the news:
Mississippi, South Dakota, Montana and Arizona also passed similar measures in regards to marijuana on Tuesday. Even still, this ballot vote marks only the first move in the process to change a state's policy. Next, the state legislatures normally have to set up regulatory structures. The five states that voted in approval of recreational use of marijuana on Tuesday join 11 other states that currently have legalized full, adult marijuana use in the U.S. More than half of the country's states, meanwhile, have medical cannabis laws in place.
New Jersey is one such state where medical use is already legal. After state lawmakers failed to pass a bill to fully legalize marijuana in May 2019, they agreed to place the question directly to voters on Tuesday: "Do you approve amending the Constitution to legalize a controlled form of marijuana called 'cannabis'?"
The move to legalize marijuana in New Jersey is putting pressure on neighboring states New York and Pennsylvania to make a similar move, though the pandemic has been blamed for slowing those efforts. Adding to that conversation, New York City's mayor, Bill de Blasio, tweeted his congratulations to New Jersey while also going on the record to state it was New York's turn to follow suit.
Others celebrities went on Twitter on Tuesday to encourage voters to support legalization where it was on the ballot, including singer/rapper SZA. Meanwhile, one of Hollywood's most notorious marijuana advocates, Tommy Chong, also encouraged fans to get out the green vote.
Marijuana wasn't the only drug that saw itself gaining more social acceptance—or, at the very least, losing legal restrictions—this election cycle. Magic mushrooms, or technically the hallucinogenic drug contained within them (psilocybin), became legal in Oregon. This vote made the state the first in the country to legalize the drug. Elsewhere, residents of the District of Columbia voted to decriminalize the use of magic mushrooms and other psychedelic substances, including the active ingredients in ayahuasca and peyote.