Kevin Spacey Arrives in Court to Face Sexual Assault Charges
Kevin Spacey has arrived in court in London to face sexual assault charges.
The disgraced actor, 62, was photographed arriving at Westminster Magistrates' Court on Thursday morning. He faces four counts of sexual assault against three men, and one count of causing a person to engage in penetrative sexual activity without consent.
A mob of photographers crowded around the Oscar winner as he exited a silver Mercedes outside the court.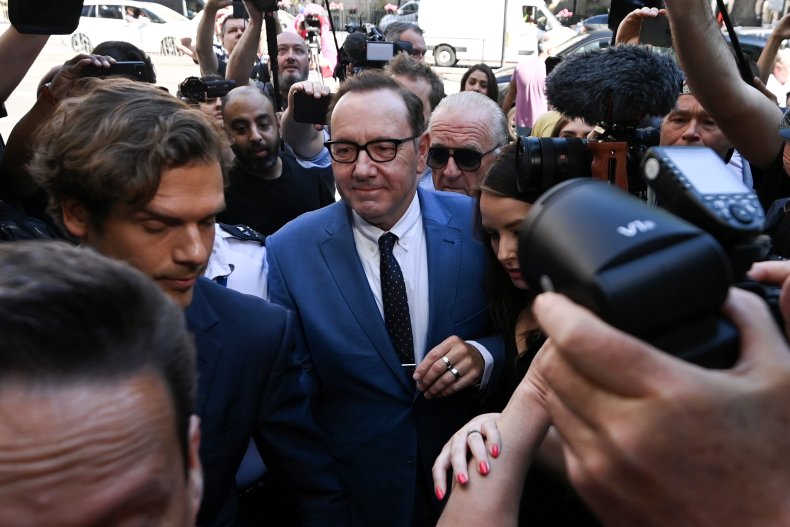 The House of Cards actor was rushed through, along with members of his legal team and two police officers.
The charges were read out in court but the actor was not asked to enter any pleas on Thursday.
His attorney, Patrick Gibbs, told the hearing that his client denies all the charges, and has "returned to the U.K. ...in order to establish his innocence".
"Mr. Spacey strenuously denies any and all criminality in this case," Gibbs said.
Deputy District Judge Tan Ikram told the hearing he had previously issued an arrest warrant for Spacey but withdrew it on Thursday as the actor had voluntarily appeared in court.
The judge granted the actor unconditional bail at the end of the hearing, before his next appearance at Southwark Crown Court for a formal plea hearing on July 14.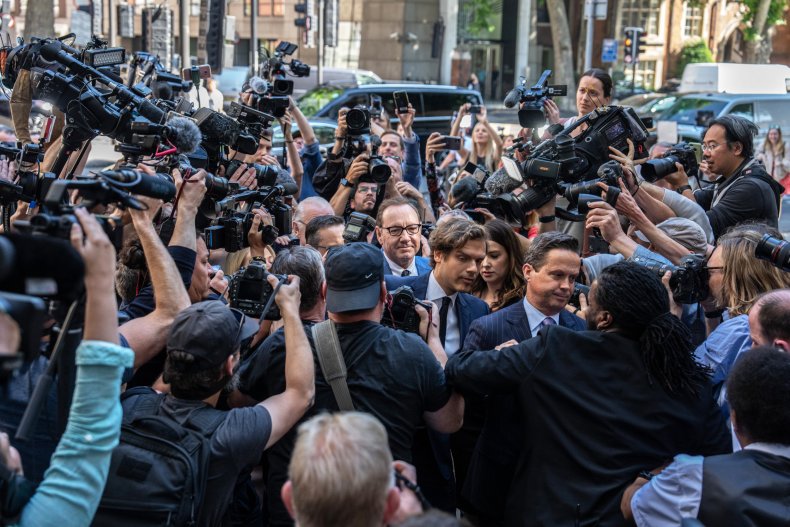 The alleged offenses took place in London and Gloucestershire between 2005 and 2013 and the accusations relate to three men, now in their 30s and 40s.
In May, Spacey announced his plans to "voluntarily appear" before British courts and stated that he is "confident" that he can prove his innocence.
Referring to the prosecutors' statement about the charges, Spacey said in a statement to Good Morning America on May 31: "I very much appreciate the Crown Prosecution Service's statement in which they carefully reminded the media and the public that I am entitled to a fair trial, and innocent until proven otherwise.
"While I am disappointed with their decision to move forward, I will voluntarily appear in the U.K. as soon as can be arranged and defend myself against these charges, which I am confident will prove my innocence."
Allegations against Spacey have dated as far back as 1996 and the actor was interviewed under caution by the Metropolitan Police about them back in 2019.
Spacey famously suffered a dramatic fall from grace in October 2017, when an explosive interview was published with Anthony Rapp. In it, he accused Spacey of "trying to seduce" him at a party in 1986 when he was aged 14 and the actor was 26.
The actor released a statement on Twitter after the story broke, in which he said he had no memory of the alleged incident, while also offering Rapp an apology.
This allegation prompted more men to subsequently come forward with similar accusations, leading to an abrupt halt to Spacey's Hollywood career and subsequent removal from several of his projects.
In November 2017, Spacey was dropped from his leading role in Netflix's House of Cards and was ordered to pay approximately $31 million to the studio behind the series for violating their sexual harassment policy and for breach of contract.
He was also recast in the movie All the Money in the World and the release of his then-upcoming film Gore was abandoned.
Spacey served as artistic director of London's Old Vic theater from 2004 until 2015 and the alleged offenses are reported to have taken place during his time there.
At the Old Vic, Spacey worked with renowned actors like Richard Dreyfuss, Jeff Goldblum, and Sam Mendes, and he was awarded an honorary knighthood, presented by Prince Charles.
Update 6/16/22, 7:15 a.m. ET: This article was updated to add more details and context.