Kevin Spacey Returns With a Third Christmas Eve Video and Folks Aren't Happy
It's that time of year again. For the third year in a row on Christmas Eve, Kevin Spacey has shared a mysterious YouTube video and tweeted about it on his otherwise dormant account. "1-800 XMAS," he wrote on Thursday morning with a YouTube clip. "That's right. What would Christmas Eve be without a message from me?" he said at the start of the two-minute video, sitting on a park bench.
In 2018 and 2019, the disgraced actor also shared a video on December 24, speaking directly to the camera as his House of Cards character, Frank Underwood.
This year's video was more of a PSA, in which he vaguely speaks about how difficult a year it's been. Spacey said that he's been able to be there for many people, but in the same vein, his ability to be supportive has been beyond his abilities. "Heartbreakingly, so many have been talking about things getting so bad for them, that they've been contemplating taking their own lives," he says.
Spacey continues: "To anyone out there who's struggling or contemplating that idea, please, please do not take that step."
"If you feel there's no path for you," he adds, "I promise you there is a path." Spacey then wishes everyone a Merry Christmas and a great 2021.
The video concludes with Spacey sharing the suicide hotline phone number, along with the number for substance abuse mental health hotline. As of publishing, the video has been viewed over 78K times.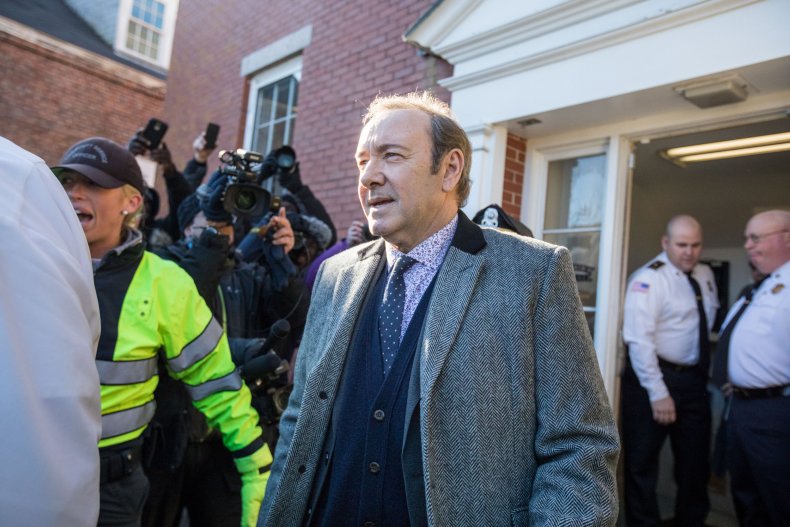 Folks on Twitter appeared unimpressed and exhausted by seeing yet another Spacey Christmas Eve video. "This is a terrible tradition," one person wrote. "Having to cancel my queued tweet about how Christmas Eve marks a year without Kevin Spacey. I guess he's the new Santa," another said.
"It's not as good as his first two Xmas Eve videos sadly," a third noted.
Basically, folks were uninterested in Spacey keeping up this annual Christmas Eve video drop.
In October 2017, actor Anthony Rapp accused Spacey of sexual misconduct dating back to 1986. At the time of the alleged incident, Rapp was only 14.
Spacey shared a statement on Twitter, noting that he didn't remember the encounter. However, he said that if he did act as Rapp described, he offered him "the sincerest apology for what would have been deeply inappropriate drunken behavior."
Not long after Rapp's allegation was made, 14 others came forward, accusing him of sexual misconduct, USA Today noted. Eight of them worked on House of Cards with Spacey. Netflix severed all ties with Spacey, removing him from the political drama series and other projects, according to Variety. Ridley Scott also reshot Spacey's scenes in the 2017 film All the Money in the, World following the allegations, and subbed in Christopher Plummer.
In 2018, Spacey was charged with sexual assault in Nantucket, Massachusetts, but the case was dropped, according to The New York Times. The following year, prosecutors dropped another case against Spacey, when the accuser refused to testify, The Boston Globe reported. In December 2019, the estate of a dead massage therapist who accused Spacey of sexual misconduct "voluntarily dismissed" the lawsuit "with prejudice," according to the Times. The therapist had filed the suit in January 2019, but died September that year, leaving the estate 90 days to sort it out. Most recently, the Times noted that he was accused in a September 2020 lawsuit of allegedly sexually assaulting a teenage boy in the 1980s.
If you have thoughts of suicide, confidential help is available for free at the National Suicide Prevention Lifeline. Call 1-800-273-8255. The line is available 24 hours every day.