Kevin Strickland GoFundMe Raises Over $200K After He Is Exonerated
More than $230,000 has been raised to help Kevin Strickland, a man who was freed this week after serving more than 43 years in prison following a wrongful murder conviction.
Strickland was convicted in 1979 of three murders, but has always maintained his innocence. On Tuesday, a Missouri judge exonerated Strickland and ordered his immediate release after a three-day hearing requested by Jackson County Prosecutor Jean Peters Baker, who said evidence used to convict had been recanted or disproven.
"Clear and convincing evidence" was presented that "undermines the Court's confidence in the judgement of conviction," Judge James Welsh wrote in his judgement.
No physical evidence connected Strickland to the crime scene, the judge noted, a key eyewitness recanted before her death, and two other men convicted in the killings later said Strickland was not involved.
"Under these unique circumstances, the Court's confidence in Strickland's conviction is so undermined that it cannot stand, and the judgment of conviction must be set aside," Welsh wrote.
Despite serving the longest prison time for a wrongful conviction in Missouri's history, Strickland, now aged 62, does not qualify for compensation from the state, which only allows payments to people exonerated through DNA evidence.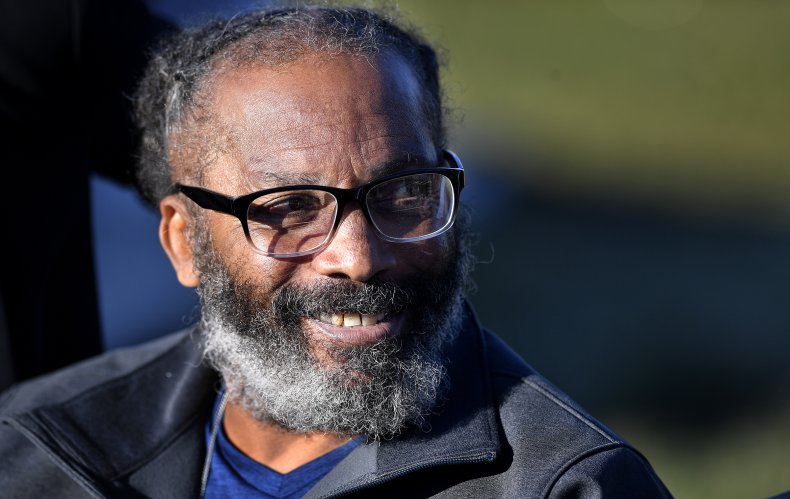 "For those that have been wrongfully convicted, the agony of prison life and the complete loss of freedom are only compounded by the feelings of what might have been," Strickland's lawyer Tricia Rojo Bushnell, the executive director of the Midwest Innocence Project, wrote on a GoFundMe page that was set up for Strickland in June.
"Deprived for years of family and friends and the ability to establish oneself professionally, the nightmare does not end upon release. With no money, housing, transportation, health services or insurance, and a criminal record that is rarely cleared despite innocence, the punishment lingers long after innocence has been proven."
The state of Missouri has "robbed him of his youth, his health, and much of his life's potential. He has largely lost the use of his legs and now uses a wheelchair," she added. "All for a crime he did not commit."
Strickland was a teenager when he went to prison, but is being freed into a "world that he does not know much about," Rojo Bushnell noted.
"His mother is gone as are many other family members. He has no work history to speak of," she added. "Mr. Strickland needs financial support to care for his basic needs upon his release from prison. Mr. Strickland has suffered an unimaginable atrocity and no one helped him."
Thousands of donations poured in after Strickland was exonerated, with the total quickly soaring past the $150,000 goal. By early Wednesday, the total raised was more than $230,000.
"The State of Missouri will not provide a dime for the 43 years it stole from Kevin Strickland," Rojo Bushnell told Newsweek.
"We know that is not what we as a community believe is justice, and are so grateful to everyone who has chipped in to support Mr. Strickland on his new journey."
Update at 4 a.m. ET on 11/25/21: This article has been updated with comment from Tricia Rojo Bushnell.