Key Biden Voters Demand He Cancel $50,000 in Student Debt at NAACP Protest
Black voters, a key group for President Joe Biden, demonstrated outside the White House on Thursday morning as part of an NAACP effort demanding that Biden cancel $50,000 in student loan debt—a figure five times larger than what the president may be considering.
The demonstrators arrived at the corner of 17th Street and Pennsylvania Avenue around 9 a.m. to urge the president to make student loan debt cancellation a legacy of his administration.
"The Black community continues to be shackled by student debt, and $10,000 in cancellation will not break the chains," Wisdom Cole, national director of the NAACP's Youth & College Division, wrote in a statement. "The NAACP believes that you can be the president that cancels student debt. Now that's a legacy to be remembered by."
Data shows that Black voters were highly instrumental to Biden's victory in 2020, with 92 percent voting for him in the presidential election, according to the Pew Research Center. The Biden administration has already canceled more than $17 billion in federal student debt. The president has indicated that he could provide additional relief to 43 million borrowers, but that action could be capped at $10,000 a person and exclude wealthier borrowers.
On Thursday, Cole criticized both of these conditions in his statement, telling the president that "canceling $10,000 is not enough and means-testing is simply unacceptable."
"President Biden, to Build Back a Better economy, you must cancel at least $50,000 in student loan debt," he wrote. "That's how we can Build Back a Better America."
Videos shared on social media showed the protesters with "Cancel Student Debt" posters dancing outside the White House to music from a live jazz band.
Last month, Biden said he is not considering loan forgiveness of up to $50,000, much to the dismay of not only the NAACP but also other advocates like Senate Majority Leader Chuck Schumer.
"I have talked personally to the president on this issue a whole bunch of times. I have told him that this is more important than just about anything else that he can do on his own," Schumer, a New York Democrat, said at a virtual event in April.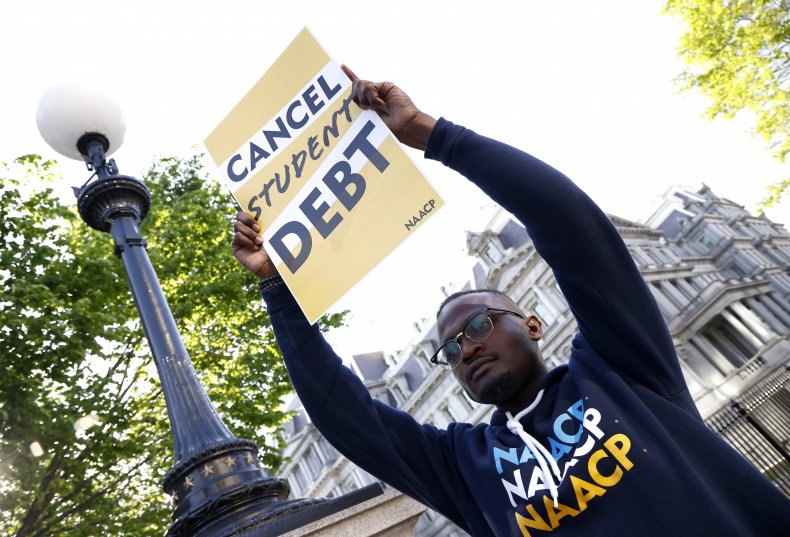 "We want our young people to realize that they can have a good future. One of the best, very best, top-of-the-list ways to do it is by canceling student debt, by getting rid of the $50,000, even going higher after that," Schumer added.
In Biden's April 28 speech, he did say that he's "in the process of taking a hard look at whether or not there will be additional debt forgiveness."
On the campaign trail before his election, Biden expressed support for $10,000 in relief, which would cancel $321 billion in federal student loans and eliminate the entire balance for almost 12 million borrowers. It would also leave about 70 percent of borrowers with student loan debt.
In response to Biden's remarks, Cole tweeted: "President Biden, we agree that we shouldn't cancel $50,000 in student loan debt. We should cancel all of it."
He added, "$50,000 was just the bottom line. For the Black community, who've accumulated debt over generations of oppression, anything less is unacceptable."
Thursday's protest is the latest student loan forgiveness rally that's been held by the NAACP. In a statement last month, it said, "The NAACP has been pushing for student debt cancelation from day one, in the streets, and in the halls of power—including countless meetings with the White House and Secretary of Education—and we'll continue to lead this fight until it is canceled."