Can't remember the last time you went for a medical screening? There's no better date than April 7—World Health Day, marking the founding of the World Health Organization in 1948—to get one organized.
Are Health Screenings Necessary?
Six in 10 Americans are living with at least one chronic disease, such as heart disease, cancer or diabetes, according to the U.S. Centers for Disease Control and Prevention. However, most chronic diseases can be prevented by measures including "regular health screenings," said the CDC.
Dr. Paul O'Rourke, a general internal medicine physician and assistant professor at the Johns Hopkins University School of Medicine, told Newsweek: "One of the key services I provide for patients is to help them prevent serious disease."
This is done through health counseling—discussing positive behaviors such as healthy eating and regular exercise, and minimizing risky behaviors—and tests.
"The purpose of screening tests is to identify possible health issues before they may be more serious and intervene early to promote a patient's health and well-being. I would encourage all patients to discuss with their doctors what ways they can promote their health and minimize the risk of serious disease," O'Rourke said.
Dr. Cory Fisher, a family medicine physician at Cleveland Clinic, agreed, telling Newsweek: "Screenings are important to detect some diseases or conditions that have no symptoms," such as high blood pressure, diabetes, high cholesterol and cancer.
"If and when detected early, these conditions are much easier to treat and control. If left undetected, complications are much more likely."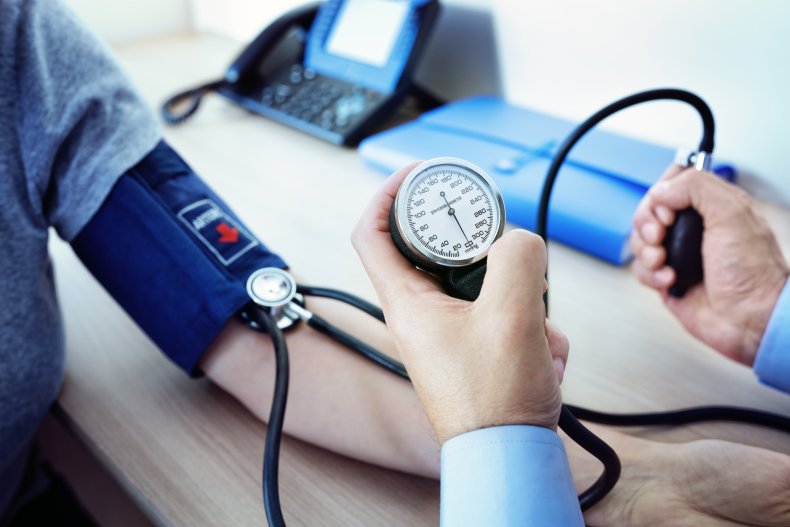 Health Tests You Should Be Doing According to Age
The U.S. Preventive Services Task Force recommends health screenings appropriate to individuals and is "supported by population-level evidence," O'Rourke said.
Patients can visit the MyHealthfinder website to find out which tests are advised for their age and sex.
Fisher said: "A regular check-up with your primary care team is a good place to start," as they can help you decide which screenings might be appropriate, based on your family history as well as other clinical considerations.
A regular check-up may include blood tests for glucose and cholesterol, a check of your vital signs and a physical exam.
Some tests may need to be completed by a specialist, such as a gastroenterologist for a colonoscopy or a gynecologist for a pelvic exam, Fisher added.
Below are some of the key health checks you should have done, depending on age.
Men and Women From 18 to 39 Years Old
Blood Pressure
Have your blood pressure checked once every two years. People who have diabetes, heart disease, kidney problems or certain other conditions should have it checked at least once a year but may need to have it done more often, according to MedlinePlus, a website of the U.S. National Library of Medicine.
"If the top number (systolic number) is from 120 to 139, or the bottom number (diastolic number) is from 80 to 89 mm Hg, you should have it checked every year," the website states.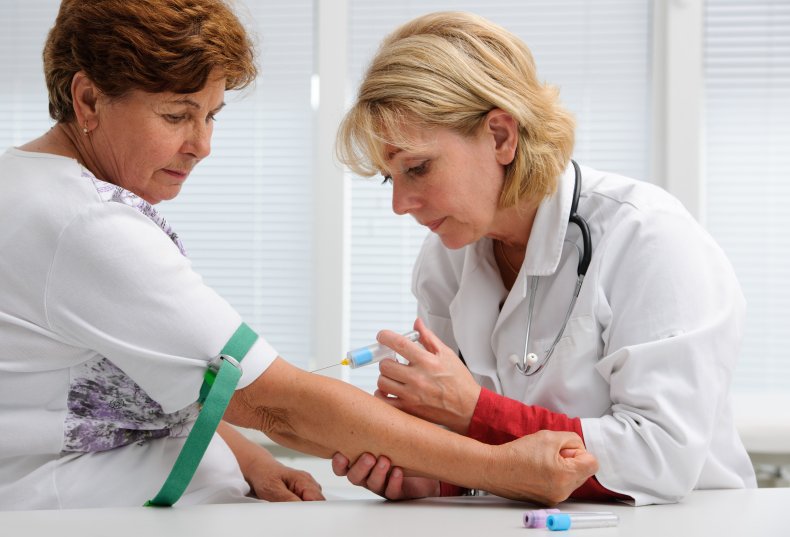 Cholesterol
People with no known risk factors for coronary heart disease should start having cholesterol checks at the age of 35 for men and 45 for women. Men and women who do have risk factors are recommended to have cholesterol screenings from 20.
Those with normal cholesterol levels don't need to test again for five years. A repeat check is recommended sooner if you experience a lifestyle change such as diet or weight gain.
People who have diabetes, heart disease, kidney problems or other conditions may need to do cholesterol tests more often, according to MedlinePlus.
Diabetes
People who are overweight—defined as a body mass index of over 25—should be screened for diabetes from the age of 35. Asian Americans should be tested if their BMI is higher than 23.
Your health care provider may screen you for diabetes if your blood pressure is 130/80 mm Hg or above, or you have other risk factors—such as a first-degree relative (parent, child or sibling) with diabetes or a history of heart disease.
Diabetes screening is recommended for women who are overweight and have other risk factors (such as high blood pressure) and are planning to become pregnant, according to MedlinePlus.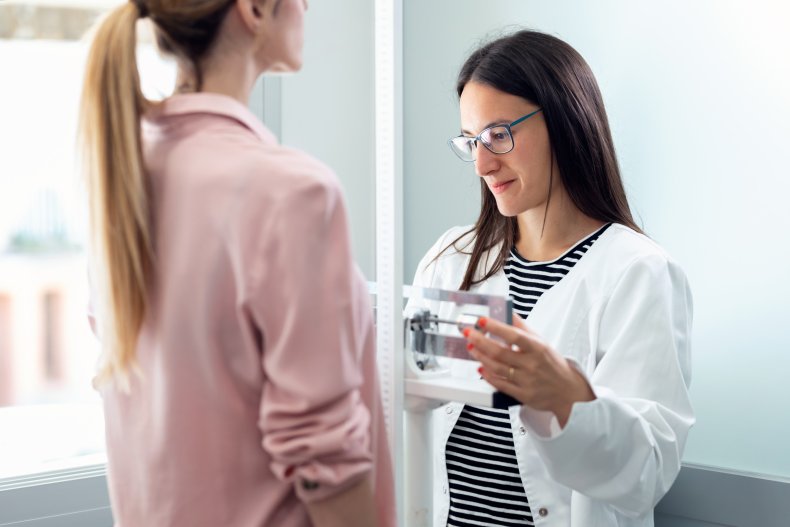 Physical
You should have your height, weight and BMI checked during every physical exam.
Dental Exam
The CDC recommends that all adults visit their dentist at least once a year, even if they have no natural teeth or have dentures.
Pregnant women may be more prone to gum disease and cavities, which can affect the health of their baby, the health agency said.
Eye Exam
Anyone with problems relating to vision should have an eye exam at least every two years—or more often if recommended by their health care provider, according to MedlinePlus.
The CDC advises that people with diabetes have an annual dilated eye exam. If you are at a higher risk for glaucoma, you should have a dilated eye exam every couple of years.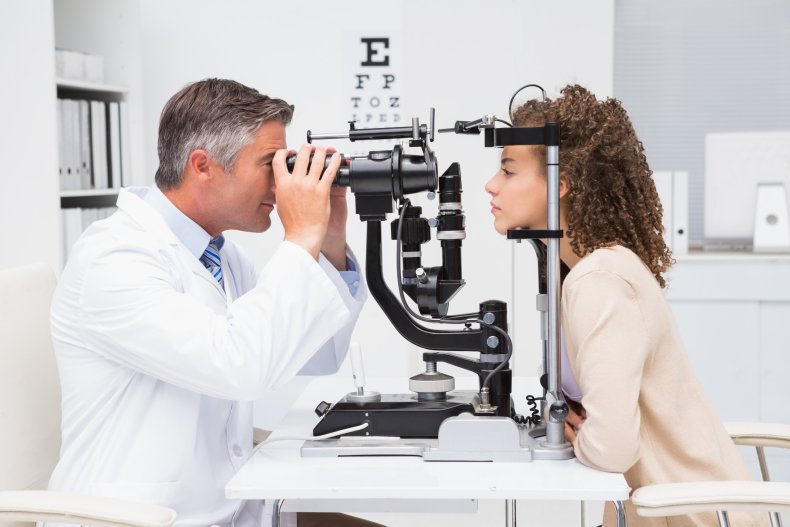 Men and Women From 45 to 75 Years Old
The U.S. Preventive Services Task Force recommends that adults between the ages of 45 and 75 discuss a colon cancer screening test with their doctor, O'Rourke said.
"If they have a family history of colon cancer, they may need to get tested before age 45 and can discuss this with their doctor."
Men and Women Through 79 Years of Age
Every adult up to the age of 79 should get a one-time test for hepatitis C. Depending on lifestyle and medical history, some may need to be tested for other infectious diseases such as syphilis, chlamydia or HIV, according to MedlinePlus.
Sexually active women should be screened for chlamydia and gonorrhea until the age of 25. Women who are 25 and older should be tested if they're at high risk.
Men and Women From 45 to 85 Years Old
"Cancer screenings for colon and breast cancer are done as we get older," Fisher said, and the recommended ages for these tests "can change over time."
Colon cancer screening for the general population now begins at 45, lowered from 50, "so regular visits with your primary care team is important to stay on top of the most up-to-date recommendations."
He added: "Some scientific communities may also vary in their suggestions of what test to get and when, so having a conversation about the pros and cons of these decisions is best had with your health care provider."
Colorectal Cancer Screening
Regular screening is "the key to preventing colorectal cancer and finding it early," according to the CDC.
The Preventive Services Task Force recommends screenings for all adults aged from 45 to 75. Those aged from 76 to 85 should speak to their doctor about getting tested.
Lung Cancer Screening
The task force also recommends yearly lung cancer screening with LDCT, a low-dose CT scan, for people who meet all three of these criteria:
Have a 20 pack-year or more smoking history (a pack-year is smoking an average of one pack of cigarettes per day for one year)
Smoke now or have quit within the past 15 years
Are between 50 and 80 years old.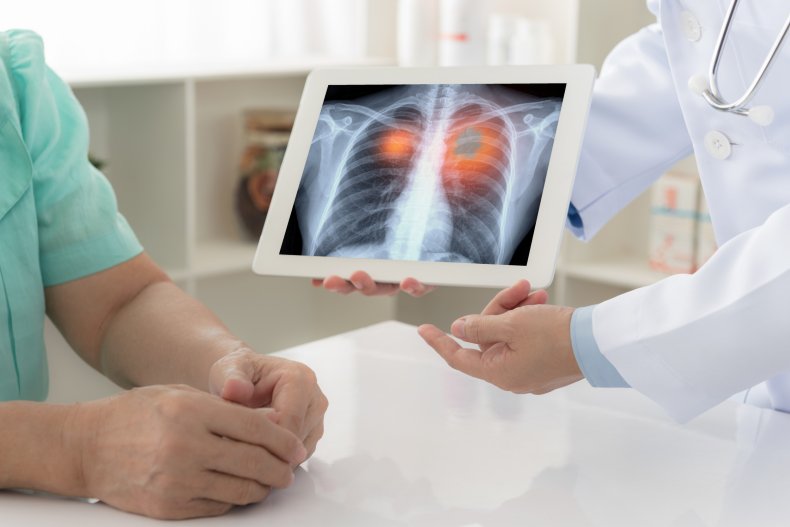 Other Key Health Tests for Men and Women
Cervical Cancer Screening for Women
Women should start getting Pap tests at 21. If your Pap result is normal, your doctor may say you can wait three years until your next one. Those aged from 30 to 65 are advised to speak to their doctor about which testing option is appropriate for them.
Breast Cancer Screening for Women
Women who are 50 to 74 and at average risk for breast cancer should get a mammogram every two years, according to the Preventive Services Task Force.
Those aged from 40 to 49 should speak to their doctor or other health care professional about when to start having mammograms and how often. Women should weigh the benefits and risks of tests when deciding whether to begin before 50, the CDC said.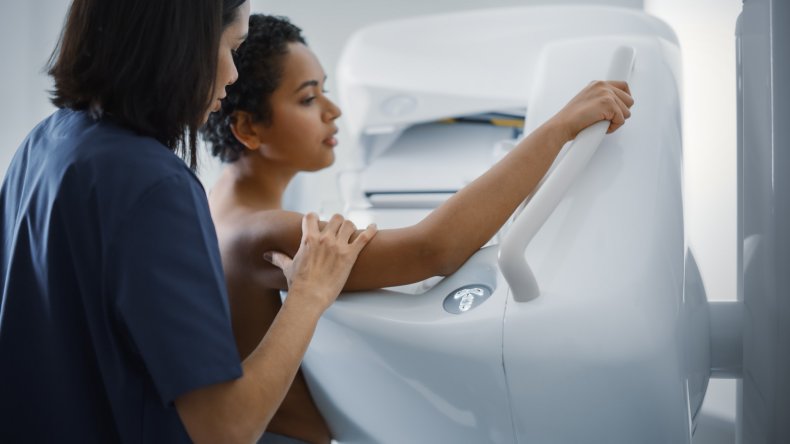 Prostate Cancer Screening for Men
Men aged from 55 to 69 "should make individual decisions" about undergoing a prostate specific antigen, or PSA, test, the Preventive Services Task Force said.
Before making a decision, men are advised to speak to their doctor about the benefits and risks of screening for prostate cancer. Risks include the possibility of a false positive result that leads to further tests, such as a potentially painful biopsy.
Health Screenings for Children
Developmental Screening
Developmental monitoring entails observing your child's growth to check whether they meet typical developmental milestones for playing, learning, speaking, behaving and moving.
The CDC has a checklist of these milestones on its website. If your child appears not to be meeting them, speak to a doctor.
The American Academy of Pediatrics recommends that all children undergo developmental and behavioral screening during their regular well-child visits at the following ages:
9 months
18 months
30 months
The AAP also advises that all children are screened for autism spectrum disorder during well-child visits at the following ages: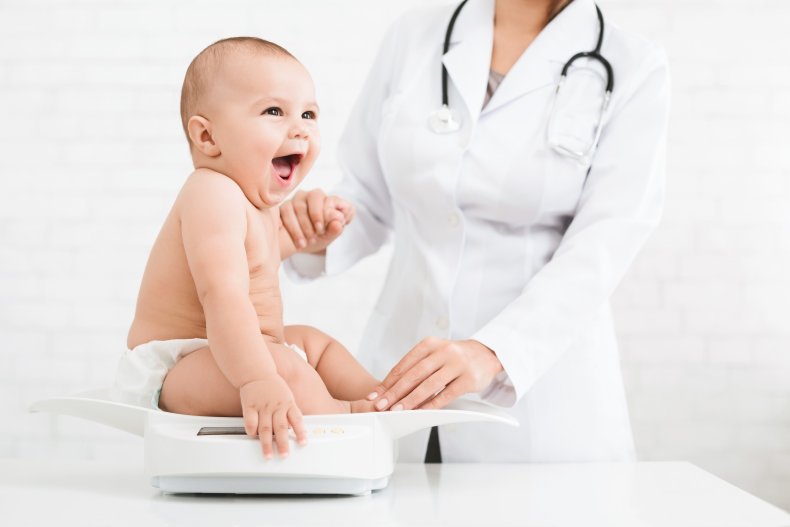 Hearing Loss Screening
Hearing loss can affect a child's development, particularly their communication and social skills. Parents who suspect their child is experiencing hearing loss should speak to their doctor and get a screening done as soon as possible.
"The earlier children with hearing loss start getting services, the more likely they are to reach their full potential," said the CDC.
Babies should have a hearing screening within a month of birth. If your baby does not pass this screening, they must have a full hearing test as soon as possible and no later than three months of age.
Children's hearing should also be tested before they enter school or at any point there is a concern about their hearing.
Eye Exam
Children should have their eyes checked regularly, especially if someone else in the family has vision issues, according to the CDC.
Your child's vision should be tested by either an ophthalmologist, optometrist, pediatrician or other trained specialist at the following ages:
Newborn to 3 months
6 months to 1 year
Around 3 years
Around 5 years
The Preventive Services Taskforce recommends vision tests for children at least once between the ages of 3 and 5 to check for amblyopia (reduced vision due to the eye and brain not working together properly) or risk factors for the disease.
Dental Exam
Cavities are one of the most common chronic diseases for children in the U.S. Left untreated, tooth decay can cause pain and infections and lead to problems with eating, speaking, playing and learning.
The AAP advises that oral health risk assessments take place at 6, 9 and 12 months.
When you have a pediatric dentist, they will tell you when and how often your child should visit, based on their personal oral health. But the American Academy of Pediatric Dentistry recommends a check-up every six months.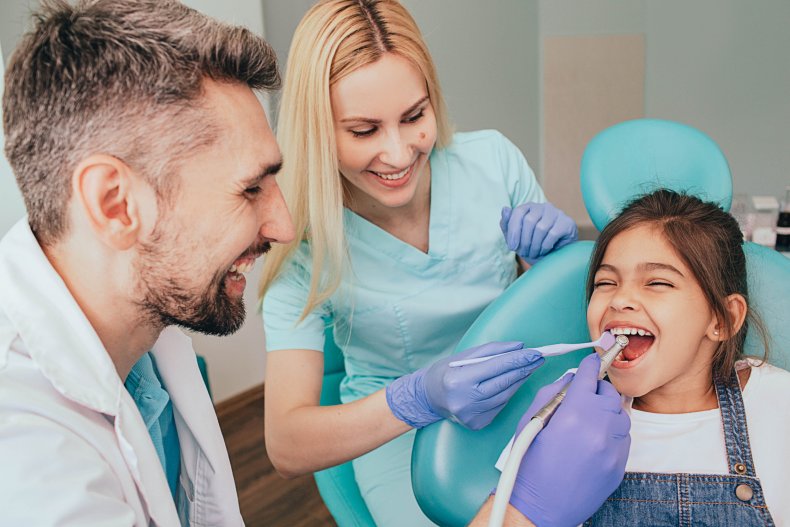 Uncommon Knowledge
Newsweek is committed to challenging conventional wisdom and finding connections in the search for common ground.
Newsweek is committed to challenging conventional wisdom and finding connections in the search for common ground.
About the writer
Soo Kim is a Newsweek SEO Reporter is based in London, UK. She reports on various trends and lifestyle stories, from health, fitness and travel to psychology, relationships and family issues. She is also a South Korea expert who regularly covers Korean culture/entertainment for Newsweek, including the latest K-dramas, films and K-pop news, and is the author of the book How to Live Korean, which is available in eight languages. Soo also covered the COVID-19 pandemic extensively from 2020 through 2021 after joining the general news desk of Newsweek in 2019 from the Daily Telegraph (a U.K. national newspaper) where she was a travel reporter/editor from 2010. She is a graduate of Binghamton University in New York and the journalism school of City University in London, where she earned a Masters in international journalism. Languages spoken: English and Korean.
Follow her on Twitter at @MissSooKim or Instagram at @miss.soo.kim
You can get in touch with Soo by emailing s.kim@newsweek.com