Key Misspelling Found in Times Square Sheriff's Office Billboards to Recruit Officers
A sheriff's office in Washington state is looking to hire police officers from New York City, and put up billboards in an attempt to woo new recruits.
But the advertisements it unveiled in Times Square included a typo in which the name of the office's home state was spelled incorrectly.
The billboards stated that the office is hiring 40 "lateral officers." Other signs below them read "Spokane County Sheriff" and noted that the office was located in "Washinton State."
In Facebook post noting the new billboards, the Spokane County Sheriff's Office said the advertisements were part of an "effort to Recruit qualified and well-trained law enforcement professionals from areas where local elected officials have not generally supported them."
"These billboard ads, located in Times Square, are a continuation of our efforts to attract experienced and professional members of law enforcement. We want them to know there is a place where they are wanted and valued. A place where they can raise their family while continuing to serve a thankful and supportive community. That place is #SpokaneCounty," the sheriff's office continued.
The office added that during the "ongoing campaign" it has also put up billboards in Portland, Oregon; Seattle; Denver; and Austin, Texas. The office's Facebook post stated that the billboards in Times Square would be up between November 3 and November 4. The billboards say that officers will get a $15,000 hiring bonus.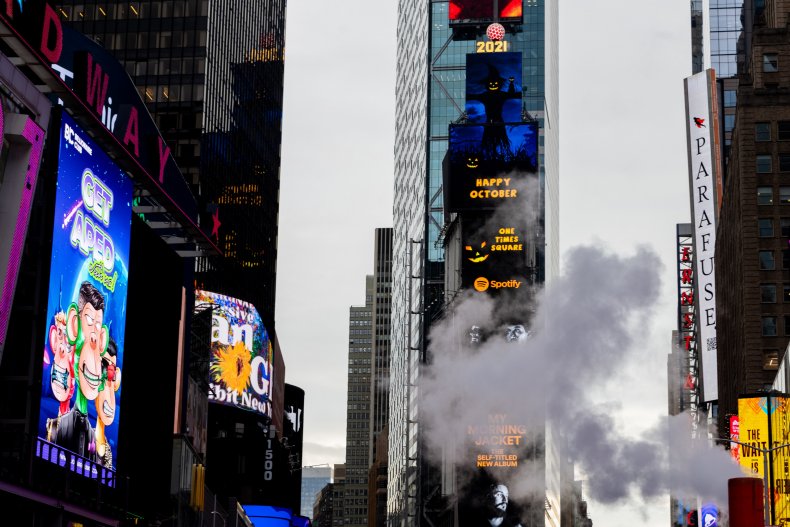 The sheriff's office said Wednesday that it appreciated the "quick response" from the ad company working to fix the typo.
"Mistakes happen every day. We are human. Thank you to the so-called 'elites' that only take the time to revel in a typo. Oh, and we're still hiring!" the office wrote on Twitter.
In another tweet on Thursday, the sheriff's office wrote that the typo had been fixed.
"Not #Breaking, Missing 'g', also known as 'little g' has been located/returned to his loving #Washin'g'ton family in #TimesSquare," the office wrote.
The office's recruitment in New York City comes as a citywide vaccine mandate took effect this week, leading some officers to go on unpaid leave.
As of Monday, that number was only 34 police officers. New York City Police Commissioner Dermot Shea said the majority of unvaccinated workers in his department have applied for religious or medical exemptions to the vaccine requirement. He noted that as of Sunday, about one in six police personnel were still unvaccinated.
Washington news station KVEW noted that Spokane County Sheriff Ozzie Knezovich has voiced disapproval of vaccine mandates.