CNN Trump-Cohen Tape Best Bits and Key Questions: 'Get Me a Coke, Please!'
CNN last night released tapes of Donald Trump and his former personal lawyer Michael Cohen discussing buying the rights to a Playboy model's story about having an affair with the then-presidential candidate.
What was said in the tape is hotly disputed.
Cohen's lawyers maintain the president is speaking about a cash payout for a National Enquirer story alleging an affair between Trump and model Karen McDougal. Trump's layers have their own transcript of the conversation, which they say shows Trump broke no laws.
Trump surrogates, divorce papers and a mysterious matter in Charleston, South Carolina, are also mentioned in the recording.
Below, Newsweek looks at some of the key questions and disputes.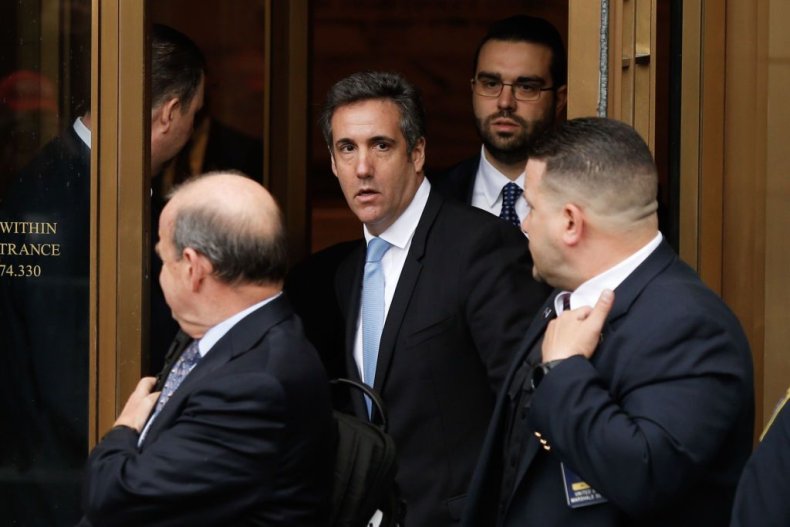 What is the 'Charleston thing?'
At the beginning of the recording Trump can be heard having what seems to be a telephone conversation, remarking, "I think this goes away quickly. I think what—I think it's probably better to do the Charleston thing, just this time. Uh, yeah. In two weeks, it's fine. I think right now it's, it's better."
The Washington Post reported that Trump had a fundraiser scheduled in Charleston on September 27, which was moved closer to Charlotte, North Carolina.
Trump also had business ties to the area, with a company controlled by the president buying a manufacturing plant in 2016.
The Post and Courier reported that Trump's company, DB Pace Acquisitions, acquired the building to bail out his son, Donald Trump Jr., who with business partners had bought the plant as part of a failed business venture. The plant changed hands at the beginning of this year.
Pastor Mark Burns
In the tape, Trump remarks, "And, your guy is a good guy. He's a good," and Cohen replies "Who, Pastor Scott?"
Later Cohen remarks, "No, you're talking about Mark Burns. He's, we've told him to..." and the remarks become unintelligable.
"I don't need that—Mark Burns, are we using him?" replies Trump.
African-American Pastors Darrell Scott and Mark Burns were both prominent defenders of Trump during the presidential campaign. In September 2016, Burns admitted to fabricating parts of his resume.
The divorce papers
"We got served from The New York Times. I told you this—we were…" says Cohen.
"To what?" Trump replies. "To unseal the divorce papers with Ivana. Um, we're fighting it. Um, Kasowitz is going to—" Cohen says, possibly referring to Trump's lawyer Marc Kasowitz.
"They should never be able to get that," says Trump.
"Never. Never. Kasowitz doesn't think they'll ever be able to," says Cohen.
In September 2016, The New York Times and Gannet were suing for access to court papers relating to Trump's 1992 divorce from Ivana Trump, his first wife. A judge later ruled the court papers should not be made public.
"Get me a coke, please!"
Trump shouts the request to an aide halfway through the tape.
Trump's fondness for junk food on the campaign trail was widely reported, with the presidential candidate reportedly consuming 12 cans of Diet Coke a day.
The payout
"I need to open up a company for the transfer of all of that info regarding our friend David," says Cohen, in seeming reference to David Pecker, Trump ally and president of American Media Inc, the National Enquirer's parent company.
Trump says later: "So, what do we got to pay for this? One-fifty?" McDougal reportedly received $150,000 from the National Enquirer for her story about the alleged affair.
When Cohen mentions financing, Trump says "What financing?"
Cohen says: "We'll have to pay."
Trump is then heard saying "pay with cash" and Cohen replies "No, no, no." Trump is then heard saying "cheque."
This is the most contentious part of the tape, with the Department of Justice investigating payouts made by Cohen to women who claimed they had affairs with Trump. Trump has previously denied knowledge of a payout to McDougal, and said he did not have an affair with her.
Cohen's lawyer, Lanny Davis, alleged that the president was discussing paying for the story with cash. Rudy Giuliani, the president's lawyer, disputed this in an Associated Press interview, saying he had had the tape enhanced and in it Trump says "don't pay with cash."
Davis told CNN after the tape was aired: "The truth is that when Donald Trump said 'cash,' which Rudy Giuliani knows that only drug dealers and mobsters talk about cash, it was, you heard Michael Cohen... say what? 'No, no, no, no."
Alan Furtefas, another Trump lawyer, says the tapes exculpate his client, and the payment was never made.
"Whoever is telling Davis that cash in that conversation refers to green currency is lying to him," Futerfas told CNN. "There's no transaction done in green currency. It doesn't happen. The whole deal never happened. If it was going to happen, it would be a payment to a large company that would obviously be accompanied by an agreement of sale. Those documents would be prepared by lawyers on both sides."