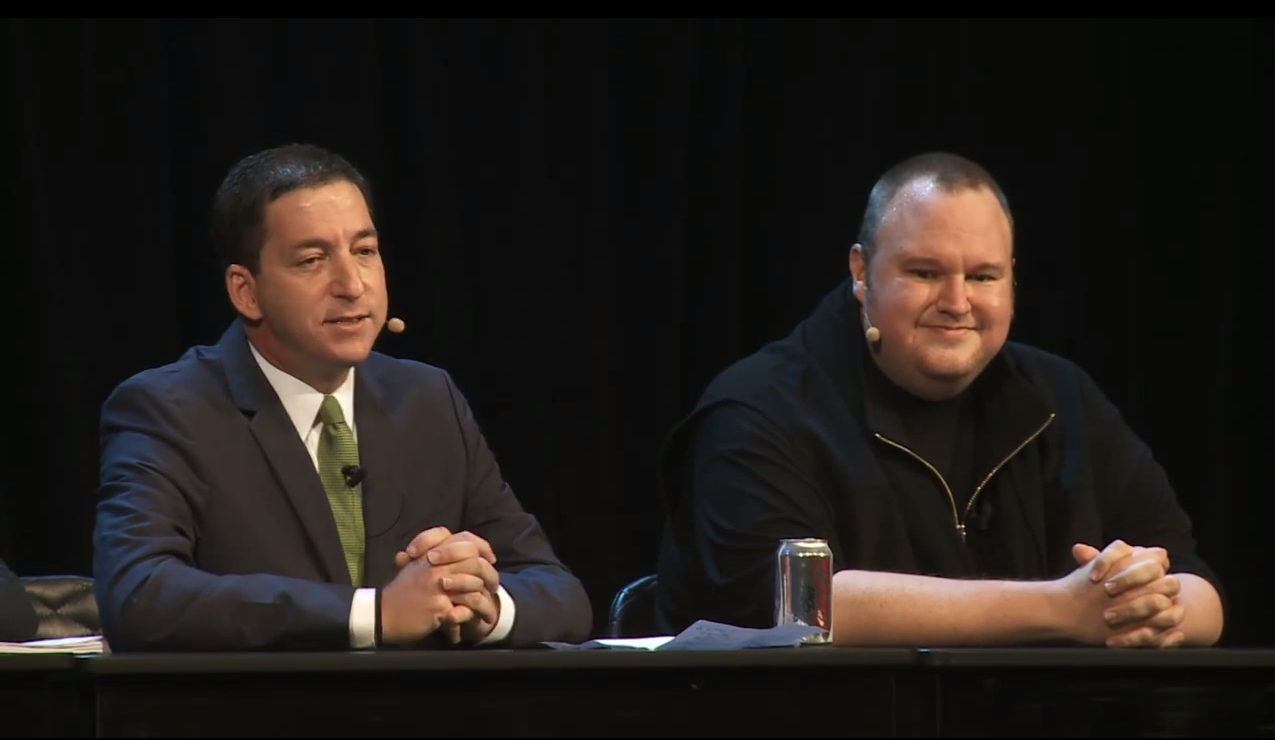 Five days before New Zealand's general election, a group containing some of the world's most prominent whistleblowers launched an attack on Prime Minister John Key, at a panel event, branded the "Moment of Truth", in Auckland today.
The three-hour event was headed by Kim Dotcom, born Kim Schmitz, an internet entrepreneur most famous for setting up file-sharing site MegaUpload, and founder of New Zealand's Internet Party, an organisation which advocates for less surveillance, copyright reform and cheaper internet.
Dotcom, along with journalist Glenn Greenwald, Julian Assange of Wikileaks, and NSA whistleblower Edward Snowden, who was billed as a 'surprise guest', expounded on revelations that the New Zealand government worked to implement a mass surveillance system against its citizens. Owing to ongoing extradition requests, Snowden and Assange both appeared via videolink.
Most of the discussion focused on allegations of unlawful monitoring. Snowden opened his speech with a claim that the NSA was undertaking mass surveillance programs against New Zealanders, and vouched for the existence of at least two NSA facilities in the country that would be known to John Key. Members of the panel also drew attention to Dotcom's particular situation.
"We share the same prosecutor, so I understand what is going on there, on a very personal level," Julian Assange said of the entrepreneur.
"[The United States government] is trying to apply US law in as many countries as possible, applying their law in New Zealand to coerce and pluck out people to other states."
"When you are able to control their police forces you have succeeded in annexing that country," Assange added.
Yet the planned showpiece of the event was conspicuous in its absence. Dotcom had told the New Zealand Herald that he would be presenting "absolutely concrete" proof of Key's collaboration with American security forces to the Auckland audience. However, the evidence never materialised.
According to New Zealand media, Dotcom's so-called 'big reveal' was the content of an email which alleges that John Key was involved in a plan to bring the internet entrepreneur into New Zealand so he could be extradited to the United States. Yet the email went unmentioned by Dotcom and the rest of his panel, leading to speculation online that its authenticity was in doubt.
The New Zealand Herald had previously reproduced a copy of the message which was supposedly sent from Warner Brothers CEO Kevin Tsujihara to a senior executive at the Motion Picture Association of America - the lobby group for the Hollywood studios on October 27, 2010.
Tsujihara was one of the executives sent by Warner Brothers to New Zealand in 2010 to deal with a dispute that was threatening the filming of the Hobbit series in the country. During his visit, Tsujihara met John Key and the email supposedly recounts one of their meetings.
"Hi Mike. We had a really good meeting with the Prime Minister. He's a fan and we're getting what we came for," the email reads.
"Your groundwork in New Zealand is paying off. I see strong support for our anti-piracy effort. John Key told me in private that they are granting Dotcom residency despite pushback from officials about his criminal past. His AG [Attorney General] will do everything in his power to assist us with our case. VIP treatment and then a one-way ticket to Virginia.
"This is a game changer. The DOJ [Department of Justice] is against the Hong Kong option. No confidence in the Chinese. Great job," the email concluded.
Warner Brothers officials immediately claimed the email was fake, even before the 'Moment of Truth' was underway. Paul McGuire, the movie studio's senior vice president for worldwide communications, told the Herald earlier today: "Kevin Tsujihara did not write or send the alleged email, and he never had any such conversation with Prime Minister Key… The alleged email is a fabrication."
Dotcom founded now-closed file-sharing site Megaupload in 2005 after a number of other fruitful internet ventures. The site netted $175m by allegedly providing a platform on which to distribute music, films and other copyrighted content without authorisation. He became a permanent New Zealand resident in 2010 and in 2012 founded the Internet Party as a response to New Zealand police undertaking several raids of his Auckland mansion that were allegedly triggered by FBI requests for his arrest. Dotcom is currently fighting extradition to the US where he is facing charges over copyright infringement 'on a massive scale.' The multi-millionaire denies any wrongdoing.
In 2012 a report by the Inspector-General of Intelligence, the official watchdog for New Zealand spy agencies, found that the Government Communications and Security Bureau (GCSB) had mounted an illegal wiretapping operation against Dotcom, despite a law prohibiting it from spying on New Zealand citizens and residents.
Key claimed yesterday that "without a shadow of a doubt, GCSB does not undertake mass surveillance against New Zealanders, nor have they". Key had previously promised to resign if sufficient evidence emerged that the mass surveillance of New Zealanders had taken place during his tenure.