Keynan Middleton and Other Baseball Players Kneel During National Anthem
Los Angeles Angels' relief pitcher Keynan Middleton kneeled and raised his fist during the national anthem at Petco Park in San Diego, California on Monday.
In an exhibition game played in an empty ballpark, the visiting Angels won against the home team Padres after a single run in the first inning. The exhibition game's one run final score was secured when David Fletcher made it home from second base after pitcher Garrett Richards threw to second base but instead sent the ball into center field. The game was the first played in Petco Park in 2020.
Middleton, an Angels reliever, was one of several players throughout the league to kneel during the national anthem in solidarity with ongoing nationwide protests against police brutality and systemic racism.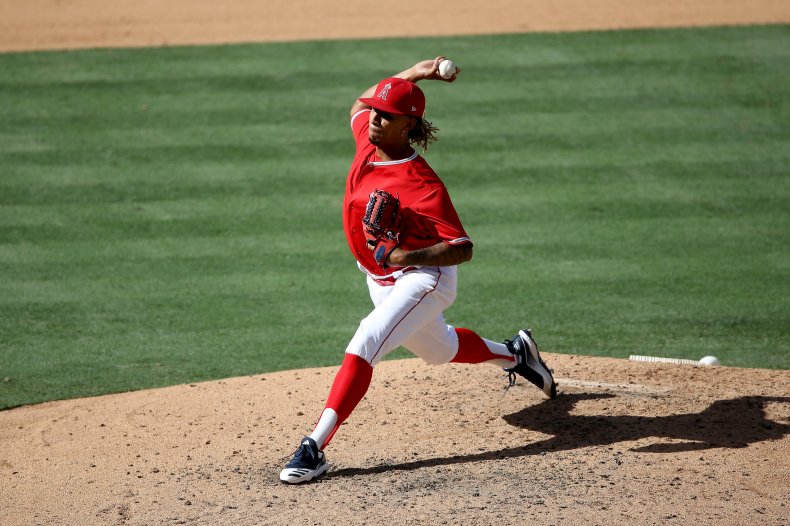 According to Angels manager Joe Maddon, who spoke with the Los Angeles Times, Middleton brought up taking a knee during a team video conference held to discuss the Black Lives Matter movement in June. Maddon described Middleton as "passionate" about the cause during the meeting.
"That's what he showed you tonight," Maddon told the Times. "I have a granddaughter who's going through the same thing right now and I totally support her reaction to all of this."
While no other Angels players joined Middleton in kneeling, Maddon described the team as supporting his protest.
Without directly addressing his protest, Middleton referenced racial justice protest movements on his Twitter account, including with a Monday retweet of former Queens County District Attorney candidate Tiffany Cabán, now a national political organizer for the Working Families Party and a decarceral justice reformer.
"Out in Portland, federal officers are waging war on protestors rightfully in the streets in defense of Black life. People are being attacked with war weapons. People are being disappeared under the cloak of night. We cannot allow this to happen here or anywhere," Cabán tweeted, referencing president Donald Trump's announcement of plans for expanding the use of Department of Homeland Security and Border Protection agents against political protestors.
Middleton also retweeted support for its players and the Black Lives Matter movement from Major League Baseball—one of several messages from the MLB describing the protests as non-political and "never about the military or the flag," as protests against police brutality are regularly described by Republican politicians, including Trump.
Other players throughout the league protested as well, including multiple players for the San Francisco Giants, who were joined by manager Gabe Kapler in kneeling during the national anthem, at approximately similar times to Middleton's protest.
The kneeling protest during "The Star-Spangled Banner" began in 2016, when former San Francisco 49ers quarterback Colin Kaepernick began kneeling during the anthem at NFL games.
"I am not going to stand up to show pride in a flag for a country that oppresses black people and people of color," Kaepernick said in 2016 in a post-game interview. "To me, this is bigger than football and it would be selfish on my part to look the other way. There are bodies in the street and people getting paid leave and getting away with murder."
Middleton, who made his MLB debut in 2017, is expected to address his protest in a message to social media. Newsweek has reached out to the Los Angeles Angels, but did not receive immediate comment prior to publication.