Mitch McConnell Decries 'Left-Wing Signaling' on Keystone XL Amid Joe Biden Power Lawsuit
As President Joe Biden faces a legal challenge to his decision to revoke the permit for the Keystone XL pipeline, Senate Minority Leader Mitch McConnell has said his executive order is a sign that the Democrats could endanger American jobs.
Biden was hailed by environmental groups for blocking the pipeline that would have transported 830,000 barrels of oil each day from western Canada to Steele City, Nebraska, and then supplied refineries in the U.S. Gulf Coast.
Last week, attorneys general from 21 states filed a suit arguing that the president had overstepped his authority because the pipeline's origin in Canada and its route across state lines meant it fell under the regulations of "international and interstate commerce."
The attorneys general also said in a statement that the Biden administration had ignored studies that showed the project "would boost the U.S economy, create American jobs and safely transport oil throughout the country."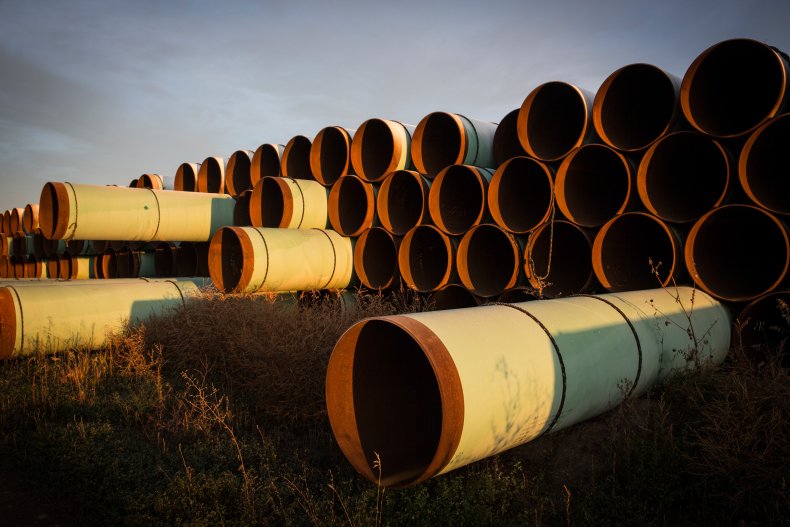 For more than a decade, Keystone XL has been at the centre of a dispute among unions, lawmakers, the energy industry and environmental groups, but McConnell singled out its impact on jobs.
"One of the president's very first acts in office was to kill thousands of American jobs, including union jobs, by canceling the Keystone XL pipeline," McConnell told the Senate on Monday.
"Both working Americans and domestic energy security took a back seat to left-wing signaling," he added as he voiced his opposition to Biden's nominee for labor secretary, Marty Walsh, who was later confirmed.
McConnell went on to criticize the Democratic infrastructure package aimed at modernizing the crumbling transportation system and accused the party of having an "obsessive focus on climate policies to the exclusion of everything else."
First proposed in 2008, Keystone XL was blocked by the Obama administration but given the go-ahead by former President Donald Trump.
The Association of Oil Pipe Lines, North America's Building Trades Unions and the Laborers' International Union of North America all expressed disappointment at Biden's move to revoke the project's permit shortly after taking office.
Union support played a big role in his election victory, with Biden winning 57 percent of union households compared with 40 percent for Trump, according to Edison Research.
The United Association of Union Plumbers and Pipefitters was also among the groups that felt let down. In January it issued a statement saying: "Sadly, the Biden administration has now put thousands of union workers out of work."
Supporters of the president's decision, however, point to his pledge to tackle climate change by creating millions of green energy jobs.
"The job potential of [Keystone XL] has been well studied. Official numbers show that building the project generates around 2,000 jobs a year for two years then it will generate 50 jobs to operate," said Anthony Swift, director of the Canada project at the National Resources Defence Council.
"In a world where we are looking at an opportunity for a green infrastructure that would generate millions of jobs over the next decade, compared to that, this is really a distraction," he added.