KFC '11 Herbs & Spices' Firelog that Smells like Fried Chicken Already Sold Out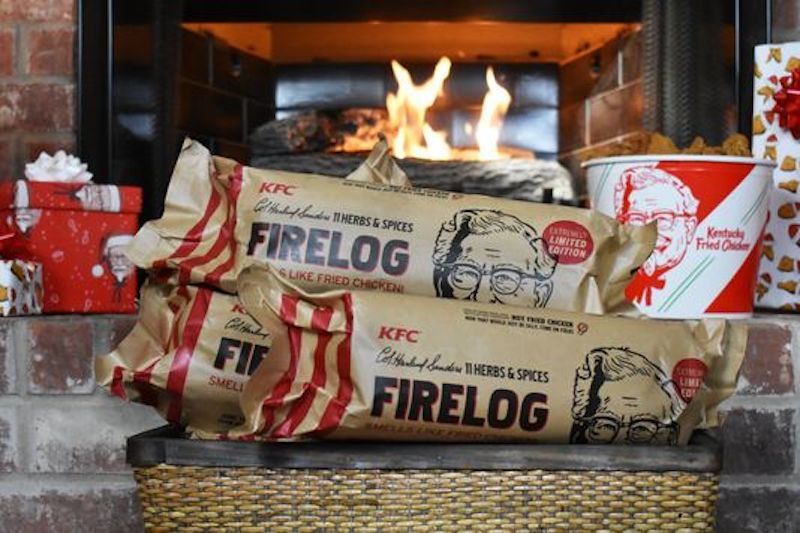 KFC's 11 Herbs & Spices Firelog sold out in hours after going on the market on Thursday.
"Boy howdy, did those go fast! Apologies to those who weren't able to snag one, and to those who did, enjoy the best smelling fire you've ever smelled in your life!" KFC announced via Twitter on Thursday.
The limited edition firelog, which costs $18.99 (which includes tax, shipping and handling) and is available for purchase at www.kfcfirelogs.com, smells just like fried chicken, according to the company.
"The smell of the Colonel's Original Recipe fried chicken is unmistakable," KFC said in a statement, noting it worked with Enviro-Log to create "the ultimate winter necessity."
Per the item description on the company's website:
"This one-of-a-kind firelog from Enviro-Log, a leading manufacturer of firelogs made of 100 percent recycled materials, is the result of countless hours of research and development, all done over the last couple of months since we had this idea ... Made with 100 percent recycled materials, the KFC 11 Herbs & Spices Firelog from Enviro-Log is dramatically less wasteful and significantly more effective at making your home smell like fried chicken than burning actual fried chicken."
KFC U.S. chief marketing officer Andrea Zahummensky released an official statement claiming that the company has "always been proud of our role in bringing loved ones together at the dinner table around a bucket of our world-famous fried chicken."
"Now, this winter we're bringing all the things we love – family, friends and fried chicken – together around the fire with our scented firelog," Zahumensky said.
Similar holiday-inspired campaigns have been launched by other food brands and chains recently. Pringles released three special Thanksgiving Dinner flavored chips, which sold out within 41 minutes, according to USA Today.
Aldi's grocery store also released the first-ever limited-edition U.S. wine Advent calendars in November, which sold out in minutes at most stores and were eventually sold via auction on eBay at up to four times the original price.
KFC limited purchases of the five-pound logs to one per customer, which carry a chicken-like aroma even without being lit and a note from Col. Sanders on the packaging.
"When the weather outside gets frightful, just throw one of my logs on the fire, sit back and enjoy the delicious smell of my fried chicken in complete, cozy bliss," Sanders says in the packaging message. "Just make sure you don't eat it. That would hurt."