KFC Adds Durian Chicken Nuggets to Menu in China
KFC has added nuggets made with durian, the infamous stinky fruit, to menu in China.
Four-piece durian chicken nuggets meals are available for 11.50 Chinese yuan ($1.60) or as part of a snack platter including wings, fries, and a Pepsi for about $8.30. The name is a little misleading, though: While they're fried and breaded on the outside, the nuggets are filled with a hot, oozing durian paste, not of chicken.
Reaction has been mixed: On Chinese social media platform Weibo, one user liked how the savory nugget balanced with the sweet durian. Another enjoyed the "fragrant burst of flavor."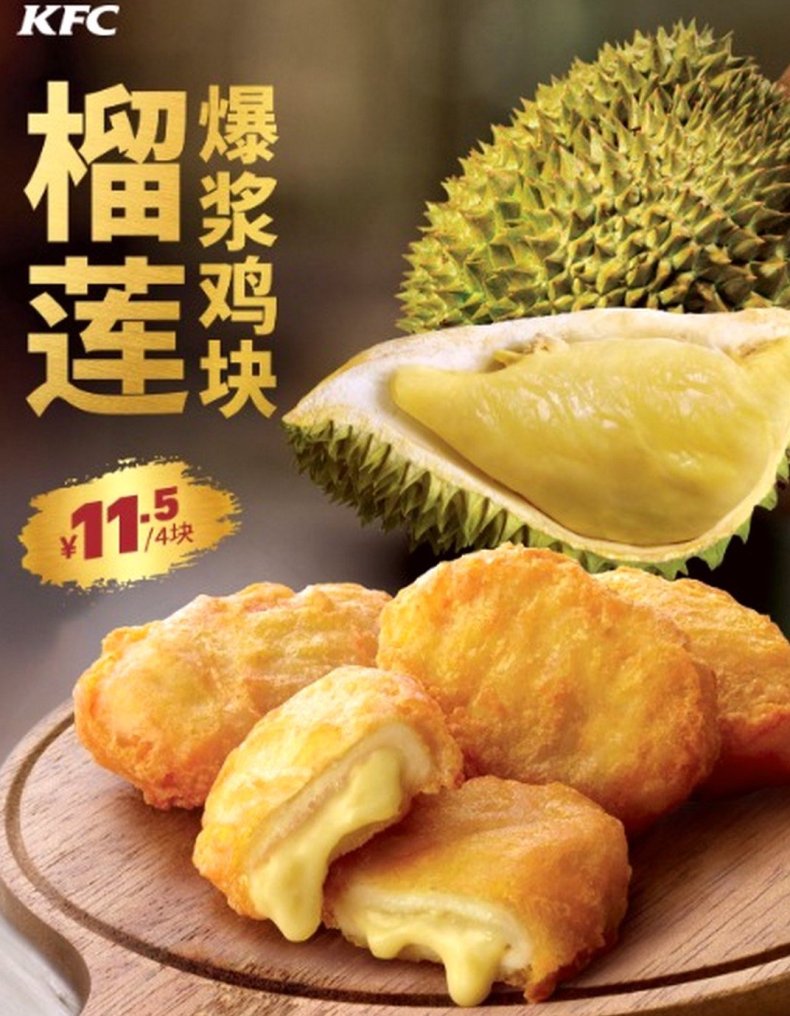 But on RADII China, reviewer Calvin Kung said the snack "underdelivered."
"It was your average chicken nugget with a sliver of durian sludge," he explained. "The outside flavoring of nugget is so strong, not even the mighty durian can win this battle for your 'buds."
"The durian taste is so faint, you wonder if they just killed a chicken that happened to eat durian," he added. "There's a reason durians don't grow in Kentucky."
KFC is China's largest fast-foot chain, with over 5,900 locations in the country. KFC China is more known for its fast-food takes on Chinese dishes like rice congee and egg tarts, and has recently expanded to include Chinese street food like chuan and lou mei.
Back in America, KFC recently partnered with Beyond Meat to create plant-based boneless wings and nuggets. The items were sold at one Atlanta location and sold out in less than five hours, with people waiting two hours in a line that wrapped around the building.