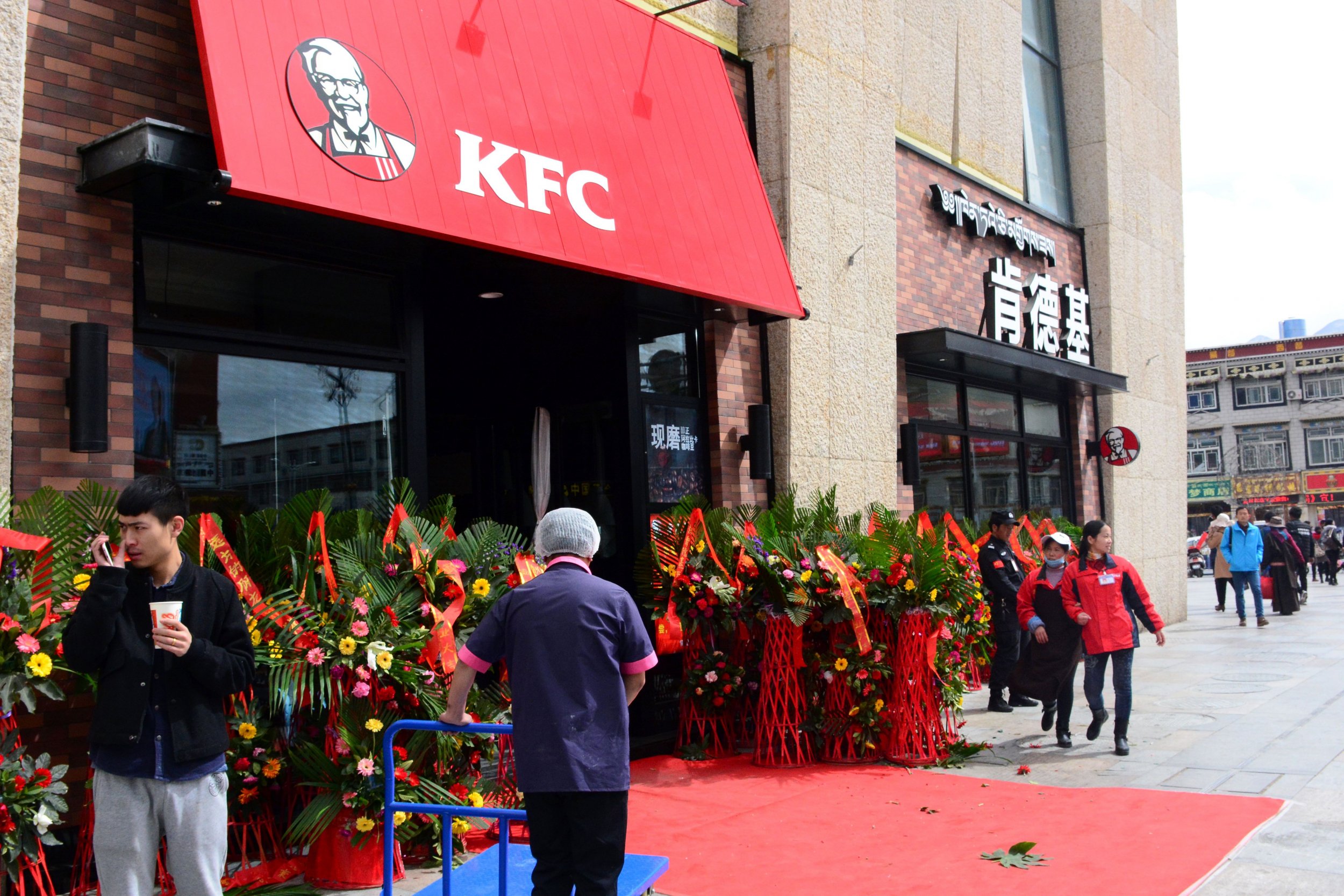 The Colonel has, somewhat belatedly, come to town in Tibet after the mainly Buddhist state opened its first branch of fast-food restaurant KFC.
An outlet of the fried chicken restaurant opened at the Shenli Shidai shopping mall in Tibet's capital Lhasa on Tuesday, Chinese state-owned Xinhua News Agency reported. KFC entered mainland China in 1987 and has more than 5,000 branches in the country. Tibet has been ruled since 1950 as an autonomous territory by China, which views Tibetan Buddhist leader the Dalai Lama as a separatist.
KFC previously considered expanding into Tibet in 2004. But the move was opposed by animal rights groups and the Dalai Lama, who said that the mass slaughter of chickens was a violation of traditional Tibetan values. One of the key values of Buddhism is ahimsa, or 'non-violence' towards all creatures, which extends to most Buddhists practising a degree of vegetarianism
"I have been particularly concerned with the sufferings of chickens for many years," said the Dalai Lama in a letter published by animal rights group PETA at the time. "These days, when I see a row of plucked chickens hanging in a meat shop, it hurts." KFC's parent company, Yum! Brands, called off the expansion, saying that it did not think it would be profitable to operate in Tibet.
Excluding its China division, KFC has almost 15,000 outlets in more than 120 countries. But the restaurant has been subject to allegations of mistreatment of chickens by animal welfare groups. KFC was subject to a lawsuit by PETA in 2003 for allegedly covering up maltreatment of chickens, but the case was eventually dropped by PETA.
Free Tibet, a London-based campaign group supporting Tibetan independence, warned that the expansion of KFC into the region must serve the needs of the local population by hiring Tibetan employees and ensuring that the Tibetan language is used at the restaurant—China has imposed Mandarin as the official language in Tibet. "If Yum! treats Lhasa as just another Chinese city with its eye on the Chinese and foreign tourist market, it is playing into the hands of China's government," said Free Tibet in a statement issued on Wednesday.