KFC Urges Customers to Eat Chicken to Remember Nazi Kristallnacht
KFC Germany reportedly pushed out a notification on Wednesday urging customers to "treat themselves" at the fried chicken chain in commemoration of Kristallnacht, a message the company later said was an error.
An English translation of the notification, in part, read: "Commemoration of the Reichspogromnacht," which is the German name for Kristallnacht, The Jerusalem Post reported.
"Treat yourself to more tender cheese with the crispy chicken. Now at KFCheese!" it added.
The Nazi-orchestrated Kristallnacht, or the "Night of Broken Glass," was a wave of violent attacks against Jewish people throughout Germany and Austria across November 9 and 10 in 1938, according to the Anti-Defamation League (ADL). Jewish people, businesses, homes, houses of worship, schools and cemeteries were attacked, vandalized and desecrated during the pogroms, which are defined as organized massacres of a particular ethnic group.
Nearly 100 Jews were killed and many more were injured during Kristallnacht, while more than 7,000 Jewish businesses and hundreds of synagogues were destroyed, according to the ADL. Additionally, 30,000 Jews were arrested and sent to concentration camps.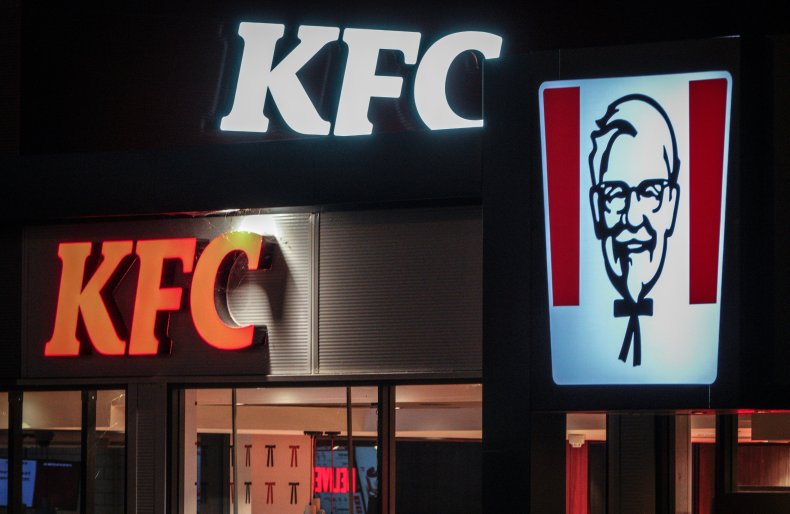 Dalia Grinfeld, the ADL's associate director of European affairs, shared a screenshot of the notification on Twitter Wednesday and criticized the company for the message.
About an hour after the initial notification was sent out, KFC issued another apologizing for what it described as a system lapse, the Post reported.
"Due to an error in our system, we sent an incorrect and inappropriate message through our app," it read. "We are very sorry about this, we will check our internal processes immediately so that this does not happen [again]. Please excuse this error."
KFC Germany told Newsweek in an additional statement that an "automated push notification was accidentally issued to KFC app users in Germany that contained an obviously unplanned, insensitive and unacceptable message and for this we sincerely apologize."
"We use a semi-automated content creation process linked to calendars that include national observances," the statement added. "In this instance, our internal review process was not properly followed, resulting in a non-approved notification being shared. We have suspended app communications while we examine our current process to ensure such an issue does not occur again. We understand and respect the gravity and history of this day, and remain committed to equity, inclusion and belonging for all."
The incident came as several high-profile figures have faced a public reckoning for language and actions condemned as antisemitic. Kanye West, who legally changed his name to Ye last year, sparked intense criticism last month when tweeting that he would go "death con 3 On JEWISH PEOPLE."
Several companies cut ties with the rapper in light of the controversy, and he was temporarily locked out of his Twitter account.
NBA player Kyrie Irving also came under scrutiny late last month for posting a link on social media to a documentary that critics have said includes antisemitic tropes. Irving was suspended by the Brooklyn Nets last week for at least five games after he declined to say that he had no antisemitic views. After the suspension, he released a statement on Instagram Thursday apologizing for his "failure to disavow antisemitism."
"To All Jewish families and Communities that are hurt and affected from my post, I am deeply sorry to have caused you pain, and I apologize," he said.
Update 11/9/22, 4:45 p.m. ET: This story has been updated with a statement from KFC Germany.