Don't Worry, KFC's Mission to Send a Zinger Chicken Sandwich to Near Space Will Still Happen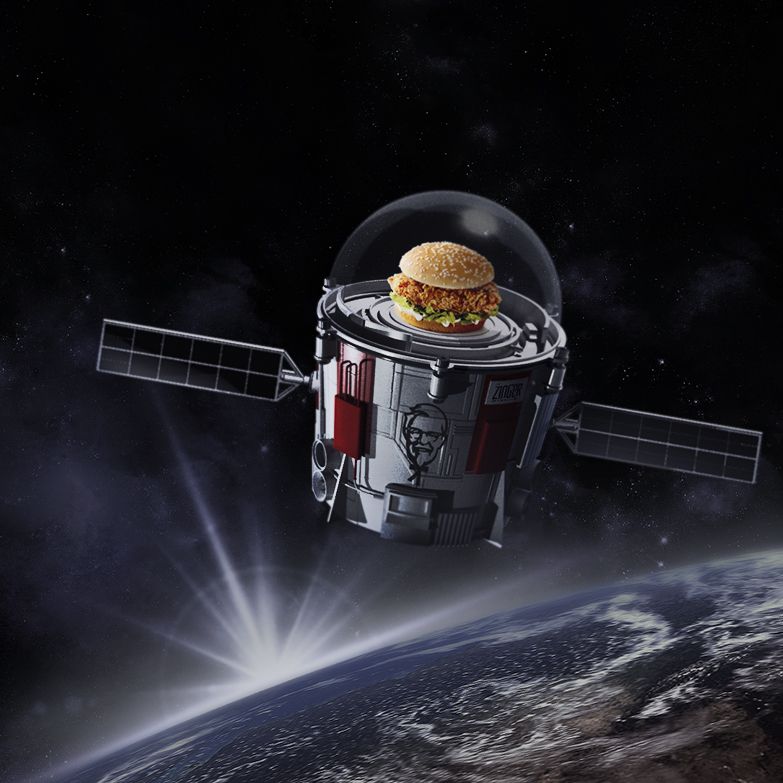 Mother Nature has delayed the launch of a KFC sandwich into the stratosphere. World View Enterprises, the stratospheric exploration company that is hosting the Zinger 1 Space Mission—"a mission to take KFC's new spicy, crispy Zinger chicken sandwich to new heights"—blamed wind for the grounding of its high-altitude Stratollite balloon system.
The company will send updates once officials have confirmed the date and time for the next launch attempt. Those who really want to know when the sammy is headed to the skies should tune into KFC and World View social channels. According to World View's Facebook page, the next launch attempt will likely occur on Saturday.
The "KFC bucket satellite" will be carried into the skies for a four-day flight via a specially designed high-altitude hot air balloon. These balloons can serve other slightly more grounded purposes, such as weather monitoring and tourism. According to Space.com, the balloon will reach an altitude of 60,000 to 75,000 feet above Earth, where nearly 20,000 KFC franchises currently reside.
KFC insists the mission isn't just an attention-grabbing marketing ploy. Funding a mission to send its deep-fried sensation out into near-space will provide useful information to World View for future, more serious expeditions such as taking real mammals for a ride.
Animals—the living kind—are no strangers to space exploration. Since the 1950s, a variety of companions have joined human astronauts aboard critical missions. The historical list reads like a page out of the biblical tale of Noah's ark. Geckos, monkeys, dogs, mice, rats, frogs, turtles, fish, silkworms, spiders, ants, fruit flies, bees and single-celled organisms have all made their way onto missions. Sadly, many have not survived. In 1989, NASA sent chicken embryos out into the great unknown.
But sending live animals to space is sooo 20th century.
The only crew member that will be (barely) alive on this mission is "crisp lettuce" that accompanies the fried chicken patty, mayo and sesame bun. Unfortunately, there is limited room in the satellite, which means the potato wedges, cookie and sugar-sweetened beverage that typically comes with the Zinger will be staying home.
But fear not! The moment will not be lost since the souped (sandwiched?) up satellite comes equipped with a "custom robotic selfie arm." Even a chicken fillet wants to preserve special memories. The spacecraft has other features that likely have Neil Armstrong rolling around in his grave, including a space tweet module that will broadcast tweets from fans with the hashtags #ZingerSpaceTweet and #Pickme. There's also a trap door from which the Zinger will drop the first-ever coupons for a chicken sandwich.
And finally, in the tradition of 1970s space travel, aboard the satellite also will be a gold cassette tape to broadcast Colonel Harland Sanders waxing poetic about his chicken. You know, just in case extraterrestrial lifeforms turn out to be listening.