Freed Azeri Journalist Vows to Keep Investigating Corruption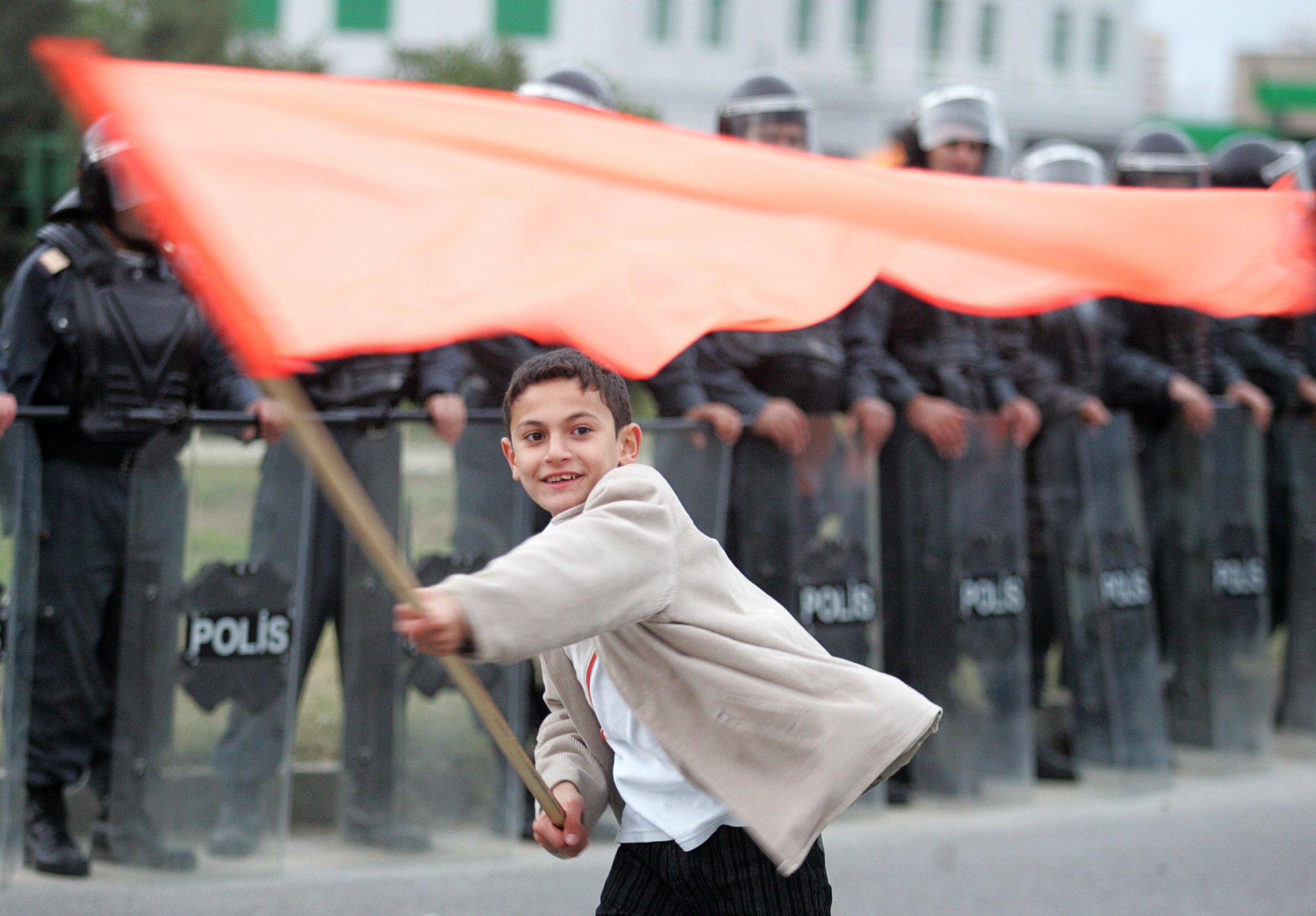 A reporter in Azerbaijan who was sentenced to seven and a half years in prison after investigating corruption and abuse of power by President Ilham Aliyev has vowed to continue her work after being granted early release this week.
Khadija Ismayilova spent a year and a half in jail on charges that human rights groups have said were aimed at silencing her. She was initially arrested in December 2014 on charges of inciting a colleague to attempt suicide. However, that colleague later withdrew his complaints, "and then the regime found some other accusations against her—tax evasion—and convicted her to jail," says Paul Radu, executive director of the Organized Crime and Corruption Reporting Project (OCCRP), a nonprofit organization based in Sarajevo, Bosnia-Herzegovina.
"She basically started having problems when she started investigating the first family," Radu says.
Ismayilova, who used to work for Radio Free Europe/Radio Liberty and the OCCRP, has always denied the charges against her while press freedom groups have been campaigning for her release.
According to OCCRP , a court in Azerbaijan ordered her release on May 25 and suspended her sentence, acquitting her of charges of misappropriation and abuse of power, but upholding charges of illegal entrepreneurship and tax evasion, for which she still faces 3 years and 6 months in prison. That sentence was commuted to probation. Ismayilova has appealed that conviction at the European Court of Human Rights.
In a video posted on Facebook, Ismayilova, speaking by phone from Azerbaijan, thanked her colleagues after her release. "Thank you for all investigations…it's the best thing a prisoner can read in prison," she said. "We will do our investigations, and we will continue doing what we were doing." She expressed interest in the so-called Panama Papers, a trove of leaked documents from a law firm in Panama that deals with offshore companies.
Her original arrest drew the attention of press freedom groups around the world. "It was a political case from the outset," Johann Bihr, the head of the Reporters Without Borders Eastern Europe and Central Asia desk, said at the time. "Everyone in Azerbaijan knows that she is in prison because of her journalistic work and her human rights activism."
Radu said Ismayilova came under increasing pressure in the years before her arrest after she started to investigate the financial dealings of Aliyev and his family.
According to the Institute of War and Peace Reporting, she received a letter in March 2011 with the words "Behave... Or you will be shamed," and an envelope of photographs of her engaged in sexual activity. "The same letter was also sent to two opposition-leaning newspapers, which did not publish pictures," the Institute of War and Peace Reporting wrote.
Drew Sullivan, an editor and co-founder of OCCRP who worked with Ismayilova over the years, remembers when the first threats started to appear. He said when she received the envelope of photos, she was also warned that if she didn't stop her reporting, a video would be released. "The photos were from the house she was staying at so it was clearly bugged. Rather than submit to extortion, she announced the threats. The video and the story were run on state-owned media," Sullivan said.
"She was also threatened when government-controlled media ran stories about her being an Armenian agent and announcing the home address of her mother," Sullivan said.
Restricted media
According to Reporters Without Borders, Azerbaijan is ranked 163 out of 180 countries in the 2016 World Press Freedom Index. "Not content with crushing all forms of pluralism, President Ilham Aliyev has been waging a relentless war against his remaining critics since 2014. Independent journalists and bloggers are thrown in prison if they do not first yield to harassment, beatings, blackmail or bribes," the organization says on its website.
President Ilham Aliyev has rejected such criticism, and in 2013 an Azeri media group presented him with an award for being a "Friend of Journalists." According to Buzzfeed, during the award ceremony the president said, "Azerbaijan has a free media. We are interested in further developing it. There is not and can not be discrimination against media. There is no restriction on the sale of newspapers. Azerbaijan has free internet."
Lala Aliyeva, one of many Azeri journalists who now works abroad, disputes that: "Either you have to work for the government or not work at all," she said.
Miranda Patrucic, an investigative reporter and the regional editor at OCCRP in Bosnia Herzegovina, said she spoke to Ismayilova after her release. "We were crying as we spoke to her," Patrucic said. "Unfortunately Khadija is banned from traveling for the next five years. And I can't go to Azerbaijan," she said. "But we have started many investigations while she was in prison, and we plan to finish them...With Khadija free from jail our team will be stronger than ever. Khadija is determined to go back to journalism, and we can't wait to have her back on board."