Who Is Khalifa Haftar, Libya's Divisive General?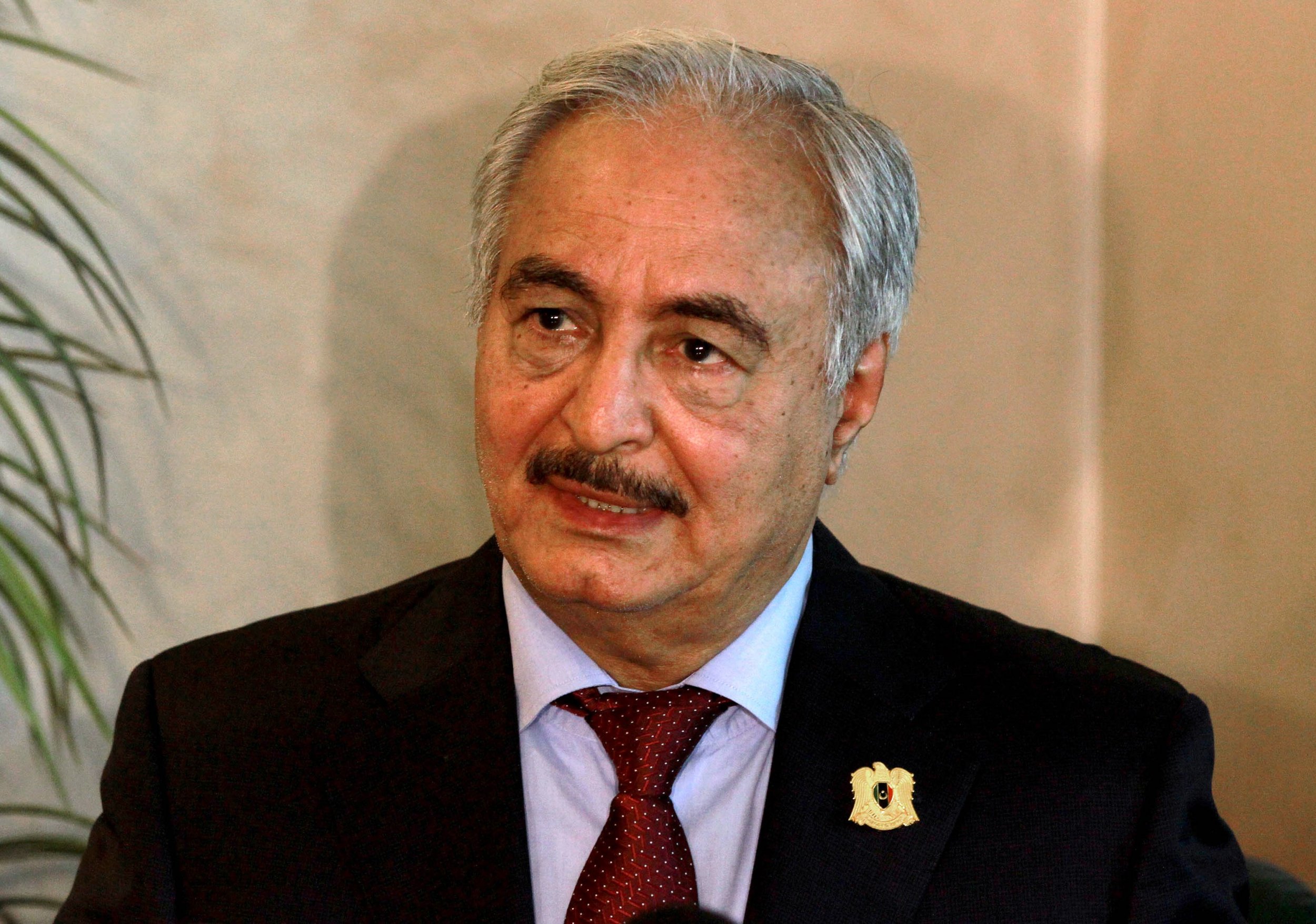 Updated | The death of three French special forces soldiers in Libya came as a surprise to the North African country's United Nations-backed government.
The Government of National Accord's (GNA) Presidential Council, the composition of which was thrashed out in December 2015 with U.N. assistance, said Wednesday that it had asked French President François Hollande for an explanation as to why troops were operating in eastern Libya without coordination with the internationally-backed government.
France only publicly admitted to even having forces on the ground in Libya Wednesday as rumors swirled that a helicopter carrying French troops had been shot down by an Islamist militia on Sunday. In his statement, Hollande said that the soldiers had died after participating in "dangerous intelligence operations" in Libya, where they were involved in a helicopter accident.
In the absence of coordination with the U.N.-backed council, the question arises as to who the French were working with on the ground in Libya. And it seems as though the answer may lie with General Khalifa Haftar, a popular but controversial military officer based in the east of the war-torn country.
The commander of the Libyan National Army, Khaftar has become a divisive yet crucial figure in the political vacuum and civil war that has engulfed the North African state since the removal of former leader Muammar El-Qaddafi in 2011. For some, Khaftar is a military strongman crucial to coordinating the fight against the Islamic State militant group (ISIS); for others, he is a stubborn and powerful obstruction to the country's unity government attempts to resolve Libya's political crisis.
Born in Ajdabiya in eastern Libya, Haftar was a key ally of Qaddafi when the ex-leader seized control from King Idris in a coup d'état in 1969. Qaddafi sent his trusted ally to neighboring Chad in the 1980s, where Libya intervened multiple times in the 1970s and 1980s. But the move backfired as Haftar was captured in 1987 and swiftly disowned by the Libyan leader—Libya had earlier promised to withdraw its troops from Chad and Haftar's presence was a violation of this agreement.
Haftar ended up in the United States, having become aligned with anti-Qaddafi, U.S.-backed rebels in Libya, and lived in America for several decades, mostly in Virginia. The location of Haftar's U.S. home is significant, being close to the CIA's headquarters in Langley, Virginia—the ex-Qaddafi ally has long been rumored to have received American training and support for plans to overthrow the late Libyan leader, although both parties have officially denied any substantive links.
Haftar came back into national prominence in 2014 when, three years on from Qaddafi's deposition, he appeared on national television to announce that the General National Congress—the largely Islamist government established in Tripoli after Qaddafi's overthrow—had been dissolved and that a caretaker government should oversee fresh elections. In May 2014, the military man launched Operation Dignity, targeting Al-Qaeda affiliate Ansar Al-Sharia and other Islamist militias that were running riot in Benghazi, Libya's second city, eventually reclaiming the majority of the city by February. In the interim, Haftar had been appointed as commander of the LNA by the House of Representatives (HoR), an internationally-recognized successor to the GNC based in the eastern city of Tobruk.
The presence of French special forces in Libya was first reported by Le Monde in February, which told of French troops based in the east of the country engaging in covert operations against ISIS. The French forces were reportedly acting as military advisers to LNA troops but were not actually participating in conflict. While ISIS's main base is further west in Sirte, the militant group previously held control of Derna, a city east of Benghazi. It is also thought to have pockets of fighters in Benghazi itself. With Haftar as the figurehead ostensibly unifying anti-ISIS and anti-Islamist forces in the east, he is an obvious figure for Western cooperation.
But according to analyst Frederic Wehrey, neither Haftar's links with Western forces nor his significance in the fight against ISIS should be overstated. "The LNA forces are quite diffuse and diverse. So [the French] are backing military forces that fall under the loose command of General Haftar, but I'm not sure they see him as someone that's really leading this fight or could play a role [in Libya's future]," says Wehrey, senior associate on the Middle East Program at the Carnegie Endowment for International Peace in Washington.
Wehrey adds that ISIS's "ground zero" in Libya is in Sirte, and "he [Haftar] is not playing a role in that fight." While Haftar's forces have been involved in clearing ISIS from Derna— LNA airplanes conducted strikes against the militants—and resisting any potential growth of the group in Benghazi, such conflicts remain tangential to the real battle to dislodge the militant group from its main base in the North African state. The deeply-complicated state of affairs in Libya is highlighted by the fact that Haftar's forces are now, in fact, bombing those of an Islamist group known as the Derna Mujahideen Shura Council, which did much of the on-the-ground work in removing ISIS from control in Derna, eventually achieved in February.
Besides his perhaps over-exaggerated role in the fight against ISIS, Haftar has become well-known for his stubborn refusal to engage with the U.N.-backed GNA, recognized by the international community as the best prospect for stabilizing Libya. Haftar has accused the GNA of using militias, mostly Islamist, in the fight to retake Sirte from ISIS. "An army cannot unify with militias so they must be dismantled. It's unthinkable to work with these armed factions," Haftar said in an interview with French digital channel iTÉLÉ in May.
But the real reason that the military strongman is refusing to work with the GNA is that it might mean the end of his influence in eastern Libya, according to Alison Pargeter, Libya expert and senior research fellow at defense think-tank RUSI. "Haftar remains unwilling to endorse the U.N.-backed government because doing so will inevitably mean an end to his power and dominance," says Pargeter. "Given the power he wields in the east, Haftar is currently the biggest single obstacle to peace in Libya."
This article originally incorrectly quoted Alison Pargeter as describing Haftar as "willing to endorse the U.N.-backed government." Pargeter had actually described Haftar as "unwilling to endorse the U.N.-backed government."