Khizr Khan, Gold Star Father Who Spoke at DNC, Wants John Kelly to Stop 'Mopping Up' After Donald Trump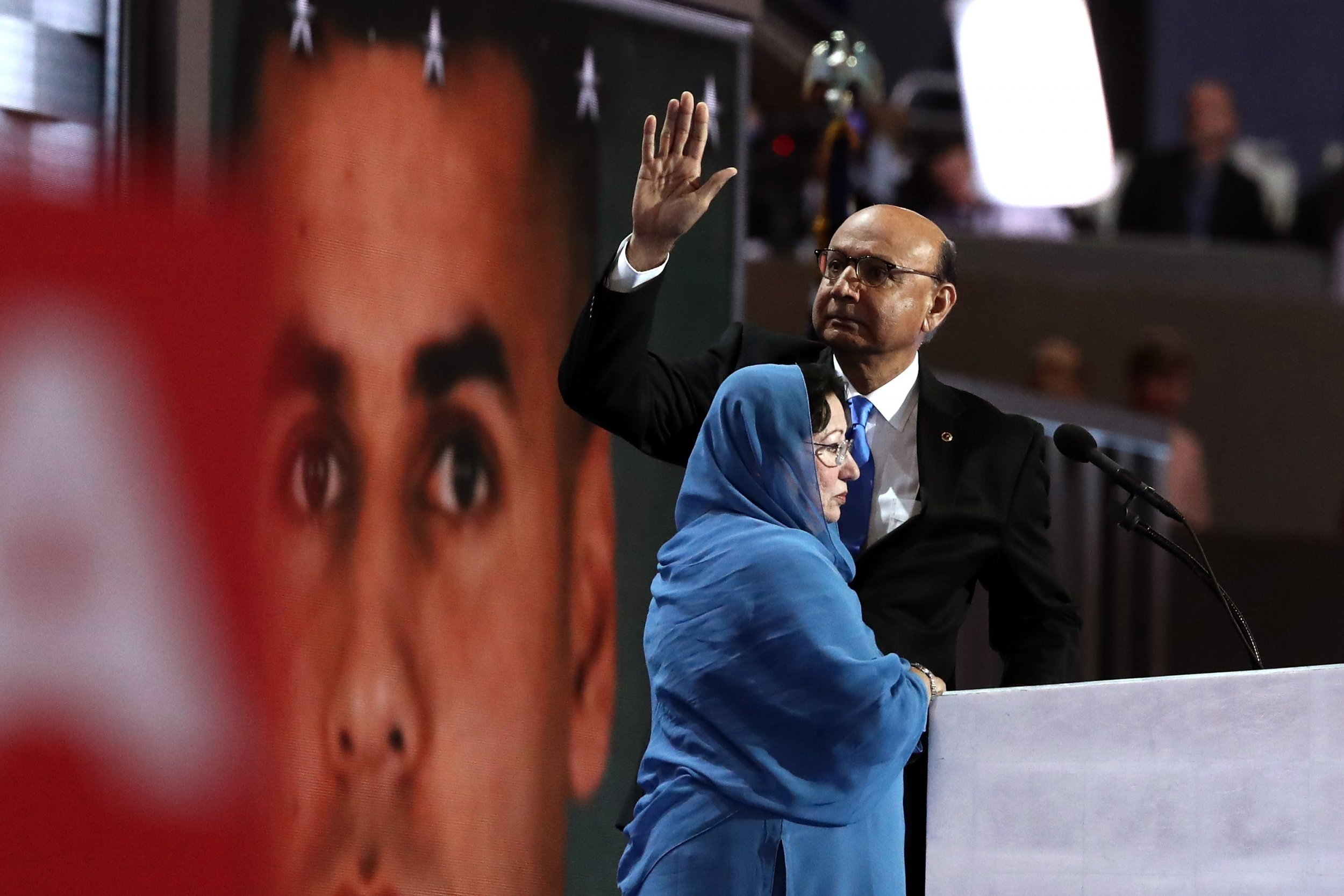 The Gold Star father who spoke out against Donald Trump at the Democratic National Convention last year condemned the White House Thursday night for its insensitive response to the recent deaths of four U.S. troops in Niger.
Khizr Khan, whose son Humayun Khan was killed in Iraq in 2004, told Newsweek he's not only angry at Trump — he's also frustrated with Chief of Staff John Kelly, a general and military dad himself whom Khan believes should know better.
"He's mopping up after the president, and that is disappointing," Khan said.
Khan's remarks came four days into a fast-moving controversy around Trump's handling of the Niger ambush that killed four Green Berets on October 4. The firestorm began Monday, when a journalist asked why Trump hadn't commented publicly on their deaths and Trump responded by falsely claiming his predecessors didn't call the families of fallen soldiers. It continued when Trump made his calls and offended one of the soldier's family. The president then got into a Twitter spat with a Democratic congresswoman, and on Thursday, Kelly, a former general now Trump's chief of staff, commandeered a news conference to do damage control.
A Gold Star dad himself, Kelly defended the president's actions, telling reporters that he recommended the president not make calls to grieving relatives at all. He told reporters that President Barack Obama had not called him when his son was killed in Afghanistan in 2010.
That left Khan upset.
"[Kelly is] a good soldier, but he should know that he works for the American people ... this mopping, enough of mopping after these not-so-dignified expressions of condolence," Khan said. "This is what history will write: That, after serving so honorably, he came to the White House to serve with the most racist and bigoted president."
Khan has never been a fan of Trump — during the DNC, he famously challenged the tycoon's proposed ban on Muslim immigration by pulling out a pocket copy of the Constitution — but he said this week has been especially disheartening.
"His intellect and his capacity is limited," Khan added. "He does not understand what sacrifice is and how to handle it. He had his surrogates — I wish they would advise him to act better."
After attacking Obama and George W. Bush on Monday, Trump hit a snag Tuesday when he called the widow of Sergeant La David Johnson. Florida Representative Frederica Wilson, a Democrat, listened to the conversation and said the family was offended when Trump said Johnson "knew what he was getting into when he signed up, but I guess it hurts anyway."
Trump said the account was fabricated, suggesting that Wilson was politicizing the death. Kelly also blamed Wilson on Thursday, saying, "It stuns me that a member of Congress would have listened in on that conversation — absolutely stuns me."
Khan told Newsweek he believed Kelly and Trump's reactions were undignified.
"These fallen heroes...deserve utmost respect, and their families deserve utmost respect, and dignity, and privacy," Khan said. "Whatever is taking place politically ... that is just Washington. I don't want any part of that."