Khloé Kardashian Hints on Instagram That She's in Love Again and Fans are Not For It
Khloé Kardashian is in love again, or at least that's what fans were guessing after she posted a cryptic Instagram post on Wednesday.
The entrepreneur and reality TV star's quote was the song lyric "Wise men say/ Only fools rush in" in an image, and captioned it with another line from the song: "I can't help falling in love with you."
The words were taken from the famous 1961 song "Can't Help Falling in Love," originally sung by Elvis Presley, but covered and adapted by numerous artists, including UB40's platinum-selling version from the 1990s.
The post came after Kardashian experienced a tumultuous time with ex-boyfriend Tristan Thompson in the last year and a half. Reports in 2018 said Thompson cheated on her while Kardashian was nine months pregnant. Then, Thompson allegedly cheated on her again with Jordyn Woods, the best friend of her half-sister Kylie Jenner.
The first time was just days before Kardashian gave birth to their daughter, True. Thompson was seen speaking closely to a girl at a bar in Manhattan. A video showed the same girl entering a hotel with Thompson at 5 a.m., prompting allegations that Thompson was cheating on Kardashian.
A source told People magazine in April 2018 that Thompson is "a serial cheater. And there will be more women to come out of the woodwork."
But it wasn't until February, 10 months after the scandal, that the pair officially broke up. US Weekly confirmed it at the time.
On March 1, Woods shared her side of the story in an interview with Jada Pinkett Smith. The 21-year-old claimed that Thompson kissed her at an afterparty at his house on February 17 after a night of drinking. Although she denied having sex with him, Woods admitted that the next day, she told Khloé only that she had been at Thompson's house—not what had happened between them.
In a sneak-peek of the upcoming episode of Keeping Up With The Kardashians, Khloé is seen telling her sister Kim that she doesn't solely blame Woods for the fiasco.
Khloé said: "Like, I would never blame solely one person for that ... so I feel bad—even though Jordyn played a part—I do feel bad if anyone would think I was putting the sole blame on her, because that's not the truth and I only like to speak my truth."
Presumably in light of all of the drama, Instagram users commented on Kardashian's post to express feelings of apprehension over the idea that the star might be in love again.
Instagram user estrella_brillante08 said: "Girl... don't fall in love again just yet, u need a minute, sit this one out!"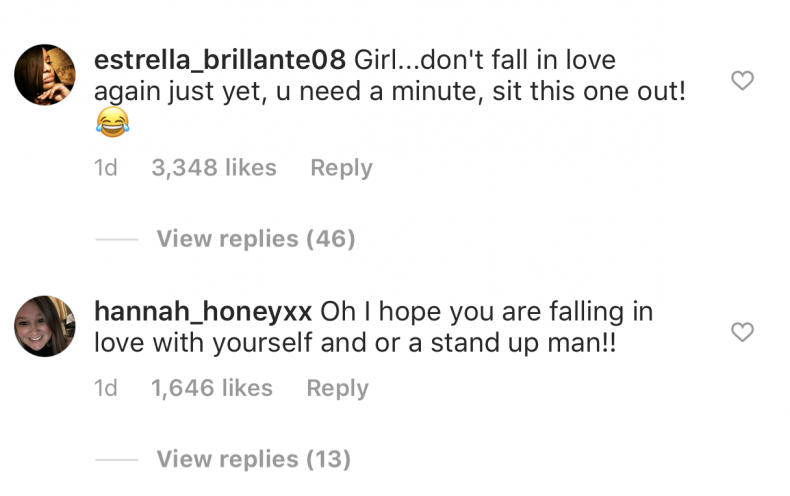 At least one other user added that it's "too early" for these kinds of feelings, following the whirlwind of Thompson's scandals.
Some wondered if the post was about Thompson, given that he and Kardashian seemed to be on better terms these days. On Instagram on Thursday, Thompson dedicated a post to Kardashian for her birthday, wishing her "nothing but more success" and "positive blessing."