Was Kylie Jenner's Rumored Pregnancy Accidentally Confirmed by Jen Atkin's Instagram Post?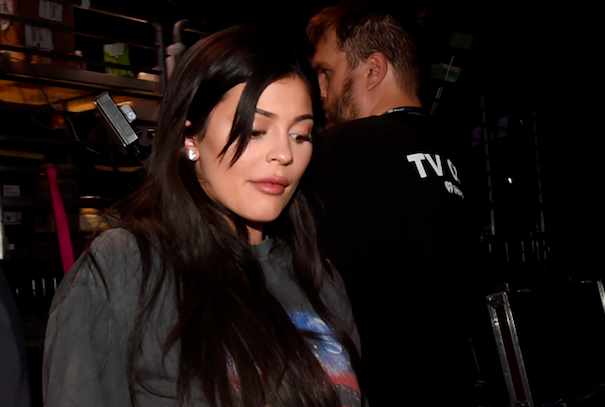 Celebrity hair stylist Jen Atkin took to Instagram Wednesday to congratulate Khloé Kardashian on her pregnancy. But she might have accidentally confirmed Kylie Jenner's rumored pregnancy.
For months, speculation swirled that Kardashian was expecting—and the same went for Jenner. Like Khloé, Kylie has hidden her stomach since the gossip picked up but had yet to confirm her pregnancy.
"Literally my friends are all having babies and I'm just over here like 'mmm, wine and Netflix,'" she wrote. "My [heart] is so full that my bb's are having babies (i also hope @mrmikerosenthal didn't put them up to this)!! 2018 is going to be a good year after-all."
The picture Atkin posted features Atkin, Kardashian and model Chrissy Teigen, who is expecting baby No. 2 with husband John Legend. Atkin also tagged Kim Kardashian West in the post, who is expecting baby No. 3 via surrogate with husband Kanye West.
So, "literally" all of Atkin's friends are having babies?
Atkin clearly didn't include Jenner in the post, but she styles the youngest sister's hair, just like she does for Khloé and Kim. And the lip-kit maven hasn't confirmed her pregnancy, but she hasn't denied it either.
Some fans called for Jenner to confirm her pregnancy since Kardashian came forward.
While Jenner is clearly being mum about possibly expecting, Kardashian validated what most fans already suspected: she was pregnant with her first child.
"My greatest dream realized! We are having a baby! I had been waiting and wondering but God had a plan all along. He knew what He was doing. I simply had to trust in Him and be patient," she wrote in her Wednesday announcement.
In the second part of her post, she thanked her boyfriend, Cleveland Cavaliers star Tristan Thompson.
"I still at times can't believe that our love created life! Tristan, thank you for loving me the way that you do! Thank you for treating me like a Queen! Thank you for making me feel beautiful at all stages! Tristan, most of all, Thank you for making me a MOMMY!" she wrote. "You have made this experience even more magical than I could have envisioned! I will never forget how wonderful you've been to me during this time! Thank you for making me so happy my love!"
In the last part of her message, Kardashian explained why she was reluctant to share the news with her fans.
"I know we've been keeping this quiet but we wanted to enjoy this between our family and close friends as long as we could privately. To enjoy our first precious moments just us," she penned. "Thank you all for understanding. I am so thankful, excited, nervous, eager, overjoyed and scared all in one! But it's the best bundle of feelings I've ever felt in my life!"
Within five hours of being posted, her message garnered more than 5 million likes from her 70.6 million followers.