Khloe Kardashian and Jordyn Woods Drama Reignites Amid Surrogacy News
Commentary on the drama between Khloe Kardashian and Jordyn Woods has reignited on social media after the reality TV star announced that she and ex-boyfriend Tristan Thompson are expecting a second child via a surrogate.
Kardashian and the 31-year-old basketball player already share a four-year-old daughter named True and have had an on-off relationship since 2016.
"We can confirm True will have a sibling who was conceived in November," Kardashian's representative said in a statement on Wednesday.
"Khloe is incredibly grateful to the extraordinary surrogate for such a beautiful blessing."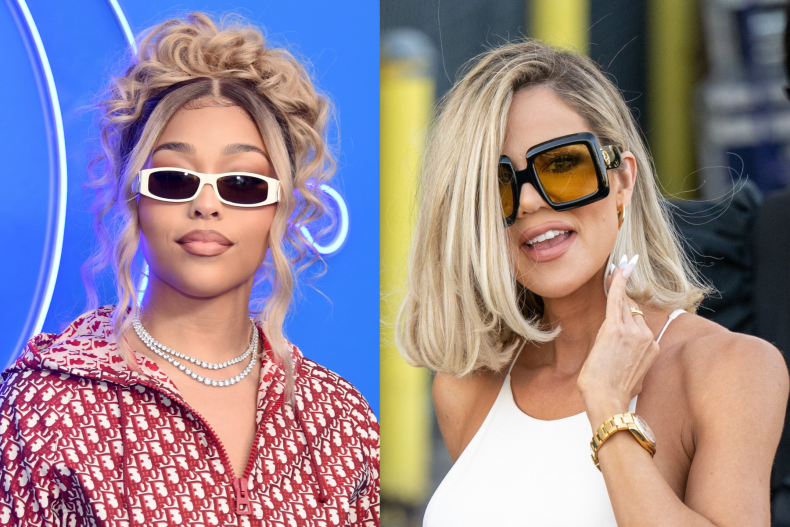 The news comes just months after Kardashian and Thompson announced their separation as it emerged that the Chicago Bulls center had fathered a child with another woman during their relationship.
In 2019, Thompson made headlines after it emerged that he was caught cheating on Kardashian with Jordyn Woods, the best friend of her younger sister, Kylie Jenner.
The situation caused a media frenzy at the time, with the Kardashian Jenner family publicly cutting Woods out of their circle.
Despite Woods being ostracized from the famous family, Kardashian reconciled with Thompson several times and he has been at the center of a number of cheating controversies.
Fans have long demanded that Kardashian apologize to Woods, and the news of the surrogate pregnancy today has sparked another discussion about the situation on social media.
"Jordyn Woods is for sure giggling somewhere reading this tea. Khloe we all knew she was never the issue, but she stays vindicated," reads one tweet.
While another added: "Khloe Kardashian said Jordyn Woods ruined her family like Tristan don't embarrass her every 3 months."
"Every time I read a headline about khloe and Tristan I just know Jordyn Woods is having a good ass day," said another.
While another asked: "Has Khloe Kardashian apologized to Jordyn Woods yet???"
Woods opened up about her kiss with Thompson and the fallout during her appearance on Jada Pinkett Smith's Red Table Talk in 2019.
"I have to deal with my family and all the people I hurt. [Kardashian's] family also has to deal with the hurt," Woods said at the time.
"This story that didn't have to be what it was turned into the biggest scandal or betrayal of the year because I've seen what has been done to my life in only a week based on how the media circulates. They don't put their focus on real-world problems. They're putting their focus on a young black woman who made a mistake and not a mistake that's worth public crucifixion."