Khloé Kardashian's Good American to Debut 'Stylish' Good Mama Maternity Line
Reality star Khloé Kardashian is in her seventh month of pregnancy, and she's capitalizing on her experience as a mom-to-be.
On Tuesday, the youngest Kardashian sister announced her denim brand, Good American, is expanding its offerings to launch its first-ever maternity wear line. With Good Mama, Kardashian, 33, aims to make pregnant women of all sizes—herself included—feel "super comfortable and chic."
"I think the biggest misconception about maternity wear is that you can't be stylish and sexy while you're pregnant, but we're here to prove you wrong with our Good Mama's," Kardashian said in a video. "The maternity market is just not as cute and fun as you want it to be, especially when you are a fashion girl."
Good Mama will offer two premium maternity denim fits: the Honeymoon and the Homestretch. The brand's Honeymoon fit is meant to accommodate women in the early stages of their pregnancy. It has elastic panels that Kardashian guarantees won't leave any marks. The Homestretch fit, meanwhile, is designed for women sporting a bigger bump. It features a "huge" elastic waistband that wraps around the tummy to hold it in place. It feels as if "you're wearing a legging," Kardashian said.
The Los Angeles-based brand's maternity denim line will run in sizes 00-24. Prices are expected to range from $149 to $179. While Good American also sells through partner retailers like Nordstrom and Bloomingdales, Good Mama will only be available through Good American's website, starting Thursday.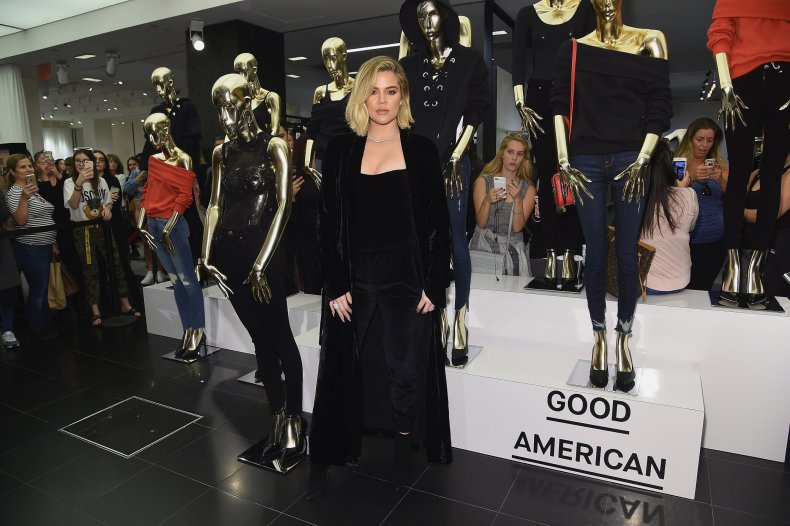 Kardashian co-founded Good American in 2016 with British entrepreneur Emma Grede. After engaging in a conversation about what it means to be a woman in today's society, the pair said they mutually agreed that there was "something missing from the denim community." So the duo teamed up to create a denim line that would flatter and fit women of all shapes.
Kardashian and Gerde's brand was an instant success, pulling in $1 million in sales on the day it launched, October 18, 2016—the biggest debut for a denim line in history. "I'm so happy with the success we have had...but we have so far to go," Kardashian said at the time. Like Kylie Jenner's popular lip kits, Kardashian's Good American also managed to sell out shortly after its launch.