Khun Narin's Electric Phin Band: The Psychedelic Rock Band Discovered in a Remote Village in Thailand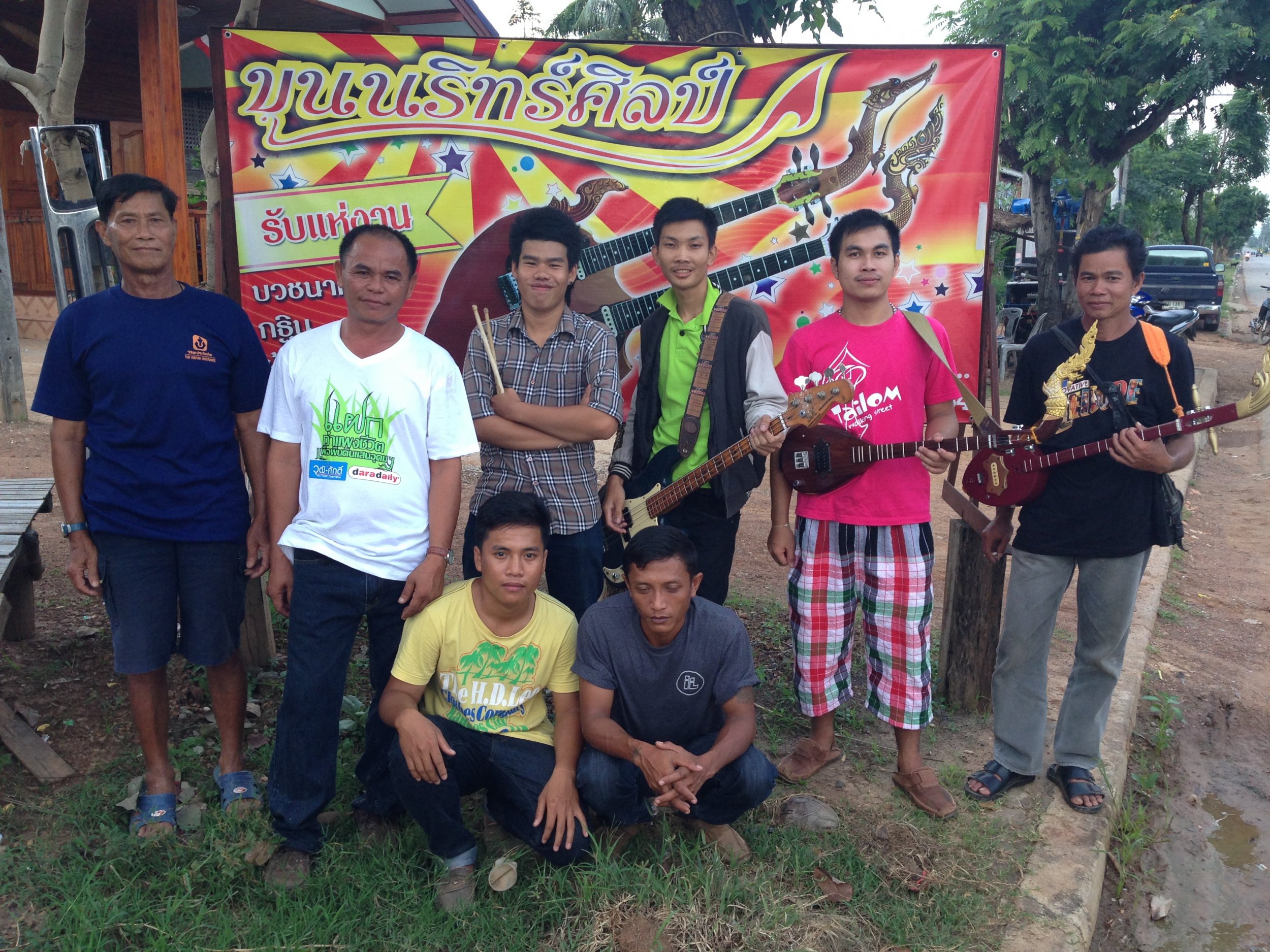 One afternoon in early 2013, Josh Marcy discovered an unusual YouTube video on quirky culture blog Dangerous Minds that would set him on the path for the adventure of a lifetime. Stunned by his discovery, he decided to ditch his high-paying day job to travel to remote village in Thailand to record one of the most exciting psychedelic releases of the year.
Sandwiched between stories about mind-control experiments and hand-carved phonebook portraits was a post with the headline "Mindblowing Psychedelia From Thailand." Marcy—a music producer in Los Angeles—was immediately intrigued. "Thai musical congregation Khun Narin Phin Sing, from the Phetchabun Province, conjures up some mystical vibes in their indescribably beautiful psychedelia," wrote Marc Campbell last March. At first glance, the clip doesn't seem particularly interesting: A group of villagers of varying ages and clad in red vests casually jamming at an ordinary backyard party. But crank up the volume and you'll hear 11 minutes of mind-melting, heavy psychedelic music blasting through the group's DIY sound system.
Marcy found himself falling down a YouTube rabbit hole that eventually led him to a page run by a Thai phin (a two or three-stringed lute) player called Beer, who appeared to be associated with Khun Narin. "The first video I saw was a little more subdued and slow, but what he was playing were these screaming solos and it was all very fast and energetic and percussive," Marcy recalls. "Even his acoustic songs were really beautiful, there's video of him playing acoustically by candlelight." Marcy then came across a grainy party video on Beer's channel featuring a killer cover of the Cranberries' hit song "Zombie." "My mind just exploded," Marcy says. As one astute YouTube commenter pointed out, "Who knew that the party of the year was a slow stroll down a northeastern thai street to slo-flanged psychouts and '90s political pop instrumentals with grandparents and children?"
Marcy was floored. He had to find Khun Narin and his band. But there were a number of logistical issues to work out before the big trip. First, he needed to find a label that would back his adventure, one that would be willing to produce whatever recording came out of it. His first choice was local indie powerhouse Innovative Leisure, a label run by his longtime friends Jamie Strong and Nate Nelson, who quickly signed on to the project. "We thought it might be worth the expense alone just to hear the stories that would come out of this trip," says Strong. "It's hard not to be supportive of someone who is that passionate about something that he was willing to give up his livelihood and take that big of a risk into the unknown."
The next big hurdle was tracking down the band, which was difficult given the group's minimal digital presence and Marcy's inability to speak Thai. A waitress at his favorite neighborhood Thai restaurant kindly agreed to call the number listed on the band's sparse Facebook page, and miraculously, Khun Narin himself answered the phone and agreed to a meeting. Marcy then approached Peter Doolan, an American living in Bangkok who appeared in photos with the band on their Facebook page. (He speaks fluent Thai and runs his own Thai music blog.) Doolan agreed to accompany Marcy to Thailand to bridge the language barrier with the band and document the trip. A month later, they hopped on a plane to find Khun Narin.
Marcy and Doolan headed to Lom Sak, a remote village in the northern part of Phetchabun Province, in northern Thailand—a four-to-six-hour drive from Bangkok, depending on weather conditions. "Most tourists, including myself, when I went to Thailand as a backpacker many years ago, go to the beaches and Chiang Mai," Marcy says. "You don't really go to places like this—it's not on the way." The town was nestled in a valley between two beautiful, mountainous national parks. The morning of the recording session, Marcy and Doolan and their hosts hiked up one of the mountains to find the Buddhist temple where the band practiced and to get the lay of the land.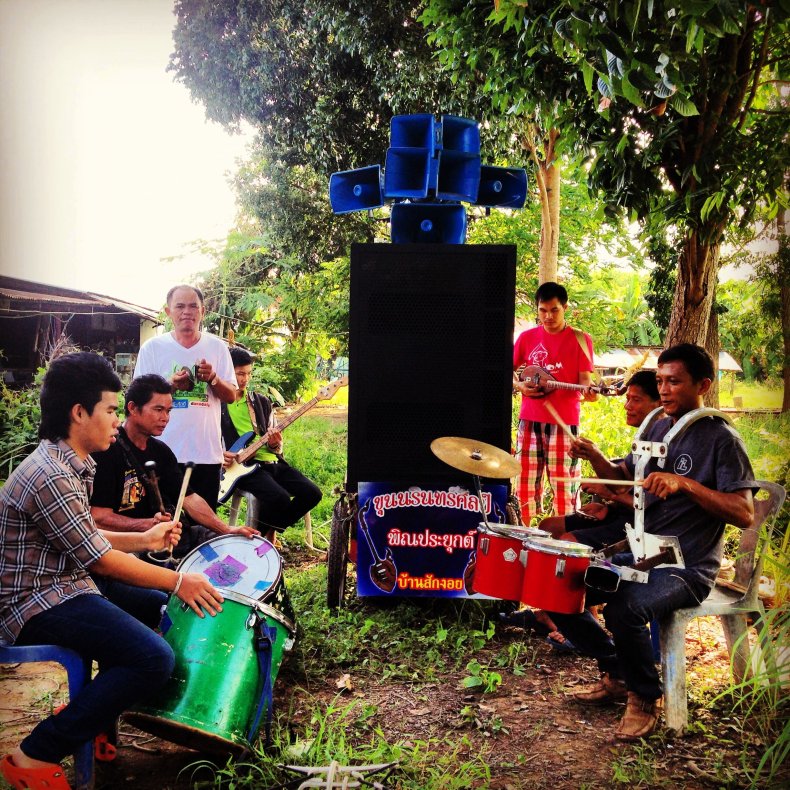 The goal was a true field recording; because Khun Narin generally performs outdoors with a mobile sound system, Marcy had the band set up on a little dirt path between Narin's house and a rice paddy, with a long extension cord running from the house out to the field to power the whole operation. The entire recording setup fit in Marcy's backpack: two microphones, a Macbook Pro, and Apogee Duet. The session lasted just over an hour and a half. The group paused only for a shot of whiskey between each song and a couple of smoke breaks.
"I don't believe that they were influenced by psych rock as we would think of it," Marcy says. "It just happens to have turned out in a way that sounds familiar, in that vein, to us. They'd never heard the Grateful Dead or things like that. They're sort of in a bubble—they're not really on the Internet that much."
The initial plan was to get a couple of songs in hopes of gathering enough material to press a limited-edition 45, but Marcy returned to L.A. with 40 minutes of music, enough for an LP. Innovative Leisure sent the record off to Dave Cooley for mastering. (You may recognize his name from his work with Madlib and J Dilla.) And that was it. "I got very lucky with how easily things came together," Marcy says. "There were a lot of things that could have gone wrong, like I kept going, 'I hope a mic doesn't break or get wet.' Sometimes a little luck goes a long way."
Khun Narin's Electric Phin Band's debut releases August 26, on the Innovative Leisure label.
Correction: An earlier version of this article mispelled the last name of the American living in Bangkok who runs a music blog. His name is Peter Doolan.