For Kia, Electric Vehicle Performance Isn't All About Future Sports Cars
The Kia Stinger GT, K5 GT, EV6 GT and Forte GT all fit the mold for a sedan featuring enhanced sportiness – one even has a manual transmission. For Kia, that's enough. The automaker doesn't feel there's a need to create a separate line of cars like BMW does with its M models.
And, the company doesn't see needing to bring GT performance to every vehicle it makes, Russell Wager, vice president of marketing at Kia America told Newsweek. "Pretty sure we're not going to make a Rio GT."
Where that leave the future of performance at Kia? The answer is in electrified utility vehicles - hybrid electric vehicles (HEVs), plug-in hybrid electric vehicles (PHEVs) and battery electric vehicles (BEVs).
"When you go to to HEV, or plug-in hybrid, you start to give them a little performance at the same time as the Eco side," Wager said, pointing out that an example of that is already on the road, the Niro, a small SUV that can be purchased as an HEV, PHEV or BEV model.
The Niro Plug-In and Niro Electric are the most powerful models, while the Niro HEV focuses on efficiency getting an Environmental Protection Agency (EPA)-rated 53 miles per gallon (mpg) and 588 miles of range out of a full tank.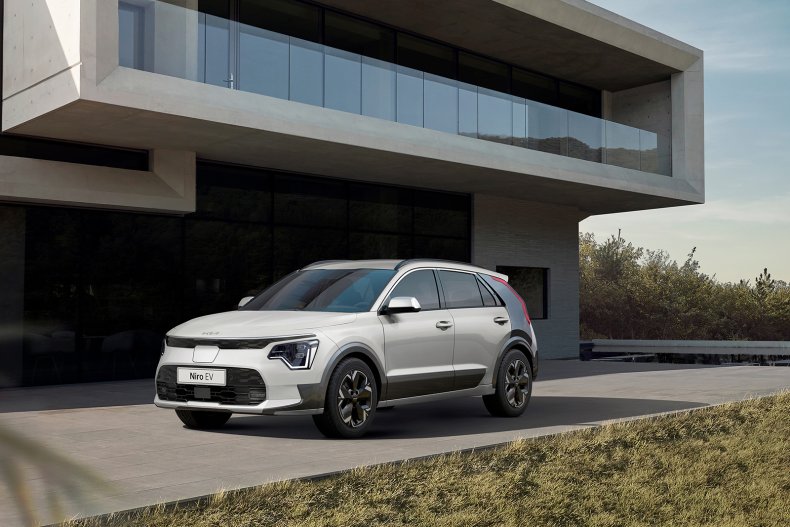 "Our idea is to try to give customers options," Wager said. "I think as we go forward with EVs, it's not a blank slate. But, it's another canvas that we can paint another picture on of each of the of the vehicles."
With the Sportage, a compact SUV that comes in three powertrain options, Kia is attempting to give buyers a wide variety of options, Wager explained. "So Sportage comes with a gas engine, it comes with a hybrid, it comes with a plug in hybrid, right? So right there, there's three power trains. And then within each of those, there's different trim levels in there.
"So that's where you start to get the multipliers, right. But what we've decided is, let people make the decision first, nowadays as to how much of an electrification they do or don't want. Could we can make it simple? It's like, okay, it comes in a plug in hybrid, and it comes in a gas engine, that's it. But somebody might not want to plug it, but they still want the hybrid. So we gave them that choice. So we'll see how that goes."
Kia's sales success have not gone unnoticed by industry experts. "Kia's transformation over the past decade is remarkable, with a steady increase in sales volumes and market share that suggest it has found a formula that resonates strongly with consumers," AutoPacific's industry analysis manager Paul Waatti told Newsweek.
"In the past, most of Kia's products got lost in the mix and needed to be more competitive. Recently, Kia's design has been attractive and distinct, and its products bundle a comprehensive blend of the most sought-after features with desirable pricing. Kia's products have become benchmarks in many cases."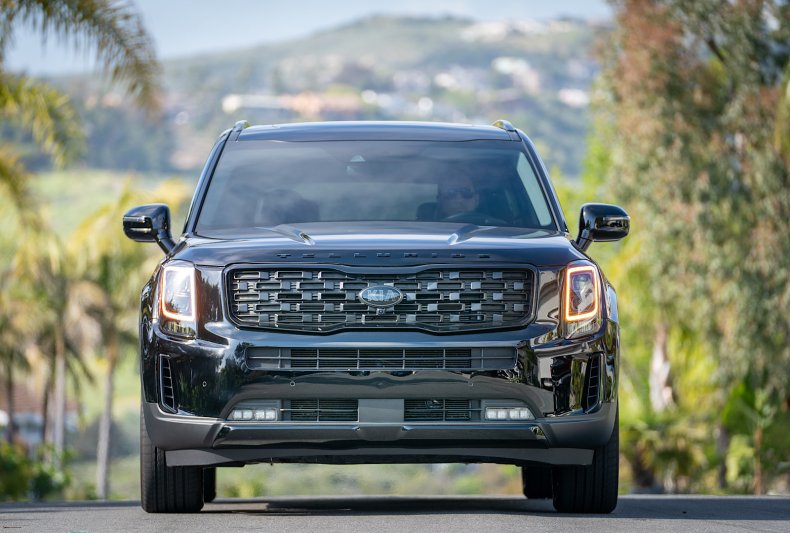 The automaker's success with the Telluride three-row SUV shows that the company isn't shy about adjusting their game plan on the fly.
"Really successful, so much so that we increased the factor of production by 100,000. But partway through the product lifecycle, we saw that people were going to buy the higher trims, not the entry trims. So, it's like, what else could we offer them? So we came out with the Nightfall Edition... And that was scooped up. So we just keep trying to find ways of offering the technologies, the design elements that people are looking for," Wager said.