Kickstarter Project Seeks to Chronicle San Francisco Street Artists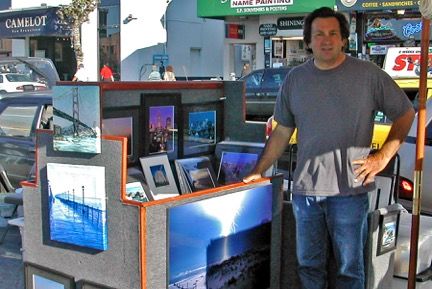 San Francisco, like many major U.S. cities, has long been a battlefield between street artists and local government. Street artists say that cities and cops unconstitutionally thwart their freedom of expression, by telling them where and how they can sell their wares. They maintain that politicians and police often require that they set up shop off the beaten path—where nobody will see them.
Cities and cops contend, however, that regulating where artists sell their works, be they caricatures or watercolors, maintains public safety, by keeping sidewalks clear, for example.
In the 1970s, street artists in San Francisco protested the city's attempt to confine them to certain areas. Artists protesting the city's efforts were repeatedly arrested but the won a major victory. Today, street artists in San Francisco are permitted to sell their wares in some 300 city-approved spaces.
Michael Addario, himself a street artist, has launched a Kickstarter campaign to raise funds to digitize decades-old films that chronicle the street artists' rights movement. He has also produced a YouTube trailer for the project. The film comes from San Francisco State University archives. Addario has found 50 films chronicling the movement that he wants to digitize and post online. It costs from approximately $75 to $120 to digitize each film, he says.
"They literally have thousands and thousands of these films—it's just incredible how many they have," says Addario, 62. "The idea is to get this historic perspective on the Internet and have it be part of our history—it's the way these people worked, what they did. They were nonviolent, and they were just persistent and they got some of what they wanted."
"If it wasn't for them, there would be no street artists in San Francisco."