Eight-Year-Old's Journal Goes Viral After He Blasts Teacher for Lying About Christopher Columbus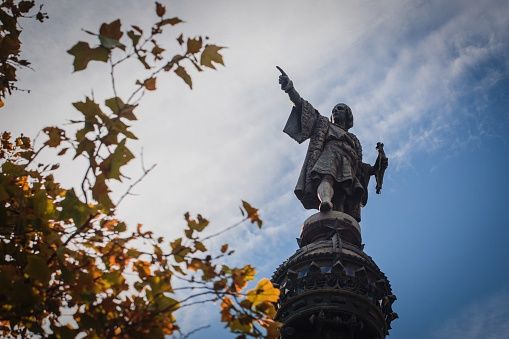 Chicago student King Johnson had a message for his teacher this week: He has a zero-tolerance policy on inaccurate history lessons.
In a journal entry that has gone viral on social media, the 8-year-old informed his teacher that Christopher Columbus—the European explorer who famously sailed the ocean blue to America in 1492—"didn't find our country the Indians did," and that he "can't listen when I hear lies."
"Today was not a good learning day," he said. "Blah blah blah I only wanted to hear you not talking."
The teacher responded to his journal—which ended on the question "How can white people teach black history?"—with the note, "King I am very disappointed in your journal today."
King's mother, Robin Johnson, however, told The Huffington Postshe was proud of King, though she was "not so pleased with the 'blah blah blah.'" The first time King and his siblings had school off for Columbus Day, which is observed in October, she'd explained to them what the day signified, Johnson said.
The revelation inspired King to pen the entry following the history lesson, because, "It's important to tell the truth because the world should be full of trust and love," he told The Huffington Post. He'd responded to the teacher's note with a simple "ok."
Traditional history lessons on Columbus have harbored many inaccuracies, historian William Fowler told NPR. To name a few: the Nina, the Pinta and the Santa Maria were not the real names of the three ships; Columbus's arrival is not a "romantic concept," as European diseases wreaked havoc on the Native Americans; and, as King pointed out, the "New World" was not exactly new.
"The people in the New World, the Native Americans, didn't think they were being discovered," Fowler said. "[Columbus] encountered these cultures."
Social media users have applauded King for his apt observations and widely denounced the teacher's dismissive reaction. Facebook user Alanya Kolberg earlier this week crafted a Facebook post, now shared more than 135,000 times as of Thursday morning, asking: "Whose baby is this? He has me hollering!"
"He's not having one minute of it," Twitter user Laura Mixon added.
The overwhelming support, King told The Huffington Post, has made a lasting impression on him.
"Some things that I may not feel comfortable saying I can now say with more courage and to know that I will be supported," he said. "All the compliments gave me a lot more courage."