Kid Rock Blasted a China-Made Grill Out of the Sky With a Shotgun Because America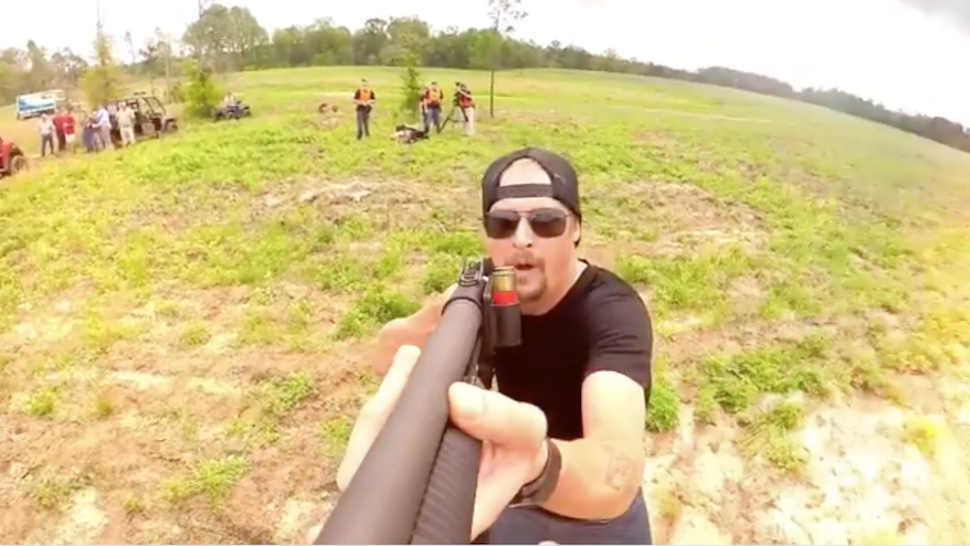 While the optimal recipe for Americana may have once included democracy, free speech and some fine Betsy Ross handiwork, this is perhaps no longer the case. Kid Rock devised a better one. All it takes is a catapult, a grill made in China, some farmers, a shotgun and the ultimate American Badass himself. Thursday on Instagram, the Michigan-born musician and conservative icon posted a video of himself blasting a China-made grill out of the air. Or at least pretending to. Does it matter?
"You know what's American?" the host of the video says. "Catapulting foreign-made grills through the sky and shooting them down because they stink!"
We then see some sort of agricultural trebuchet sling a small grill into the air.
"This is what we think of Made in China!" Kid Rock says before training a shotgun on the airborne barbecue and firing off a few rounds. He doesn't actually hit it, of course. Instead, a CGI explosion is imposed onto the grill, after which it crashes to the earth. A triumphant Kid Rock turns to the camera: "In your face, China!"
Related: Wage growth, not more jobs, will be Trump's great white whale
It'd be nice to believe this is how Kid Rock spends his Thursdays—it could be, actually—but the video was made to promote his newly unveiled American Badass Grill, which is made in the good ol' U.S. of A. "It's time to stand up for the American worker," reads a promotional video for the grill, an idea that Kid Rock's team surely devised with job creation in mind.
But the portable grill is far from the only way Kid Rock has been capitalizing on Donald Trump's presidency. If a Venn diagram were made of Kid Rock fans and Donald Trump supporters, it'd probably look pretty close to a single circle, and Kid Rock is using this opportunity to sell merchandise. Check out this line of shirts for sale on his website: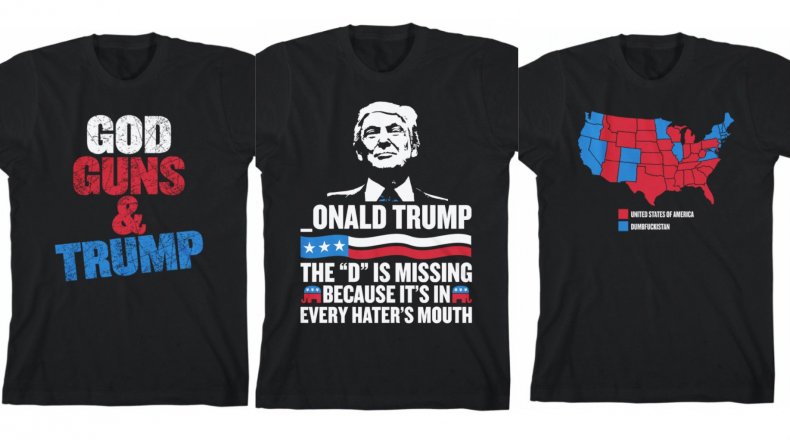 In case you can't read the one on the far right, it labels the states that voted for Hillary Clinton as "Dumbfuckistan."
This is all harmless enough, until you remember that a reality show star is currently president of the United States, which means a gun-toting musician might also be capable of assuming the nation's highest office. Kid Rock playing the role of politician may seem far-fetched, but in February his name was reportedly brought up at a Michigan Republican Party convention as a candidate to take current Democratic Senator Debbie Stabenow's seat in 2018. If Kid Rock is elected to the Senate, he will already have more political experience than Donald Trump did when he was elected president, which means the White House could be Kid Rock's next stop.
If Kid Rock sticks to selling retail goods, there's always Ted Nugent, who in February wouldn't rule out a run at Stabenow's seat himself. "I'm always very interested in making my country and the great state of Michigan great again, and there is nothing I wouldn't do to help in any way I possibly can," he told The Daily Caller.
We at least have to assume Nugent could have actually taken down the China-made grill without the help of CGI, which could be the difference when the Michigan Republican Party is deciding which musician to run in 2018. Either way, America wins.