Kid Rock Baffled By Tucker Carlson 'Testicle Tanning' in 'End of Men' Video
Kid Rock was bemused by a Tucker Carlson Originals: The End of Men segment discussing "testicle tanning" when he appeared on Fox News moments after it had aired.
During an episode of the show that aired over the Easter holiday, Tucker Carlson's guest, Andrew McGovern—a fitness professional based in Ohio—spoke with the titular host about how men should go about reserving the effects of falling testosterone. Tanning their testicles was one of the suggestions McGovern made.
Shortly afterward, Rock, born Robert James Ritchie, made an appearance on the show. And while Carlson tried to engage him in serious discussion, the musician made it clear that he still hadn't gotten over what he had heard.
"Dude, stop! Testicle tanning? Come on," Rock said as he interrupted Carlson. "I mean, I haven't heard anything that good in a long time."
"Open your mind, Bobby," said Carlson as he laughed along with his guest.
"I'm starting a punk rock band and it's called Testicle Tanning, that's the end of it."
"I think you'll be massively successful," joked Carlson, before attempting to get the conversation back on track. "But don't you think at this point when so many of the therapies—the paths they've told us to take—have turned out to be dead ends that have really hurt people, why wouldn't open-minded people seek new solutions?"
"I'm don't know what the hell is going on in this world," Rock responded. "I'm not even sure if I understood that question. But sometimes, some days I just want to stop this planet and let me off."
Carlson's The End of Men documentary faced mockery on social media over the weekend when a new trailer was unveiled, with many Twitter users stating that the imagery was homoerotic.
The teaser featured several shots of shirtless, muscly men. They were shown wrestling, chopping wood, firing guns and at one point, a naked man was captured standing with his arms outstretched while his genitals underwent infrared tanning at an outlet that some called a Tesla charging station.
Seth Meyers also tackled Carlson's discussion about testicle tanning during a segment on Late Night with Seth Meyers on Monday.
"When you've lost Kid Rock…" Meyers quipped of the idea, which he branded "so insane," per the Daily Beast.
Meyers then asked: "Also, even if there was some sort of massive global testosterone crisis, is it already time to start tanning your balls?
"Nothing is crazier than a conservative's second idea. 'I don't trust vaccines, but I'll eat some horse paste.' Are there ever solutions somewhere between Plan A and the craziest s*** you've ever heard?"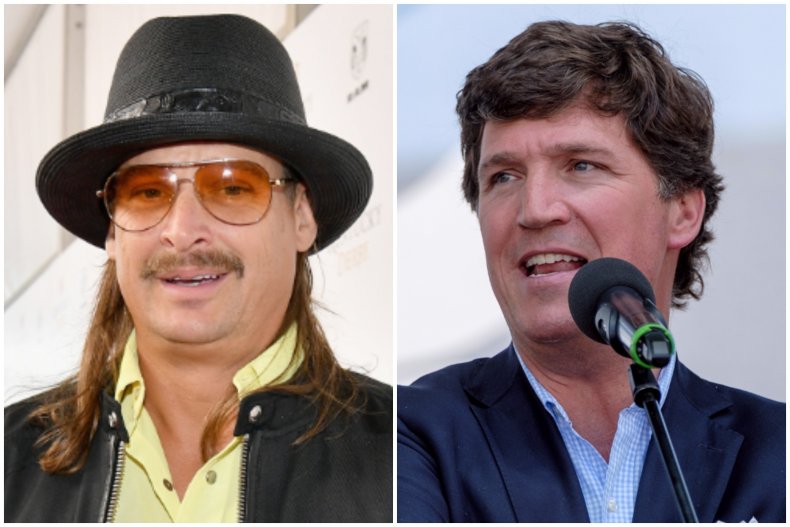 Correction 4/19/22 12:40 p.m. ET: This headline and article were updated to state that Kid Rock was puzzled by, but not critical in response to the End of Men segment.