Kid Rock Will 'Explore' Potential Senate Bid, But is Launching Non-Profit Voter Registration in the Meantime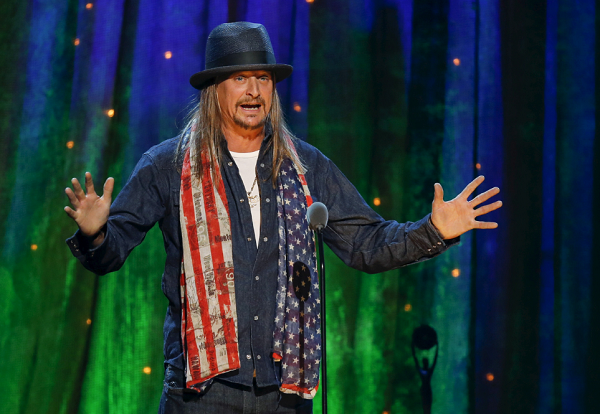 The rumors are gaining momentum: Kid Rock may actually be considering running for Michigan's Senate in 2018.
The rock star, whose real name is Robert Ritchie, addressed inquiries about his potential Senate bid on his website, KidRock.com, on Wednesday and wrote he was going to spend the upcoming months "exploring" his candidacy for the U.S. Senate.
In the meantime, though, Rock said he was going to get Michiganders excited for the next election by launching a non-profit organization aimed at promoting voter registration.
"The one thing I've seen over and over is that although people are unhappy with the government, too few are even registered to vote or do anything about it," Rock wrote. "We have over a year left until an actual election. So my first order of business is to get people engaged and registered to vote while continuing to put out my ideas on ways to help working class people in Michigan and America all while still calling out these jacka** lawyers who call themselves politicians."
The 46-year-old Rock n Roll Jesus singer said members of his non-profit organization would be on hand at his shows to help more Michigan residents register to vote before the next election. Rock also noted that proceeds from any merchandise sold at his upcoming string of concerts would be used to fund voter registration efforts.
"Since the announcement, the media has speculated this was a ploy to sell shirts or promote something. I can tell you, I have no problem selling Kid Rock shirts and yes, I absolutely will use this media circus to sell/promote whatever I damn well please (many other politicians are doing the same thing, they just feed you a bunch of bullshit about it). But either way, money raised at this time through the sale of merchandise associated with this very possible campaign will go towards our 'register to vote' efforts," he said.
The bad-boy rockstar launched his Kid Rock for Senate website earlier this month teasing his interest in running against Michigan's longstanding senator, Debbie Stabenow, a Democrat. Following her tenure as a representative for Michigan's 8th District, Stabenow has maintained her position in the Senate since 2001.
When it first launched, Rock's website offered little beyond a campaign logo reading "Kid Rock '18 for U.S. Senate" along with links to buy campaign merchandise and his music. Although it still falls short of confirming for certain if he is planning to run for office, the musician says that the recent overwhelming response from the website has prompted to him to seriously consider a Senate bid. He has been led to "take a hard look to see if there was real support for me as a candidate and my message or if it was just because it was a fresh new news story."
Voters won't have to wait too long to find out if they can expect Rock on the ballot or not, though. He wrapped up his latest statement on the matter noting that he will hold a press conference within the next six weeks or so. "If I decide to throw my hat in the ring for US Senate, believe me… it's game on mthrfkers," he added.
If Rock does decide to run, he could give Stabenow some real competition. A Delphi Analytica poll released Thursday found 54 percent of voters would choose Rock over Stabenow.
Kid Rock Will 'Explore' Potential Senate Bid, But is Launching Non-Profit Voter Registration in the Meantime | U.S.