Kid at Trump Rally Tells TV Reporter He's Excited to 'See Joe Biden'
While Donald Trump met a rapturous reception from most supporters at his rally in Selma, North Carolina, on Saturday, one very young attendee went decidedly off-script.
Video from Right Side Broadcasting Network (RSBN), a channel best known for streaming Trump rallies live online, captured the moment a child said he was excited to "see Joe Biden"—before his parents quickly corrected him. The clip was circulated on Twitter by Florida attorney Ron Filipkowski, where it has been viewed 2.7 million times.
In the video, an RSBN reporter asked a mother, father and two young sons about their mood as they awaited Trump's arrival. Both parents said they were thrilled to be attending their "first rally."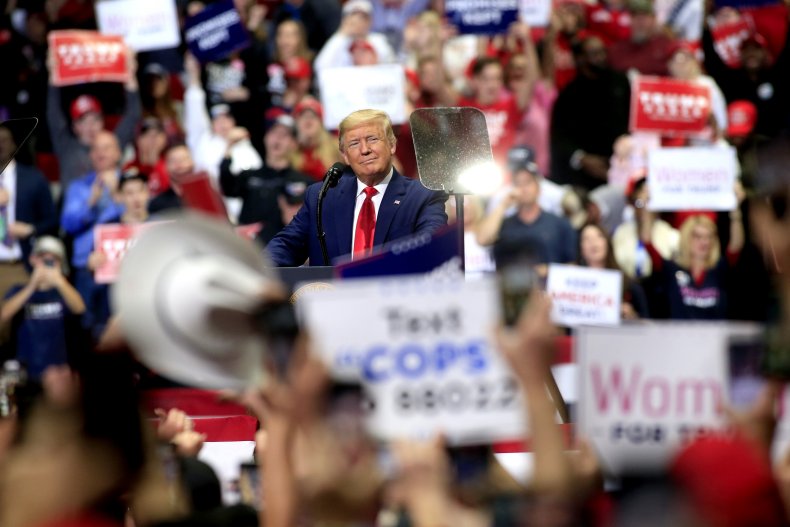 "I think they're more excited than we are," the mother said, nodding down toward the children.
The reporter tilted his microphone down toward one of the boys. "What are you excited for?" he asked.
"To see Joe Biden," the little kid replied.
His parents quickly jumped in to correct him. "Trump!" they said in unison.
Several amused viewers suggested that the boy's parents might have told him they were going to see "the president," as many Trump supporters believe his false claims that the last national election was "stolen" and he is the rightful president of the United States.
"This kid was smart enough to know if they were going to see the President, he knows who the US president is obviously, they should be seeing POTUS Biden," one commenter said.
"The indoctrination didn't take," opined another viewer.
At the Selma rally, the former president teased a potential 2024 run and said he would back his supporters who were arrested over storming the U.S. Capitol building after he lost the 2020 election.
"We will, while we're at it, demand justice for the January 6 prisoners and full protection of their civil rights," he said while listing Republican goals. "Like was received by ANTIFA and Black Lives Matter, who murdered people throughout our country."
Trump also repeated false claims that the 2020 election was "rigged and stolen" while calling himself "the most honest human being, perhaps, that God has ever created."
The rally promoted GOP candidates Trump has endorsed for the May 17 primaries, including Ted Budd for the Senate race and Representative Madison Cawthorn for re-election to the House of Representatives.
Cawthorn recently came under fire from Republican house Leader Kevin McCarthy over claims of orgies and cocaine use among his Republican colleagues. The representative harshly criticized President Biden during his remarks at the rally, saying he should be impeached "for his dereliction of duty."