Kidnapped Toddler Reunited With Family 32 Years Later
A Chinese woman who was kidnapped as a toddler and sold to another family in the late 1980s has been reunited with her parents after three decades.
Feng Lulu, who was renamed Zhang Qianqian, was snatched while playing outside her home in Xinxing, a village in Qian county in northwestern China's Shaanxi province, in 1989. She had no recollection of her biological parents and grew up believing she had been sold, she told provincial news website Ersanli.
Her parents reported the incident, but the lack of eyewitnesses and the technological restrictions of the time meant that Lulu, who was just one year and 10 months old, was never found, the report said.
The reunion with her family—including her father, Feng Qinye, and her mother, who was not named—took place in Xinxing last Friday. The 33-year-old was also met by a younger sister and two brothers whom she had never known.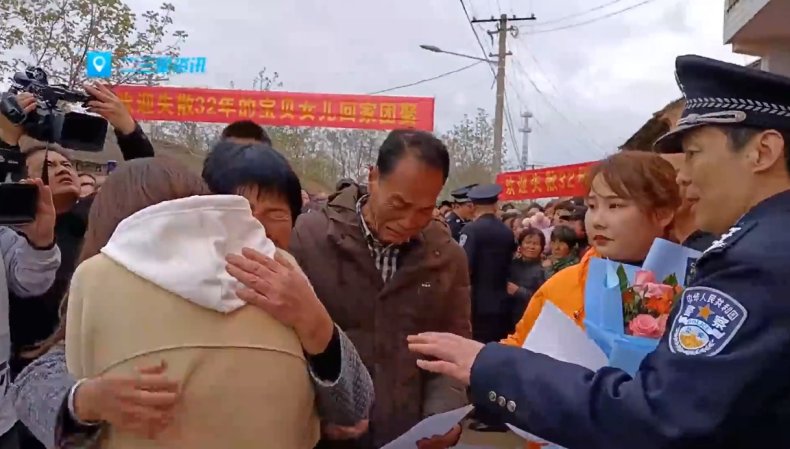 The meeting, some 32 years in the making, was set in motion by the local office of the non-governmental All-China Women's Federation, Ersanli reports. A representative learned of the Feng family's search for their child and helped contact county police.
With the help of a "statistical database," the authorities were able to narrow down their search and pinpointed a woman named Zhang Qianqian as a likely match, said investigator Sun Yapeng, without elaborating.
On March 11, the police visited Lulu in Qinyang in central China's Henan province—about 310 miles east of Xinxing—and a DNA test was ordered to confirm her blood relation to the Fengs. The test returned a positive result on March 30, reported Ersanli.
The return to her hometown was met with much fanfare, with neighbors and other villagers turning out to welcome her back. Images from the reunion showed the emotional parents hugging Lulu for the first time in over three decades.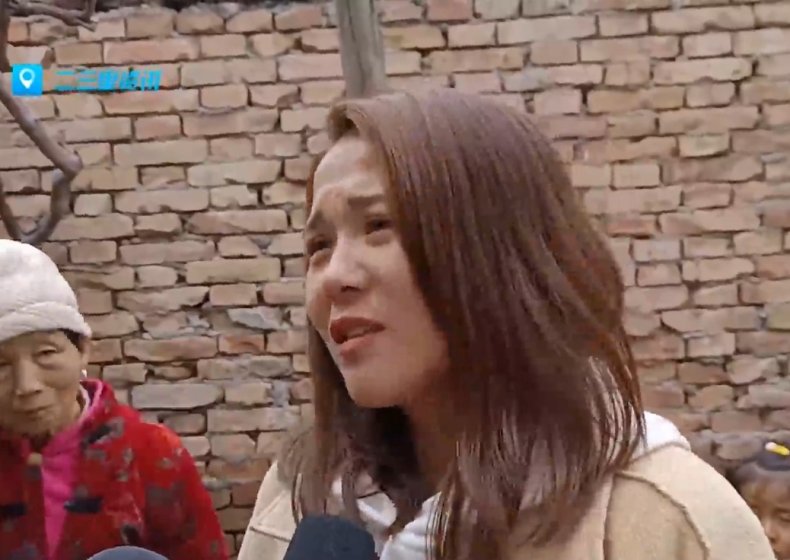 "I always knew I was adopted because the neighbors would say so, but I never dared ask my foster parents about it until a few years ago," Lulu told Ersanli.
"They told me my [biological] family had three daughters and I was the youngest. They couldn't afford to raise me, so they sold me," she added, saying the revelation had left her resenting the mother and father whom she could not remember.
Lulu said her "mind went blank" when Qian county police confirmed her DNA results. "Then I felt a wave of relief knowing that my birth parents had been looking for me for over 30 years."
Now married with two children of her own, Lulu said her foster family were reluctant to let her meet her birth parents—possibly out of fear that she would abandon them.
The authorities have not released information about the couple who raised Lulu or the go-between who reportedly brought her to Qinyang. It is unclear whether her adoptive parents were aware that their information about her upbringing was false.
Lulu's husband, Huang Biao, told Ersanli: "Our family has been very supportive. We told her to come [to Xinxing] as soon as possible, but the police asked us to wait for the DNA results. Today was a big relief for her."
Lulu said she planned to travel back to her hometown often in order to "make up for lost time."
"I'm one of the lucky ones," she remarked.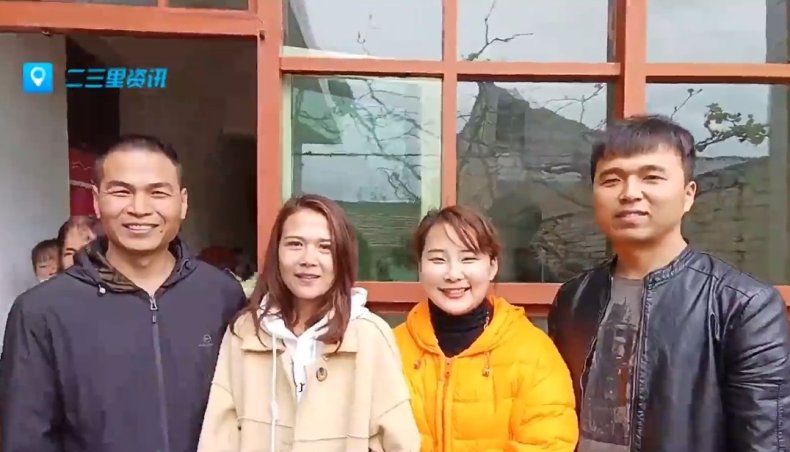 There are no complete statistics about the kidnapping of young children in China—a phenomenon which has been attributed to, among others, the now abolished one-child policy and Chinese society's traditional preference for boys. Estimates of child abductions over the past decade have varied between 20,000 and 70,000 annually.
In 2009, the Ministry of Public Security established a DNA database which has helped reunite more than 6,000 children with their parents, BBC reported following a similar case last year.
Families also rely on non-profits such as "Baobei Huijia" (Baby Back Home—an NGO founded in 2007 and responsible for 3,647 reunions to date, according to its website.
Its homepage lists more than 10,000 posts of children searching for their families, and some 23,000 posts of families looking for their kids.