Video Shows Subdued California Sex Offender After He Allegedly Tried to Kidnap Kids From Playground
A registered sex offender has been arrested after allegedly attempting to kidnap two children from a park in California.
Marcus DeWitt, 29, was arrested after family members who witnessed the alleged abduction attempt at the Rosetta Canyon Sports Park in Lake Elsinore managed to wrestle him to the ground and subdue him until officers arrived.
According to the Lake Elsinore Sherriff's Station, DeWitt initially tried to grab a 3-year-old boy by the arm but was unsuccessful as the child was inside a play apparatus at the park. The suspect then picked up a 4-year-old boy and attempted to flee with him.
The boy's parents saw the kidnapping and caught up with DeWitt to wrestle the boy out his hands. The 29-year-old was eventually subdued by a family member while he attempted to escape on foot.
An off-duty police officer also happened to be at the park at the time of the alleged kidnapping attempt. DeWitt was eventually arrested without further incident.
Footage of the aftermath of the alleged abduction attempt, which shows DeWitt surrounded by those who were able to subdue him, was uploaded onto social media.
"The little boy is fine," Vanessa Mongrut, who witnessed the incident, explained on Facebook, adding she and the child's mother "snatched the boy back from the kidnapper," the Riverside County News Service reported.
"It was very brazen for him to just come up and try and snatch a kid with all the parents around," eyewitness Keli Wilcher told KABC. "It makes me nervous as a parent."
Police confirmed that neither child was injured during the incident and both are now safely with their respective families.
Lake Elsinore Sherriff's Station said DeWitt will be booked at the Cois Byrd Detention Center on kidnapping charges.
DeWitt is a registered sex offender from a previous charge for indecent exposure. His parents also said that he suffers from schizophrenia as a result of drug use as a teenager.
"I don't want to make excuses for our son by any means," his father told Fox 11. "I feel for the family, my wife and I honestly will pray for the family and for the children, for their recovery [and] that no memory of this will be in theirs."
Anyone with information regarding this incident has been asked to contact Investigator Matt Posson of the Lake Elsinore Police Department at (951) 245-3300.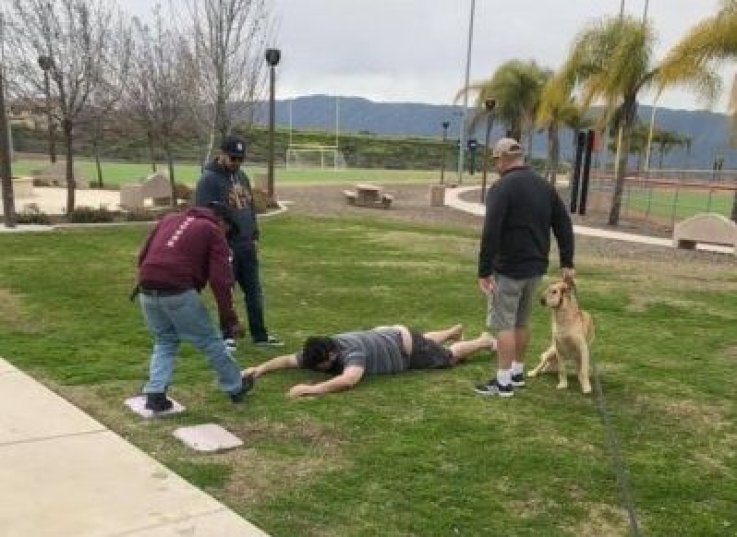 Video Shows Subdued California Sex Offender After He Allegedly Tried to Kidnap Kids From Playground | U.S.