Kids Behind Bars Are Trapped in a Racist System—With COVID-19 Closing In | Opinion
It's never been easy to be a black mother in this country, especially in Louisiana. Our state has many of the worst outcomes for youth in the nation. We consistently rank at the bottom in terms of education quality and prevalence of poverty, harming mostly black and brown communities. We're no stranger to being disproportionately affected by disasters, too. We are the state of Katrina and the BP Oil Spill, after all.
But the past few months have been particularly devastating for the state's black community. Although we are now on the long road to recovery, at one point, New Orleans suffered a per capita death rate that topped the nation. In a state that is 32 percent African American, 70 percent of the COVID-related deaths were in the black community.
Although the world is waking up to the racism and racist systems that led to the recent deaths of George Floyd, Rayshard Brooks, Ahmaud Arbery, Breonna Taylor and more, fear and pain have been the black community's reality for decades. Black and brown people are disproportionately incarcerated, neglected and murdered daily. Just like Katrina in 2005, the dual disasters of COVID-19 and the murder of George Floyd have illuminated the issues that perpetuate inequities in our system.
To give an understanding of how the system habitually mistreats people of color, look no further than the youth justice system. Across the country, more than 43,000 young people are currently behind bars, according to the Sentencing Project, and about 70 percent of them are being held on non-violent offenses. At least 634 of them have tested positive for COVID-19, along with at least 716 staff, and with a lack of widespread testing, there are likely even more cases in youth prisons. In Louisiana, black youth are seven times more likely than white youth to be incarcerated, a disparity extends across America, so we know what most children behind bars look like.
If the young people behind bars were children of elected officials or white children of means, we know they would never see the inside of a cell. Police officers, judges, prosecutors and probation officers would work to return them home to their families and connect them with needed services and support systems.
I've spoken to mothers terrified that their children will become sick with the coronavirus and even die. They have had no physical contact with their children, as they cannot visit as usual, and facilities have been slow to implement alternative modes of communication, if they have done so at all.
As moms, our natural instinct is to protect our kids by any means necessary. But what do you do when your child is removed from your protection and you have no way to ensure they're OK? How can you tell a mother with a child behind bars that the question is more when—not if—her child will test positive for COVID-19?
Youth are isolated and afraid; they need reassurance, therapy, care and, most of all, protection. Children are keenly aware of the dangerous circumstances they have been left in and know they have no way to protect themselves from infection. One child even said, "I don't want to die here. Not here."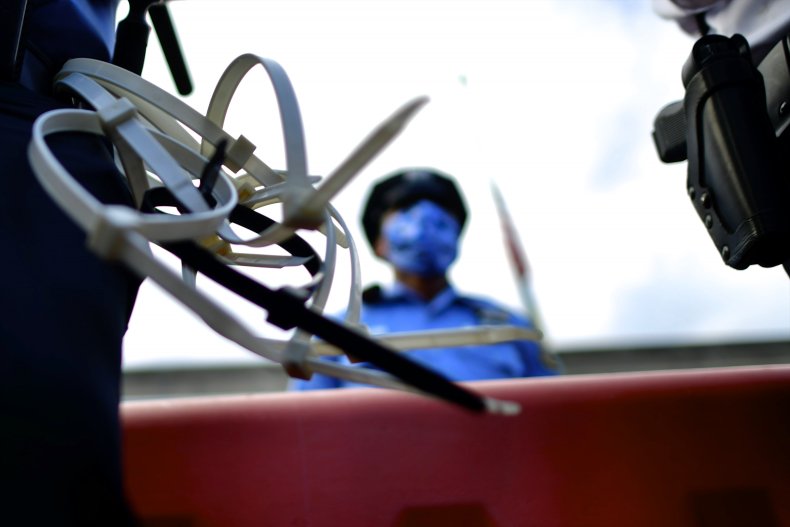 Elected officials continue to make it clear that our children—targeted by an inequitable system that denies them equitable resources and education, and eventually locks them up behind bars—are expendable. A recent report from the Youth First Initiative found that although Louisiana has made public updates on the safety procedures at their youth prisons in light of the pandemic, they have not given any indication that they intend to adopt new plans for the release or intake of youth, even though they have the power to do so.
We, as parents, are calling on elected officials across the nation to show that they care about our young people by tackling the COVID-19 health crisis and freeing our youth. They must immediately halt admissions to youth detention and correctional facilities and remove as many youth as expeditiously as possible from these facilities, especially those who are ill, suffer from chronic illness and have COVID-19 symptoms.
All we want is for our children to enjoy the rights and opportunities that children of means enjoy. We dream of prevention programs and culturally healing therapies that actually work for kids and families. We cannot expect the most burdened and oppressed among us to take on and solve the problems that were erected and propagated by a racist, classist system. We are outraged that we have to fight for basic human rights for our kids at this moment, which is why, in Louisiana, we're suing Governor John Bel Edwards and the Office of Juvenile Justice. Maybe state officials will listen to us then.
Gina Womack is the executive director of Families and Friends of Louisiana's Incarcerated Children.
The views expressed in this article are the author's own.
Kids Behind Bars Are Trapped in a Racist System—With COVID-19 Closing In | Opinion | Opinion