Kids's Choice Awards 2019: Live Stream, Time to Watch, Performers and Nominees
Bring on the slime. Nickelodeon's Kids's Choice Awards is back for its 32nd annual run on Saturday. This year's event will be broadcast live from the Galen Center in Los Angeles. The power is placed in the hands of the kids as they get to vote for their favorites competing within the night's top categories, including Favorite Funny TV Show and Favorite Cartoon.
Adam Sandler, Lana Condor, Chris Pratt, Kiernan Shipka, Joey King and Nickelodeon alum Josh Peck are among the notable Hollywood names expected to be in attendance. Since the wait is over, here's everything there is to know about 2019's fun-filled ceremony:
When and How to Watch the 2019 Kids's Choice Awards
The Kids's Choice Awards will air Saturday at 8 p.m. ET on Nickelodeon. For those who don't have access to a television, the show can be streamed with a Sling TV membership or through a subscription with Philo. Nickelodeon's website doesn't feature a live stream option, but the Nick App typically has its latest offerings available the next day.
Who is Hosting the Kids's Choice Awards?
Nickelodeon tapped music mogul DJ Khaled to host this year's ceremony. "Father of Asahd is here to let you know the biggest party of the year is about to go up," Khaled, 43, said in a Nickelodeon press release. "That's right, March 23rd I'm your host, DJ Khaled for the Nickelodeon Kids' Choice Awards. I'll see you soon!"
In February, Khaled told Entertainment Tonight that his 2-year-old son is the primary "reason why I wanted to be the host" and he claimed to be "about the young world, the future, the kids...anything that makes the kids happy." He was nominated for three awards this year.
Who Will Be Performing?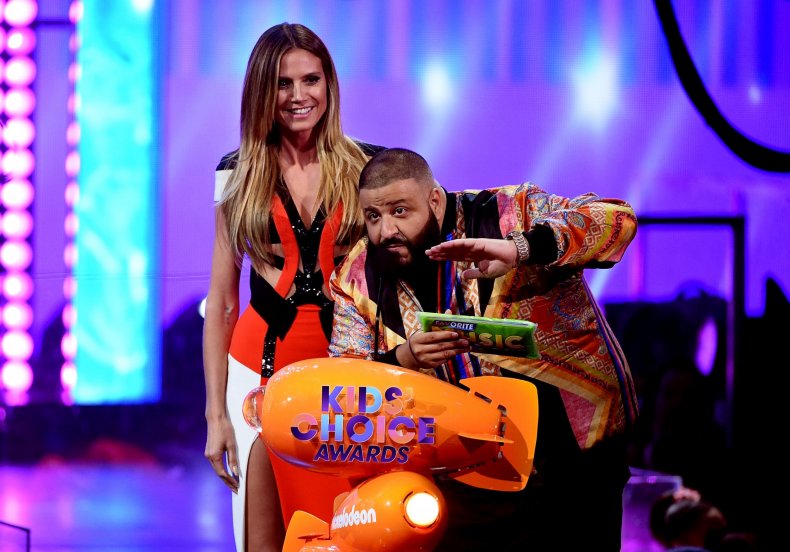 Migos members Takeoff, Offset and Quavo will perform at Saturday's Kids's Choice Awards. They will reportedly be joined by DJ Mustard. Past performers include Will Smith, JoJo Siwa, N.E.R.D, Camila Cabello, Little Mix and Machine Gun Kelly.
Who are the 2019 Nominees?
This year's Kids's Choice nominees features today's top stars across music, film and television. Ariana Grande, Ellen DeGeneres, Kevin Hart, Neil Patrick Harris, Millie Bobby Brown, Rihanna, Taylor Swift and Cardi B are all contenders for the coveted orange blimps on Saturday. Popular shows like Fuller House and Spongebob Squarepants as well as films like Mary Poppins Returns and Black Panther also scored nominations.