Kids and Cowards: What Really Happened to Donald McNeil at the New York Times
The New York Times is imploding. Or, more precisely, it is engaged in an act of auto-cannibalization whereby reporters at the top of their fields are being summarily dispatched by an in-house mob that claims that the work of these colleagues is a threat to their personal safety.
The latest target was Donald McNeil Jr., who started as a copy boy at the paper in 1976 and, until January 28, was the Times' star COVID-19 reporter. That career came crashing down when the Daily Beast ran an article on January 28 accusing McNeil of "Using 'N-Word,' Making Other Racist Comments," as the headline declared. The reporter reached out to McNeil for comment, but McNeil was busy covering the pandemic, and didn't notice their email. When he did, his first reaction was to tell the Daily Beast "to f**k off," according to his account of the affair, published on Monday in Medium. His second impulse was to explain: On a trip to Peru in 2019, while working as an expert guide for a Times-sponsored trip for high school students, one of the teenagers asked whether McNeil thought a 12-year-old should have been suspended for using the "n-word." To clarify, McNeil asked whether the student had called someone the offending word or "was singing a rap song or quoting a book title or something." In thus asking, he repeated the word itself.
This seems like it would have been relevant information for an article about to accuse him of "using the n-word." But McNeil was not allowed to respond. Instead, his bosses at the Times took over. They demanded he apologize, then they demanded McNeil resign. "Donald, I know you," Times' executive editor Dean Baquet told McNeil, according to McNeil's account. "I know you're not a racist." But, Baquet went on, "you've lost the newsroom. A lot of your colleagues are hurt. A lot of them won't work with you. Thank you for writing the apology. But we'd like you to consider adding to it that you're leaving."
Baquet had initially reviewed the students' complaints after the trip to Peru and decided that though McNeil's comments showed poor judgment, they were not hateful or malicious. But after someone at the Times leaked the incident to the Daily Beast, the Times newsroom did what it seems to do best these days: It wrote a letter demanding satisfaction. And satisfaction they were granted: McNeil was out.
I don't know who leaked the information (neither does McNeil). But the why seems easier to fathom: It's one way to get ahead these days, a shortcut whereby you can chop down someone's 45-year career in a few days, killing their reputation while burnishing your own as someone who's fighting the unassailable good fight. And in 2021, that fight is combatting racism. Drop that blood in the water and watch it spread.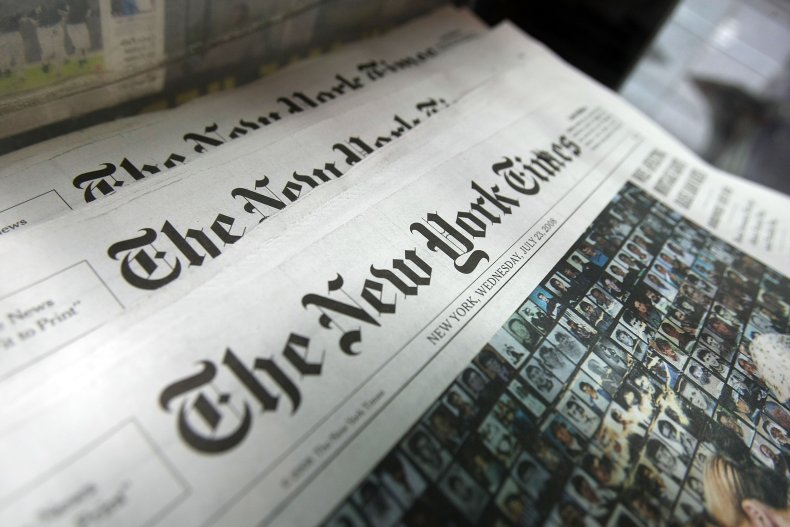 McNeil had tried to control the situation. "I still felt revealing every detail would calm the situation," he wrote on Medium, thinking that while 15- and 17-year old kids might not have appreciated the context of his comments, surely his adult colleagues would; surely any adult would recognize the difference between using a slur and saying the slur in the context of a discussion about racist language.
This was not the case, not among these adults anyway, who wanted to stay inflamed, who had been learning for the past year that the way to survive in the Times newsroom was to exploit fear and blame others for instilling it. And they'd been grooming their bosses, too. "Our community is outraged and in pain," read the letter the staffers sent to their bosses, demanding a personal apology from McNeil and framing his use of the "n-word" as "offensive and unacceptable by any newsroom's standards."
The repercussions were swift. As Baquet kept repeating, "Donald, you've lost the newsroom."
"Let me give you an alternative view of 'who's lost the newsroom," McNeil countered. "If you fire me over this, you're going to lose everybody over age 40 at the paper, all the grown-ups."
"We're not firing you," Baquet said. "We're asking you to consider resigning."
It was the exact same abdication of leadership Baquet has become famous for. What kind of executive editor allows the newsroom—indeed, the most activist subset of the newsroom—to lead him?
It's a climate of fear, and it's infected the top brass. Whether staff at the Times are in earnest about their fears or whether it's a tactic to rid the paper of those they don't want around (or both) doesn't really matter; people operating from a place of fear make terrible choices. They've become scared of their own shadows, of the person in the next cubicle, of unknowingly saying or doing something that will end their careers. Better to join the crowd, to claim to be in pain, to turn pain into a shield and then into a weapon used to intimidate others. After all, pain brooks no questions.
It's a blood sport: career cannibalism. And it's on steroids at the New York Times, once the nation's top paper.
McNeil did not blame the teens on the 2019 trip for his ignominious end; they were kids, trying on ideas and ideologies they did not yet understand and might not still believe as adults. "I'd love to talk to you again 40 years from now and see if your thinking has changed at all," he'd told one student on the trip. "But I can't—I'll be dead."
In a way, he was right: It wasn't the children on the trip who ended his career. It was his colleagues, his bosses, when they acted like children.
Nancy Rommelmann is a journalist and author and cofounder of Paloma Media. Find her work at nancyromm.com, on Substack, on Twitter @nancyromm.
The views expressed in this article are the author's own.