Kids Find 6-Foot Snake Curled Under Bedside Table
Animal enforcement in Georgia removed a 6-foot snake from a family home after children found the reptile under furniture.
Officers visited the home twice after an initial visit failed to find the spotted snake. They visited again after the kids returned home and stumbled upon on it under a bedside table
Bibb County Sheriff's Office shared the story to Facebook in a post, explaining that animal enforcement officer Rebecca Galeazzo named the snake "Big Mama" thanks to its surprising size.
"Animal Enforcement Officer Rebecca Galeazzo recently removed a six-foot Eastern Ratsnake she nicknamed 'Big Mama' from inside a bedroom. The nonvenomous snake, which turned out to be docile and friendly, was released unharmed back into the wild," the office confirmed in the post.
"Galeazzo answered a call to the home earlier that evening regarding the sneaky snake, but was unable to locate the uninvited guest. Galeazzo returned to the residence after the children came home and spotted 'Big Mama' under a bedside table."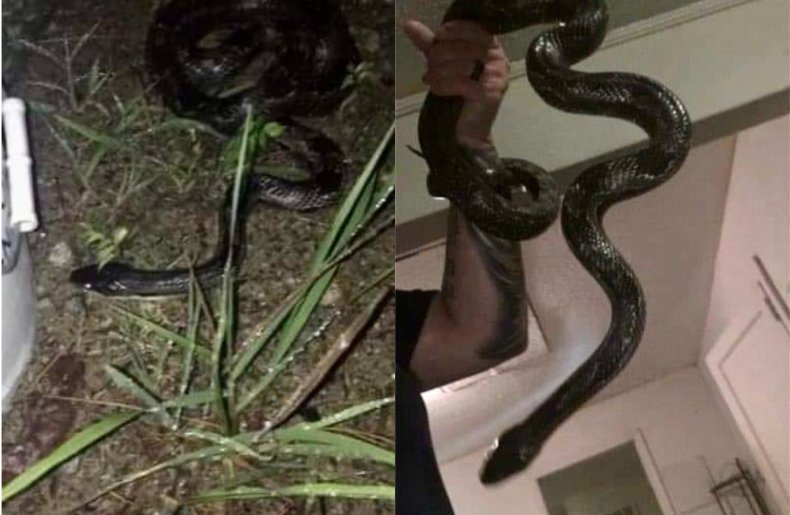 Bibb County, where the snake was found, is around 95 miles southeast of Atlanta. Rat snakes are a protected species throughout the state of Georgia, according to the University of Georgia.
The University of Georgia also reports that the average adult rat snake is usually between 3 to 5 feet, making this case especially out of the ordinary. Rat snakes can be found throughout most southeastern states and most of the eastern and midwestern states too.
Despite this family's experience, rat snakes don't tend to inhabit full homes, according to the University of Georgia, and are instead found in abandoned buildings and barns, but are the most common large snake in suburban areas.
Thankfully, the snakes are harmless, other than giving children a fright when found under their furniture.
Newsweek has contacted the Bibb County Sheriff's Office for comment.
It's not the first time a child has found a snake in their home.
Earlier this year, a Kentucky mother was struck in the eye by a snake after her daughter similarly spotted a snake in the home. Mary Jo Thomas was left visiting a hospital after finding a snake on her front door knocker.
The snake was first noticed by her daughter Kenley, who was taking out the trash when she spotted it wrapped around the home's "God Bless America" door hanger.
"Kenley was outside and saw it and started screaming bloody murder, so of course I open the door and boom: it got me!" wrote Thomas in a Facebook post about the bite.