Kids II Recalls 700,000 Baby Rocker Sleepers after 5 Infant Deaths. Is Your Rocker Included in Recall?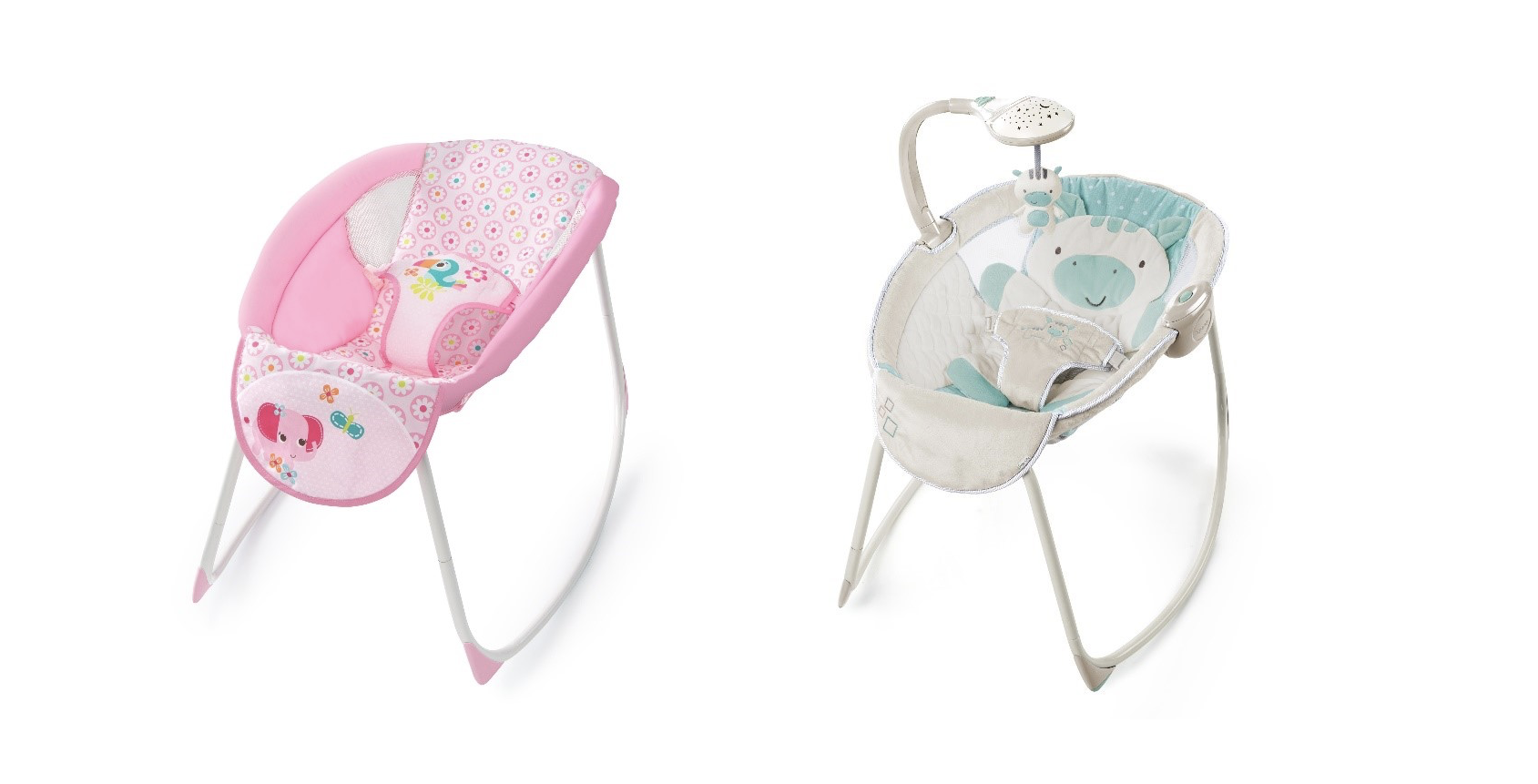 For the second time in only a matter of weeks, a large number of baby rocking sleepers have been recalled following a number of infant deaths.
Atlanta-based Kids II announced Friday, in conjunction with the U.S. Consumer Product Safety Commission, a recall of nearly 700,000 Kids II Rocking Sleepers sold under a variety of names and styles, including Bright Starts Playtime To Bedtime Rocking Sleeper, Rock & Dream Sleeper and the Ingenuity Rock And Dream Sleeper. The full list of recalled products and style numbers is at the bottom of this story.
Why Are These Rockers Being Recalled?
According to the CPSC, it knows of at least five infants who died while resting in these rockers. The children in these tragic cases were left unrestrained in the rockers and died after rolling from their backs onto their stomachs.
This is the same cause of death in at least 10 known instances tied to the recent, even-larger recall of rocker sleepers from Fischer-Price. In mid-April, the company recalled nearly 5 million rockers.
What Do I Do If I Have One Of The Recalled Rockers?
The CPSC is advising any parents or caretakers who own one of the recalled rockers to stop using the device immediately. Kids II will provide refunds or vouchers to affected consumers. For information on how to obtain the refund, contact the company toll-free at 1-866-869-7954 between the hours of 8:00 a.m. to 5:00 p.m. ET Monday through Friday.
Kids II also has a page on its site dedicated to recalled products, though clicking on the link related to the rocker sleepers currently just redirects you to the CPSC notice.
Which Styles of Rockers Have Been Recalled? How Do I Know If Mine is Included?
Kids II produced rockers under a variety of style names. Below is the complete list of Style Numbers and Product Names affected by the recall, as of April 26, 2019. We recommend checking against the full CPSC notice as this information can sometimes change.
(Style Number) Product Name
(10081) Bright Starts Playtime To Bedtime Rocking Sleeper
(10126) Rock & Dream Sleeper - Iggy
(10127) Ingenuity Rock And Dream Sleeper Lucy
(10148) Ingenuity Moonlight Rocking Sleeper Cuddle Giraffe
(10178) Bright Starts Pretty In Pink Playtime To Bedtime Rocking Sleeper
(10289) Ingenuity Smartrock Poweradapt Sleeper Cambridge
(10292) Ingenuity Rock N' Soothe Sleeper Dayton
(10320) Automatic Rock 'N Soothe Sleeper - Cuddle Lamb
(10380) Ingenuity Moonlight Rocking Sleeper Cuddle Lion
(10568) Ingenuity Soothing Light Rocking Sleeper Vesper
(10729) Bright Starts Toucan Tango Rocking Sleeper
(10872) Ingenuity Moonlight Rocking Sleeper Zoo Zoo Zebra
(10888) DreamComfort Automatic Rocking Sleeper - Whitley
(10890) DreamComfort Soothing Light Rocking Sleeper - Addington
(11021) Bright Starts Rocking Sleeper Jungle Bursts
(11022) Bright Starts Pretty In Pink Rocking Sleeper Jungle Blooms
(11063) Rock n' Soothe Sleeper - Moxley
(11164) Ingenuity Moonlight Rocking Sleeper Lullaby Lion
(11171) Ingenuity Rock N' Soothe Sleeper SUNNY SNUGGLES
(11357) Ingenuity Rock N' Soothe Sleeper DAYTON
(11429) Ingenuity Dream Comfort Automatic Rocking Sleeper Braden
(11714) DreamComfort Automatic Rocking Sleeper - Anders
(11792) Automatic Rock 'n Soothe Sleeper - Nolan
(11894) Bright Starts ROCKING SLEEPER - JUNGLE GARDEN
(11895) Bright Starts ROCKING SLEEPER - EVENING SAFARI
(11962) Automatic Rock 'n Soothe Sleeper - Flora the Unicorn
(12115) Automatic Rock N Soothe Sleeper – Nolan - Display
(60130) Taggies Snuggle Me Sleeper Nestling Vine
(60131) Bright Starts Playtime To Bedtime Sleeper
(60163) Bright Starts Pretty In Pink Playtime To Bedtime Sleeper
(60327) Ingenuity Moonlight Rocking Sleeper Deluxe Emerson
(60328) Disney Baby/Bright Starts Bows & Butterflies Sleeper Minnie Mouse
(60331) Ingenuity Moonlight Rocking Sleeper Lullaby Lamb
(60401) Bright Starts Playtime To Bedtime Sleeper Playful Pinwheels
(60600) Ingenuity Moonlight Rocking Sleeper Deluxe Winslow
(60635) Ingenuity Moonlight Rocking Sleeper Deluxe Seneca