Kids Left Trapped In Russia Mall Fire Because of 'Serious' Safety Violations, Investigators Say
Dozens of people burned to death in a Russian shopping mall as alarms failed to go off and fire exits stayed shut, investigators say.
The city of Kemerovo, a coal-mining city in southern Siberia, has become the site of a nationwide tragedy and raised serious questions about who is to blame for the deaths of at least 64 people in the blaze on Sunday. At least nine children are among the many dead and 16 people are still missing as authorities continue to scour the ash and rubble, according to state news agency Tass.
Related: A fire at a Russian mall has killed at least 64 people, including children
Videos spread on social media in the immediate aftermath of the tragedy, showing people jumping out of windows to escape the flames in what state media has described as one of the deadliest fires in Russia in the last century.
Some trapped inside the Winter Cherry complex had no other escape route, according to Russia's Investigative Committee, which announced Monday that according to preliminary data, there were "serious violations" of safety procedures. One official is suspected of switching off the fire alarm when it first went off, while authorities also found that fire exists were blocked as the fire raged and black smoke filled the building.
Four officials linked to running and managing the facility, including the technical director, are under arrest. The cause of the fire is still not known, but questions are being raised over the speed with which the fire was able to spread and the apparent failure of management to respond to the emergency.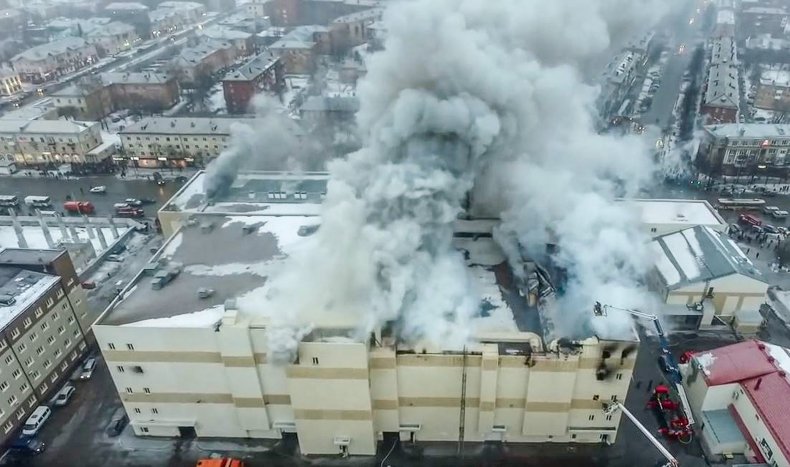 Local politician Anton Gorelkin has made allegations of lax adherence to safety procedures, stating that whatever the cause of the fire, it was the "absolutely faltering systems for fire signalling and extinguishing" that made it so deadly.
"A single extinguisher in working condition and placed in the needed place could have prevented all of this," he wrote in a Facebook post.
Calling the safety conditions into further question, none of the security guards hired by the mall were licensed members of a registered private security company, the trade union chief for private security firms told state news agency RIA Novosti.
Although the aftermath of the fire coincided with a deadline for many western states to announce political action against Russia after the nerve agent poisoning of a former Russian spy in the U.K., many leaders issued messages of support to the grieving families of those killed in the blaze.