Kids Lose It on Santa's Lap in Viral TikTok Viewed 14 Million Times, Sparking Debate
Many parents take their kids to sit on Santa's lap every year during the holidays, but sometimes it doesn't go as planned. A viral TikTok is gaining traction after two kids lost it while sitting on Santa's lap. Viewers have a lot of opinions about it with over 30,000 comments.
TikToker @johannaburesh shared a video of what is presumably her family as she and another adult, presumably the father, stood with the kids in front of a Santa Claus actor amidst a backdrop of a photography session for the holidays. They tried to comfort the kids as the boy cried and the girl tried to walk off, but she was stopped by her father, and she sat down looking upset as @johannaburesh tried to comfort her son who was still crying.
The father managed to wrangle the girl, and both kids were placed on Santa's lap as the parents moved away quickly. The boy immediately started to cry, while the girl also joined in. The girl even put her hands above her head, bringing them down and then screaming. However, the parents got their pictures. Dad appeared to walk back over when the video stopped.
According to an ongoing study conducted by the University of Exeter, affectionately known as the "Santa survey" or The Exeter Santa Survey, the average age that kids stopped believing in Santa was 8-years-old.
The viral video has over 14.8 million views so far with 3 million likes. As can be expected, people have a lot of opinions from playful reactions to more serious responses including about boundaries and trauma.
"Guarantee these kids asked to see Santa and then chickened out at the last second," a viewer said. "I remember doing that as a kid and now mine do too."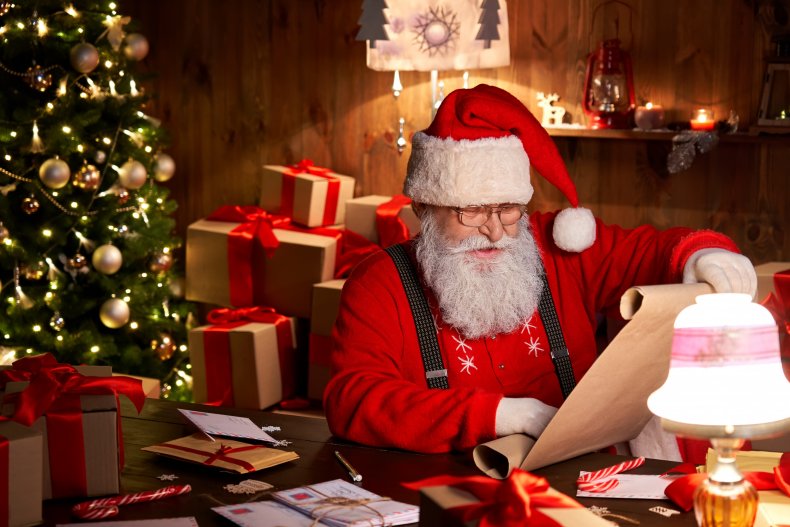 One TikToker mentioned the little girl's screaming moment with her arms. "She had to wind up her arms for that scream," they added.
"If you don't have a picture of your child screaming on Santa's lap, are you really even a parent?" another user commented.
A viewer had this to say about the situation: "Normalize pushing kids outside their comfort zone so they don't grow up terrified of the world and getting their way because life doesn't work like that."
However, some viewers didn't seem to appreciate the video showing the kids screaming on Santa's lap. "Bro I gotta say...It's weird we still force kids to sit on some old guy's lap every year," a commenter wrote. "Even when they say no."
Some people saw a serious side to the situation as well. "Normalize not making your kids scared for your entertainment!" one user said.
"Kids have boundaries too," a viewer wrote.
Other people had comments like, "When it comes to physical contact no means no. Your child's feelings matter."
"Trauma for Christmas, my favorite," said another.
TikToker @johannaburesh even shared the Christmas photo of her kids screaming on Santa's lap for everyone in another video. She also shared a picture of them from two years prior perfectly content on the same Santa's lap.