Kids' Parties, Letting Guard Down Played Role In COVID Spikes During Pandemic, Study Says
A new study suggests that people letting their guard down at kids' birthday parties played a role in COVID-19 spikes during the course of the pandemic.
Researchers from Harvard Medical School (HMS) and the RAND Corporation say that virus spread in counties with already high infection rates could have been accelerated by households that celebrated birthdays.
The study, published in JAMA Internal Medicine on Monday, collected data from health insurance claims across 2.9 million U.S. households between January 1 to November 8 of last year and matched the information with household birthdays.
In counties with high rates of COVID-19, the study showed that households with recent birthdays were 30 percent more likely to test positive for the virus within two weeks after the birthday, compared to households with no birthdays.
This trend was especially common among children's birthdays.
In households where a child's birthday occurred, there were 15.8 more positive coronavirus tests per 10,000 people than in households where one didn't occur. When adults had a birthday, there were 5.8 more positive tests.
"That suggests that households were more likely to gather for birthdays if a child in the house had a birthday," senior author Anupam Jena, the Ruth L. Newhouse Associate Professor of Health Care Policy at HMS, told Newsweek. "It could also be that there was less distancing and less mask-wearing around child birthdays as well."
Researchers noted that they did not count actual birthday parties but used birth dates of household members as a proxy for social gatherings and in-person festivities.
Nonetheless, they believe that these gatherings contributed to infections during COVID-19 peaks. People would typically let their guard down to gather with loved ones while feeling it was safe to be around those they know and trust.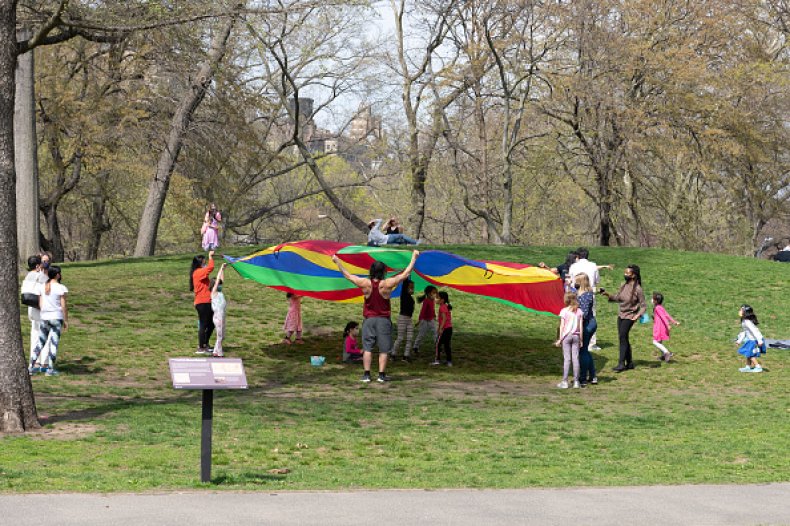 Jena said that while these gatherings are an important part of "the social fabric that holds together families and society as a whole," it could also come at the risk of COVID-19 exposure.
Co-author Christopher Whaley of the RAND Corporation added, "We were only able to examine a single kind of event that likely leads to social gatherings, but given the magnitude of the increased risk associated with having a birthday in the household, it's clear that informal gatherings of all kinds played a significant role in the spread of COVID-19."
The study also found that households in states with stay-at-home orders were just as likely to test positive after a birthday. Additionally, the correlation was equally as strong in Republican strongholds, areas that voted for former President Donald Trump in 2016, compared to Democrat ones.
"This latter finding suggests that those policies didn't dissuade gatherings from occurring and disease spreading in those instances," Jena wrote to Newsweek.
Most importantly, he said that the study showed the crucial role social gatherings played during the pandemic and warned that gathering with those we know and trust could still risk exposing us to COVID-19.
"Our results could help inform future measures," Jena said. "They do underscore the importance of understanding the types of activities that may worsen viral spread during a pandemic and can inform policy and individual decisions based on risk. The findings also quantify the potential risk of gathering with people that we know."