From Kidz Bop to 'Jingle Dogs': Internet's Worst Songs for a Coffee Shop
After a post had gone viral on social media, the internet has discussed what songs they would never want to hear in a coffee shop.
Taken to Reddit's "Antiwork" forum, a person under the username u/DaFunkJunkie shared a screenshot of a tweet that stated, "my boss denied me a raise before my shift today. what's some music you have never wanted to hear in a coffee shop?" The user captioned their post with "I like this energy."
For baristas, the average amount of money they make per hour in the United States is approximately $13, per Indeed.com.
With over 90,000 upvotes and 9,000 comments, Redditors discussed their answers in the comment section.
"Kids Bop versions of songs like 'WAP' where pretty much the whole song is censored and it's in an annoying kid's voice," u/breathofari received 5,000 upvotes for their comment.
"I was gonna recommend a specific kids bop song I hate but then I remembered I hate them all," u/villager47 replied.
U/wbrd also responded to the Kidz Bop comment, "My kids loved the kids bop version of 'Pain.' Then they discovered the Lil Wayne version."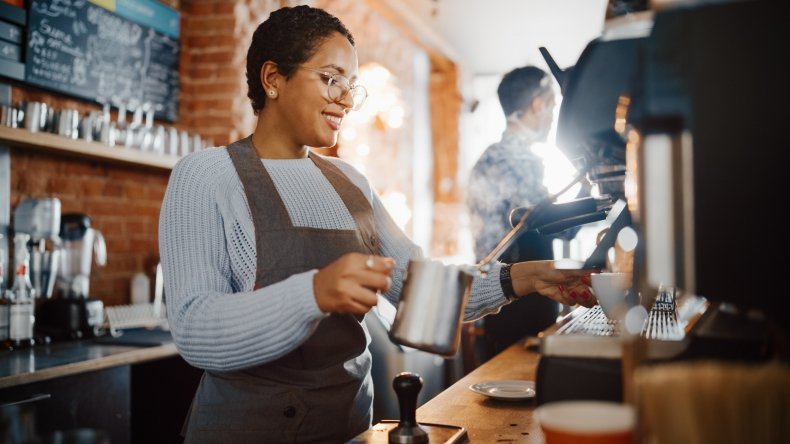 "Give that its the start of May, Christmas music," u/NonbinaryGaster wrote, receiving 10,000 upvotes on their comment.
"Christmas music, but one of those auto-tune cat/dog albums. So instead of jingle bells it's Meow meow meow Bark bark bark Meow meow bark bark WOOF," u/Daffodil_Peony_Rose said.
"Vintage chipmunk xmas music," u/traypo said.
U/Thatguy468 wrote: "I still have the password for the music program at a hotel I used to work at. The owners and management were so horrible that after I quit I would randomly switch it to the Xmas music channel on Friday nights."
"Two years later I ran into a girl that still worked there and when I told her she almost died laughing. Apparently no one could figure out why it was happening and never thought to change the login credentials. I really should check and see if that login info ever got changed," they continued.
"'Baby shark' on repeat," u/JericIV wrote.
"'Cotton Eyed Joe' on repeat," u/Templar388z
"Rage Against The Machine. All day. Loud," u/ScamLikely336 exclaimed.
U/AMay101 added, "Play cupcakke. LMAO watch how fast people leave from discomfort."
"Polka. Non-stop polka," u/mistersynthesizer added.
"Nickelback was made for this moment," u/bk15dcx said.
"Hollywood Undead, especially their older stuff," u/PsychoSquid wrote.
U/mokeshields808 shared, "'B**ch Better Have My Money by Rihanna.'"
"What's new pussycat from Tom Jones on repeat," u/thatoneguy88 said.
"With a single 'It's Not Unusual' tossed in the middle," u/jamie_x_passion replied.