HBO's Succession just made history.
In the weeks since the season 3 finale of HBO's Succession left 1.7 million viewers grasping for any bit of information hinting at who might be next in line as CEO of Waystar Royco, the buzz surrounding the drama has grown to epic proportions. Between analysis of the shocking, season-ending cliffhanger that aired on December 12, to conversations about lead actor Jeremy Strong's off-set clothing ensembles, Succession has ascended to the mainstream and could soon receive some historic hardware to show for it.
Yesterday, the nominations for the 28th Annual Screen Actors Guild Awards were revealed in an Instagram Live broadcast hosted by Vanessa Hudgens and Rosario Dawson. Succession, which received zero nominations following its first two seasons, received five this time around — one ensemble nomination and four for individual actors.
The cast of Succession received a nomination for "Outstanding Performance by an Ensemble in a Drama Series" and Sarah Snook, renowned for her performance as Shiv Roy (daughter to Roy family patriarch Logan Roy and potential heir to the fictional conglomerate's throne) was nominated for "Outstanding Performance by a Female Actor in a Drama Series."
Strong, Kieran Culkin, and Brian Cox all received recognition for their roles as Kendall Roy, Roman Roy and aforementioned patriarch, Logan Roy, all landing nominations for "Outstanding Performance by a Male Actor in a Drama Series" and SAG Awards history along the way.
According to Gold Derby, Succession is the first show to ever earn three nominations in the drama actor category in the same year. Strong and Cox, whose on-screen power struggle is the engine that drives the HBO series, finished in first and second place in Gold Derby's SAG Awards nominations predictor, but Culkin was less of a shoe-in.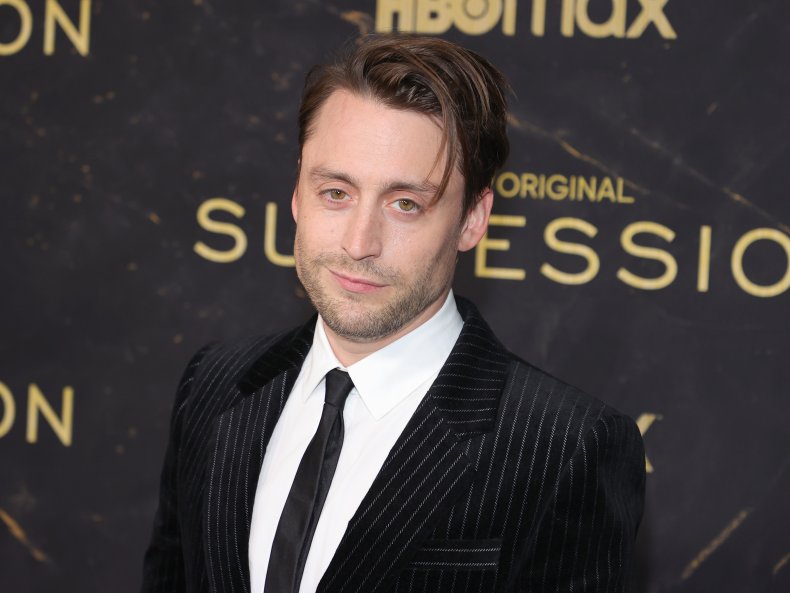 Narrowly edging out This Is Us star Sterling K. Brown for the fifth-and-final "Outstanding Actor by a Male Actor in a Drama Series" nomination, Culkin's performance throughout the show's third season was a subject of discussion, especially following his character's NSFW text message dilemma and his step onto the same level as his fictional father and brother.
In a recent interview with NPR, Culkin said that sometime after the first or second season, his role as the hot headed, foul mouthed Roystar Wayco chief operating officer cemented his love for acting as a profession.
"I can't remember if it was Season 1 or 2," he told NPR. "But I remember coming home from work one day and telling my wife, 'It's going really well ... I think I know what I want to do with my life. I think I want to be an actor.'"
Culkin, who touched on the "pretty nuts" level of attention his older brother and "Home Alone" actor MaCauly Culkin received as a child star throughout the 1990 and what it is like to work alongside Strong and Cox, said that although the decision to become an actor wasn't initially his, Succession rekindled his passion for acting, so much so that some of his character spills over into his role as a father of two.
Explaining that he has long been fond of the "F-word," Culkin said that he has to watch his mouth even more due to the sharp tongue of Roman Roy.
"I would say the F-word just slides out of me...That's always been a sort of natural word for me," Culkin told NPR. "But since doing the show, it's ever sentence, more or less. I'm trying to be careful now because my two-year-old daughter actually has become a mimic."
"That one's been tough," he added.
Whether Succession wins big at this year's Screen Actors Guild Awards is yet to be seen. Set to take place at The Barker Hanger in Santa Monica, California, the 28th annual awards show will be nationally simulcast on TNT and TBS on Sunday, February 27.
In the meantime, Culkin said he hopes Succession fans are satisfied with the show's third season, not to win awards, but because he wants the HBO drama to keep going.
"I kind of hope people like the show I'm on because I'm having such a good time doing it," the 39-year-old told NPR. "I want to keep doing it."