Kiev Bailed Out, With No Help From Fiscal Conservatives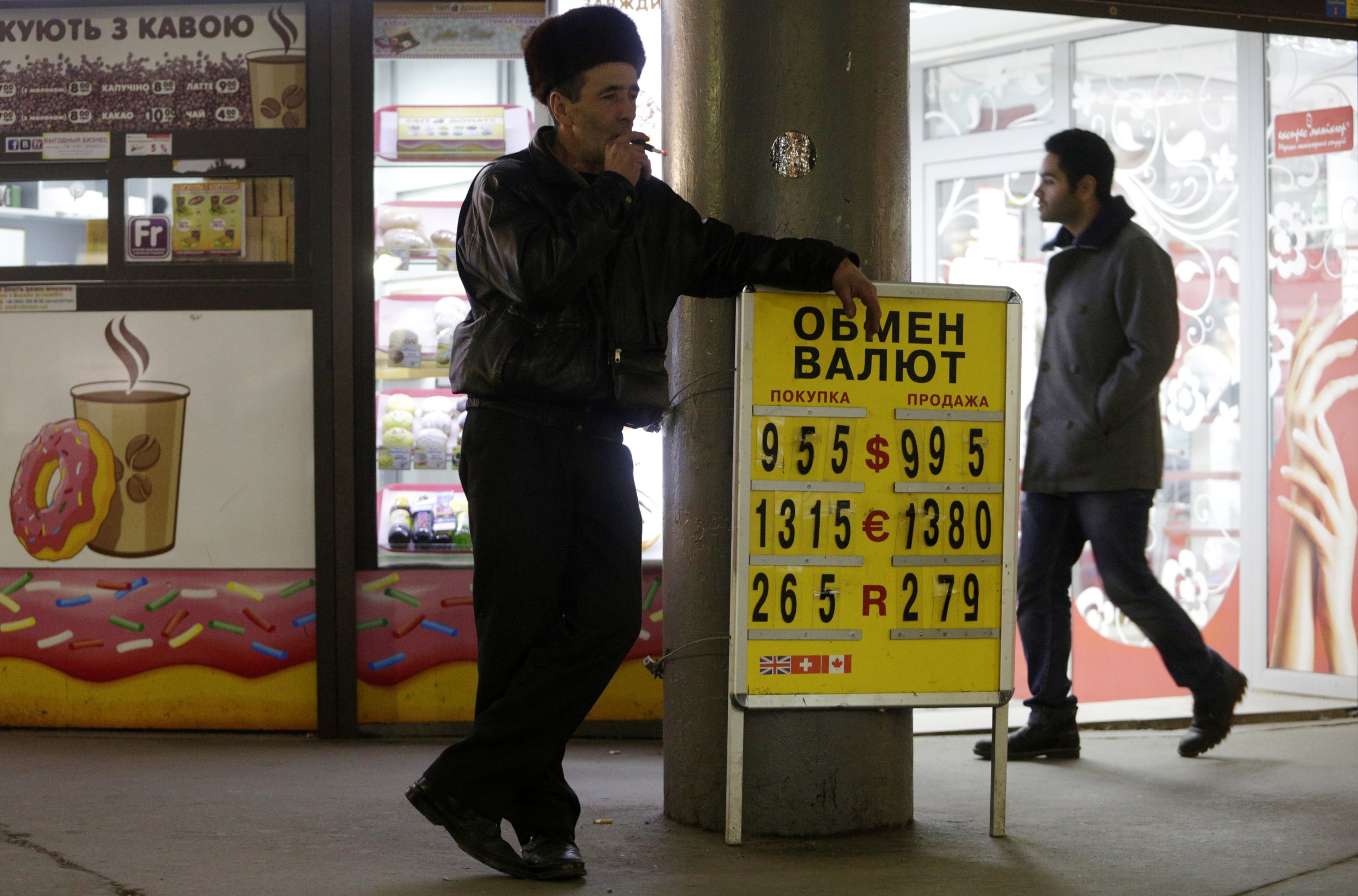 In a rare show of bipartisanship, the Senate and the House on Thursday passed aid packages for Ukraine that include both $1 billion in loan guarantees and additional sanctions on Russian officials and entities in response to Russia's annexation of Crimea.
The packages passed overwhelmingly in both chambers, by 399 to 19 in the House and by 98 to 2 in the Senate. The two bills are slightly different, but leaders in both Houses expect to have passed the same bill before long. President Obama has promised to sign it.
But for Democrats, the White House and many in the foreign policy and national security community, the vote was in many ways a lost opportunity.
Passage came only after the dropping of a controversial provision to approve a long-proposed restructuring of the International Monetary Fund (IMF), which provides loans to countries in need. The White House and Senate Democrats had hoped to include the reforms in the final package and an initial Senate bill included them.
The IMF reorganization plan was agreed upon in 2010 to help the IMF respond to crises after the financial meltdown of 2008. The reforms were intended to shift money from the Fund's emergency account into its general account, increasing the amount of money developing countries could borrow, including $6 billion more for Ukraine as the country struggles with insolvency. The member nations who administer the IMF have universally approved the reforms, with the United States alone in holding up reform.
When it became clear this week that the IMF issue was jeopardizing the entire aid package because the Republican-controlled House refused to pass the reforms, both parties agreed to move on without them.
House Speaker John Boehner, R-Ohio, told reporters the IMF reforms had "nothing to do with Ukraine." Republicans feel that the White House was trying to sneak in the reforms and they balked.
Rep. Mario Diaz-Balart, R-Florida, blamed the White House for bogging down the process of getting aid to Ukraine. "They tried to use something that is so urgent, so important, as a vehicle to do this," he said. "I think it was unfortunate."
Some Republicans have argued against the reforms as a distraction, while others fear the reforms would diminish U.S. influence at the IMF, even though the U.S. would retain its veto power over future actions.
But Republican qualms were not enough to prevent them using the reforms as a bargaining chip in exchange for the administration's promise to hold up a Treasury Department rule on Internal Revenue Service regulations of tax-exempt nonprofits, or 501(c)(4)s, that hide their donors by establishing them as "social welfare" organizations—a means of funneling anonymous money into GOP and Republican candidates' coffers.
Some Republican neo-conservatives were angry at the partisan maneuvering. "There are Republicans who care more about soft money than they do about the invasion of Ukraine," said Senator John McCain, R-Arizona, one of a handful of Senate Republicans who supported the Senate aid package complete with the IMF reforms.
McCain said the IMF issue "paled in significance to the importance of as quickly as possible [getting] a loan guarantee and the other sanctions to send a message to the Ukrainian people that we are with them."
Those in support of the reforms believe the White House was trying to use the bipartisan support for Ukraine to steam through a foreign policy priority that has eluded them for years.
"This has been a longstanding priority for the administration and what they have been waiting for is a window in which they could move this forward on an issue where there was obviously tremendous bipartisan consensus," said Julianne Smith, a senior fellow at the Center for a New American Security and former adviser to Vice President Biden. "Ukraine presented itself as that window."
"I think the administration thought, 'Well, we'll be able to work with some of the foreign policy giants [McCain and Senator Lindsey Graham, R-South Carolina,], everyone feels compelled to help Ukraine, we'll be able to slip this in and move it forward and we'll get this victory when we've been trying to have for years on end,'" Smith continued. "Alas, what they found is that folks wanted to politicize this and accuse the administration of trying to slip something new or different or unrelated to Ukraine."
"It's pretty devastating and it's unfortunate," Smith said.
With the IMF issue stalling progress on the aid package while Ukraine flirted with default, even some Democrats decided it was time to ditch the reforms -- at least for now.
"I think the Republicans in the House were absolutely wrong in not agreeing to take IMF reform up along with the Ukraine aid," said Representative Eliot Engel, D-New York, the top Democrat on the House Foreign Affairs Committee, who to speed the measure through Congress ultimately called for dropping the reforms.
"My fear was that if there was a prolonged stalemate, it could jeopardize the aid to Ukraine which we obviously need to show quickly that we stand behind them," he said.
The debate between Congress and the White House was playing out as the situation in Ukraine threatens to devolve into a larger crisis. Even with foreign aid, Ukraine's government could default. The country is estimated to need a cash infusion of around $35 billion, while current aid packages from the U.S., the European Union and the IMF total only up to $27 billion. If the Kiev government collapses, Ukraine's scheduled May emergency elections would be put at risk.
Civil strife in Ukraine could also spill into Poland and Western Europe, countries with which the United States has both economic and treaty ties. Meanwhile, Russian President Vladimir Putin has amassed troops on Ukraine's eastern border and many fear he will invade.
"It's very hard to calculate his next move," Smith said of Putin, saying that the takeover of Crimea seemed like an irrational move because it isolated Russia and brought about economic sanctions just when Putin was trying to show the world that Russia is ready to be a respected world power. Still, she says most foreign policy experts believe Putin won't move into eastern Ukraine, "in part because he understands what a basket case Ukraine actually is."
But it doesn't take a Russian invasion to unsettle the region and create more violence. NATO members like Poland and the Baltic states fear that they may be Putin's next land grab targets. The fear begets militarization, increasing the likelihood of conflict in the future.
This is a situation where "tensions and hostility get ratcheted up and the possibilities for violence increase and keep increasing," said Heather Hurlburt, a senior national security fellow at Human Rights First.
Supporters of the IMF reforms believe they will impact Ukraine and are part of the larger effort to make U.S. dollars go further while encouraging other nations to help shoulder the burden when it comes to providing assistance to beleaguered states around the world.
"You have a lot of people who are eager to line up and support Ukraine, who aren't eager to line up and support the institutional arrangements that would make that less expensive for the U.S. That would enable institutions to share the burden of supporting Ukraine," Hurlburt said.
The IMF reforms increase the amount of money the U.S. would provide to the IMF, but the Senate proposal had taken an additional $63 billion from an IMF supplementary fund so the U.S.'s financial commitment will not change. Hurlburt said the money, which is loaned to nations in need, are almost always repaid.
"If you're a foreign policy or national security expert, you're feeling disappointed over that missed opportunity, but I also think that if you're looking at what's best for Ukraine, you're understanding the urgency of helping them right away," Smith said.
"We've fought the IMF battle for a long time," she said. "We'll keep fighting it. The administration will look for another window. They're not going to give up."