Kiev Condemns Mystery Torching of Major Russian-language TV Channel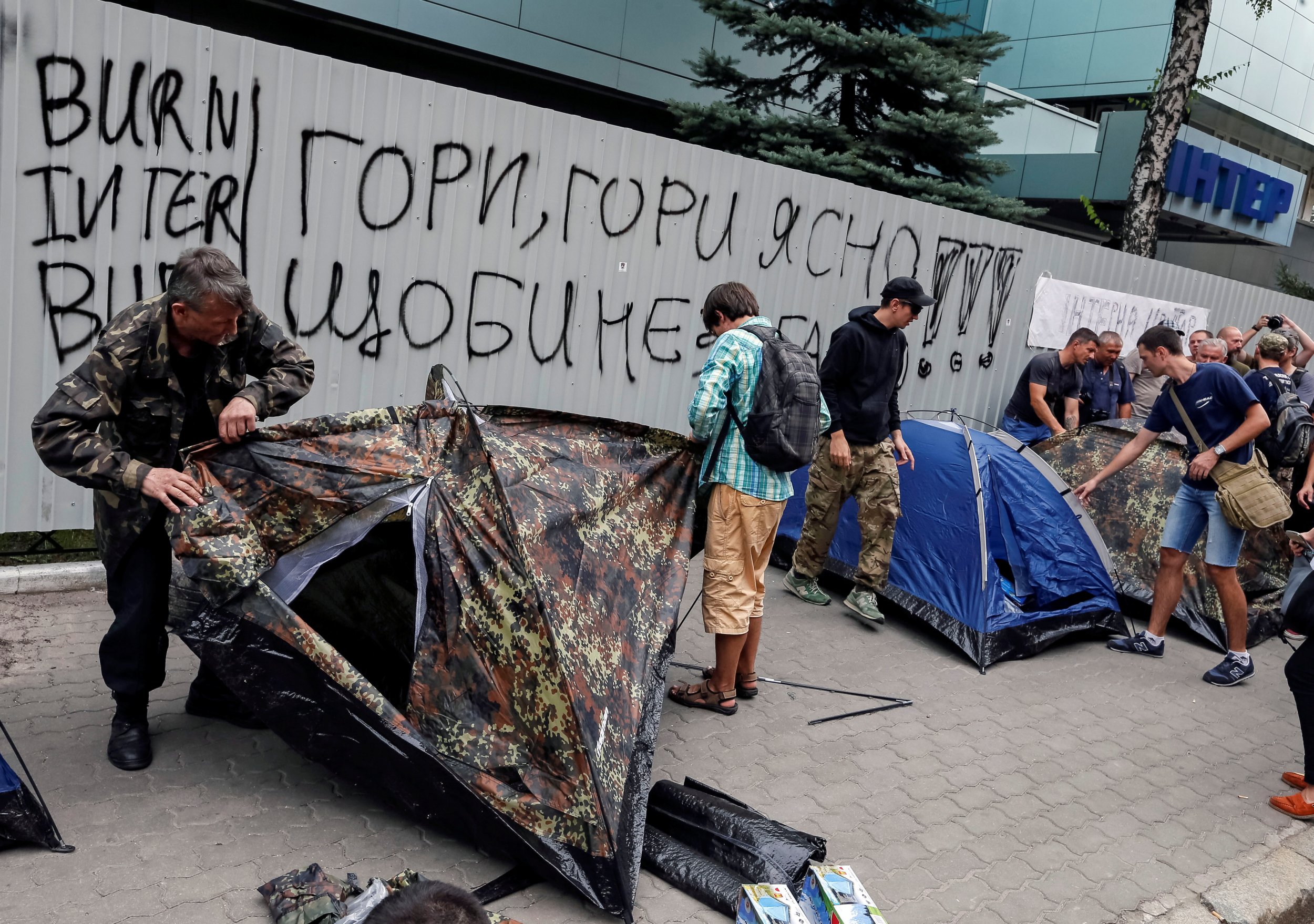 Ukraine's president and opposition leaders have condemned an arson attack by mysterious assailants on one of the country's largest Russian-language broadcasters.
The Kiev office of Ukraine's Inter TV channel, often described as the country's most popular channel, was besieged by a group of individuals on Sunday, who set the the office block on fire. The mob also set tires ablaze at the broadcaster's main entrance. The building has long been targeted by protesters due to its coverage of Crimea's annexation and conflict in east Ukraine.
Inter channel has been the scene of four previous attacks since 2014 due to its perceived pro-Kremlin leaning. Its 2014 New Year's programming, which was set to feature controversial Russian entertainers who had openly endorsed pro-Russian rebels in Ukraine's east is cited as an instance of its impartiality.
On Monday Ukraine's President Petro Poroshenko, who has sought to rein in ultranationalist militants as well as combat pro-Russian forces in Ukraine, described the arson attack as "unacceptable" and said the instigators were not true patriots.
Poroshenko said it was important to tackle any Russian attempts to influence Ukrainian public opinion through media but "the response to this must be a legal one."
"Ukrainian authorities are capable to ensure safety and order on the streets of Kiev and the rest of Ukraine," Poroshenko stated. "We will not allow an escalation of the violence under any circumstance."
Ukrainian Interior Minister Arsen Avakov told national news channel 1+1 that some of the protesters detained were ex-members of Ukraine's armed forces but it was unclear if they had participated in the arson attempt.
The Ministry of Interior issued a statement saying that Inter had refused to hand over CCTV footage of the arson to law enforcement officials.
Ex-Prime Minister and leader of pro-EU opposition party Batkivshchyna also condemned the attack and told members of her party state officials may have turned a blind eye to the attack deliberately.
"There is no doubt among anyone that behind what happened at TV channel Inter, are sufficiently well-placed people, otherwise nobody would have allowed this to happen," she said. "This is humiliating and destructive for Ukraine, because every investor in the world who sees what is happening to a crucial channel in the country and thinks about bringing their pennies here, they will not do so."
Protesters returned with camping equipment in front of Inter headquarters on Monday, where walls were spray-painted with the phrase: "Moscow agents".