Hawaii Kilauea Volcano Update: Lava Flowing Into New Residential Areas
Lava from the Kilauea volcano on Hawaii's Big Island has expanded its flow in residential areas known as Four Corners and Kapoho Beach Lots.
A Civil Defense message released on Thursday morning explained that Fissure 8, the eighth opening on the volcano, continues to be very active and is oozing fresh lava at Kapoho Beach and Four Corners. A USGS map showed the expansion to be east of Leilani Estates, a subdivision in the Puna District.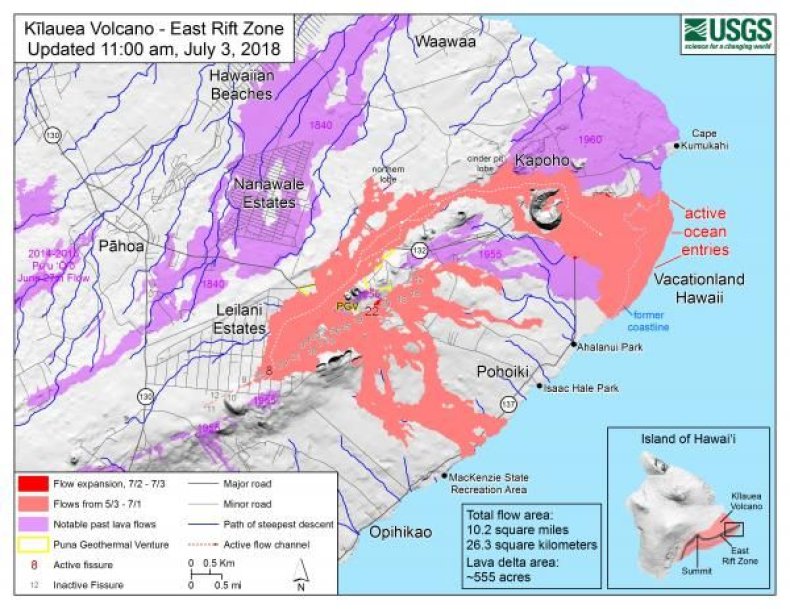 Residents were urged to stay away from the areas and to remain cognizant of the fact that other breakouts are possible on the active flow field. Along with an update about the Fissure 8 activity, the Civil Defense message provided information about disaster relief programs and encouraged people to reach out if they are in need of help.
The volcano has been erupting since May and over 600 homes, including Hawaii County Mayor Harry Kim's second home, have been destroyed.
"I have lost what I consider the most beautiful place in the world but my troubles are minor compared with people who are losing everything," Kim told the Express.
On Wednesday morning local time, a "seismic event" occurred near Kilauea's summit and the Pacific Tsunami Warning Center said in a statement that it was likely associated with a summit eruption. Despite registering at a magnitude of 5.4, the center alleviated the public's potential fear with a declaration that a tsunami was not expected to occur.
"No tsunami is expected. Repeat. No tsunami is expected," the statement said.
On Monday, the USGS posted a video on Twitter from June 30, showing a whirlwind above Fissure 8, which caused lava to be flung tens of feet.
Geologist Janet Babb told Newsweek that the rate which the lava is spreading laterally has slowed, but eruptions continue to take place unabated. Kim issued a mandatory evacuation order on May 31 and residents at the Kea'au Armory shelter recently sent Red Cross volunteer Carry "Doc" Morgan off with a handmade card.
"Aloha. You will be missed," the Red Cross shared the going-away card said. "To our friend, thanks for your understanding and having compassion for our needs. Mahalo."
Doc called the gesture a "genuine surprise" and commended the shelter's residents for continuing to smile and not pity themselves; despite the "harsh hand" they were dealt.
Along with humans losing their homes, the persistent flow of lava has also burned through the homes of local wildlife. The University of Hawaii at Hilo biology professor Patrick Hart predicted during an interview with Express that it could be a century before parts of a forest damaged by lava begin to grow again.
"There was no place like Kapoho in all of Hawaii. That entire habitat is gone now," ocean expert John Burns told Express and added that with regards to marine wildlife and coral, it's basically like starting from "day one."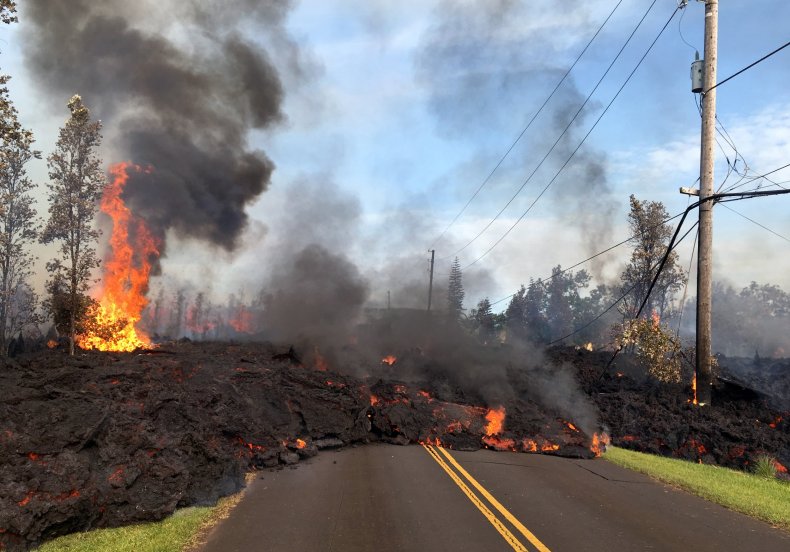 SaveSave
Hawaii Kilauea Volcano Update: Lava Flowing Into New Residential Areas | U.S.