Man's Leg Shattered By 'Lava Bomb' Spewed From Kilauea Volcano Stream
The first report of an eruption-related injury from the active Kilauea volcano on Hawaii occurred Saturday, when a homeowner's lower leg was "shattered" by what spatter geologists called a "lava bomb."
Dozens of properties have been destroyed and several roads closed as at least two separate lava flow paths crossed the island's Highway 137 near MacKenzie State Park and entered the ocean, the Hawaii County Civil Defense told the Honolulu Star-Advertiser. Lava continues to ooze from Kilauea and officials confirmed one injury in which a man standing on a third-floor balcony was struck by a brief blast from the nearby lava stream.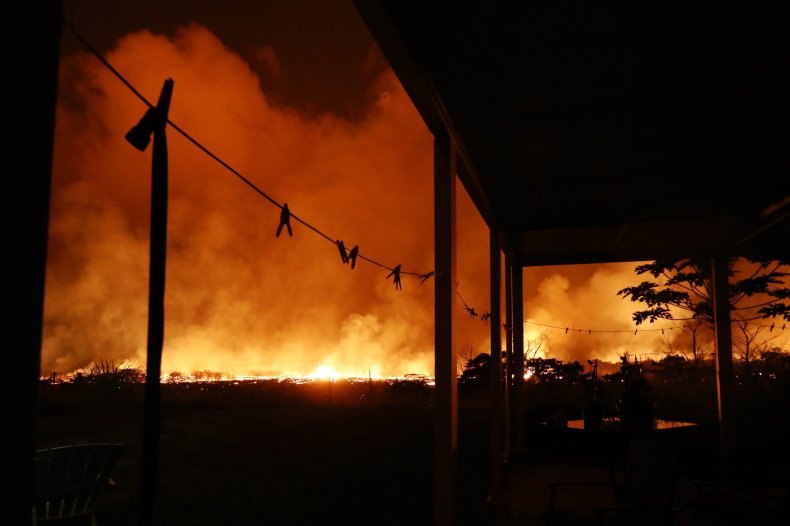 Hawaii Civil Defense Administrator Talmadge Magno told the Star-Advertiser that a homeowner in the town of Pahoa suffered an injury that was "quite bad" and the lower portion of his leg was "lava-bombed" while he sat on the porch of the residence. Magno did not release the name of the man residing in the Lanipuna Garden subdivision on Noni Farms Road, but Hawaii County Fire Department officials confirmed the incident to the Star-Advertiser.
Fire officialssaid "lava bombs" can weigh as much as a refrigerator and can be lethal in even small blasts of spatter.
The Office of the Mayor Harry Kim issued a press release confirming the incident and cautioned residents against remaining in the area. Civil Defense authorities issued several warnings about lava entering the ocean and creating a hydrochloric acid and steam composed of fine glass particles called "laze." This lava and haze mixture can cause severe lung, eye and skin irritation as well as making it harder to breathe.
At least 23 fissures have been discovered by the Hawaiian Volcano Observatory to have slowly spewed lava out onto the Lower Puna regions of the island. On Friday, lava began bursting onto the surface in a faster, more fluid form of lava called "pahoehoe."
The U.S. Geological Survey issued a statement Monday morning about another "small explosion occurred at 12:55 AM at Halema'uma'u crater" at the summit of Kilauea. It produced an ash plume that reached about 7,000 ft before being carried by wind to the southwest.