Kilauea Volcano Eruption: Dramatic Photos of Huge Ash Plumes and Lava Flows in Hawaii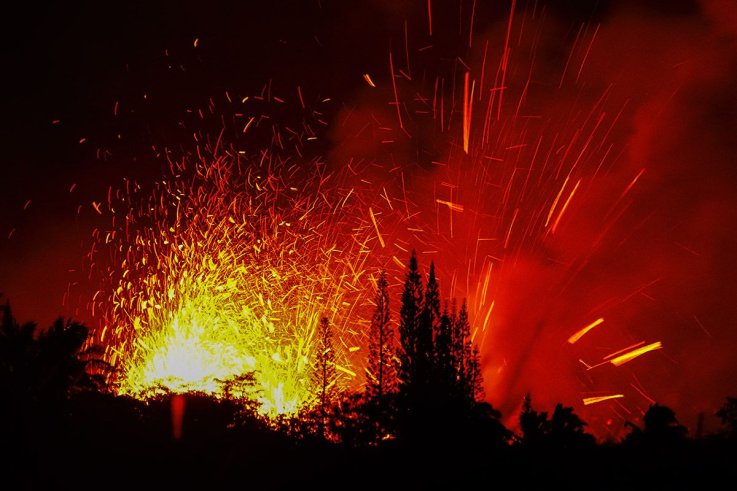 The latest dramatic photos of the eruption of Hawaii's Kilauea volcano show towering ash plumes and red hot lava flows advancing towards homes on Big Island.
Ash and volcanic smog—known as "vog"—rose to 12,000 feet above Kilauea's crater and floated southwest, showering cars on Highway 11 with gray dust and prompting an "unhealthy air" advisory in the community of Pahala, 18 miles from the summit.
Ash is a hazard for local residents already grappling with volcanic gas and lava that has destroyed 37 homes and other structures and forced the evacuation of about 2,000 residents.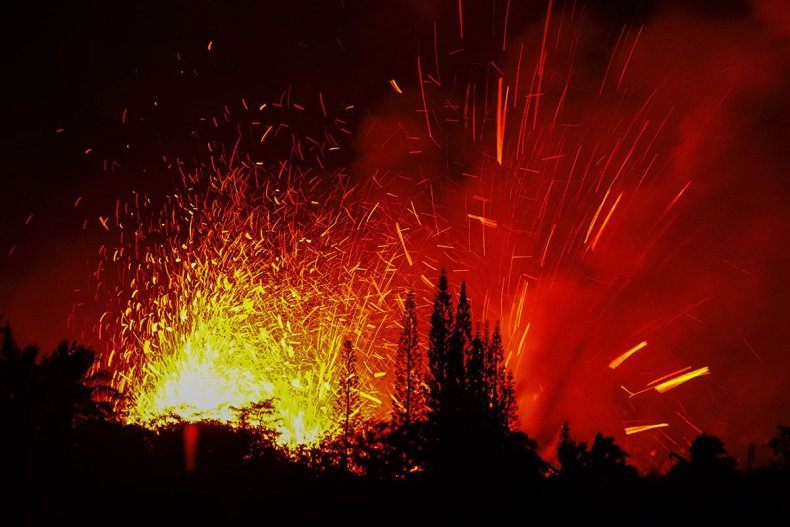 An aviation red alert means a volcanic eruption is under way that could spew ash along aircraft routes, the U.S. Geological Survey (USGS) said.
"We're observing more or less continuous emission of ash now with intermittent, more energetic ash bursts or plumes," Steve Brantley, a deputy scientist in charge at the Hawaiian Volcano Observatory (HVO), said on a conference call with reporters. The observatory warned the eruption could become more violent.
"At any time, activity may become more explosive, increasing the intensity of ash production and producing ballistic projectiles near the vent," the HVO said in a statement on the change in aviation alert level to red from orange.
The area taking the brunt of the eruption is about 25 miles (40 kilometers) down Kilauea's eastern flank, near the village of Pahoa. Lava has burst from the ground to tear through housing developments and farmland, threatening one of the last exit routes from coastal areas, state Highway 132.
The latest fissure in the earth opened on Tuesday (May 15), spewing lava and toxic gases that pushed air quality into "condition red" around Lanipuna Gardens and nearby farms, causing "choking and inability to breathe," the Hawaiian Volcano Observatory and Hawaii County Civil Defense said.
Road crews put metal plates over steaming cracks on nearby Highway 130 and reopened it to give coastal residents an escape route should a lava flow reach the ocean and block another road, Highway 137, Civil Defense said. No major injuries or deaths have been reported from the eruption.
A looming menace remains, the possibility of an "explosive eruption" of Kilauea, an event last seen in 1924. Pent-up steam could drive a 20,000-foot ash plume out of the crater and scatter debris over 12 miles, the USGS said. Click through this slideshow to see more dramatic images of the volcanic eruption.
—Reuters contributed to this report.