Kilauea Volcano Evacuations Map: Lava From Massive New Fissure Threatens More Homes
Two new fissures opened Sunday, spewing lava from the erupting Kilauea volcano in Hawaii and threatening nearby homes.
A first fissure opened on Sunday morning about half a mile south of Highway 132. Lava spread and loud explosions rocked a neighborhood near the Leilani Estates subdivision, the Associated Press reported, forcing the evacuation of local residents and two nearby community centers, which were offering shelter to people and pets.
According to aerial images seen by the U.S. Geological Survey Hawaiian Volcano Observatory, the fissure is 1,000 feet long. It produced spatter rising "many tens of feet into the air," USGS HVO Scientist-in-Charge Tina Neal said in a video statement Sunday morning. She advised residents to listen for updates from authorities, as "the situation remains dynamic."
A new fissure, the 18th recorded, opened on Sunday evening around 6 p.m. local time (12 a.m. EST) on private property between two other fissures. It released fumes and lava, the Hawaii County Civil Defense agency said.
Kilauea, one of the world's most active volcanoes, began erupting 10 days ago, destroying nearly 40 buildings and forcing the evacuation of some 2,000 residents.
"It is a near constant roar akin to a full-throttle 747 interspersed with deafening, earth-shattering explosions that hurtle 100-pound lava bombs 100 feet into the air," said resident Mark Clawson, who is so far refusing to evacuate, in describing the latest fissure to Reuters.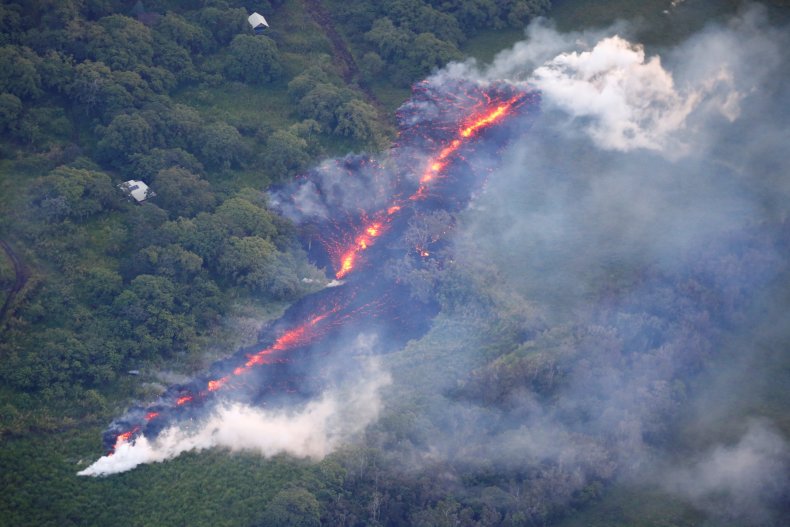 Authorities have advised residents in the coastal Lower Puna area to be ready to leave, although an evacuation order has not yet been issued. "We've been telling them, 'Evacuate if you can, because if we have to come in and get you, we'll be putting first responders at risk,'" Hawaii National Guard spokesman Jeff Hickman told reporters, according to Reuters. "There's a point where we'll tell our first responders, 'Nope, you can't go.'"
With data from the USGS, the map below offers an overview of the evacuation areas, fissures and lava flows.