Kilauea Volcano Lava Flow: Wells Capped at Power Plant that Locals Say Desecrates Goddess of Fire
Wells have been capped at a geothermal plant in Hawaii as moving lava from the Kilauea volcano eruption threatens the property.
Hawaii County Civil Defense's latest alert said that authorities were monitoring the situation at Puna Geothermal Venture. Earlier alerts said the volcano has already destroyed the project's former testing area next to the Puna site.
At a news conference reported by Hawaii News Now, Hawaii Emergency Management Administrator Thomas Travis said that the well field "is as safe as we can get the well field," adding that "the probability of anything happening if lava enters the well field is very, very low."Related: See the latest stunning photos of the eruption of Hawaii's Kilauea Volcano
After quenching and plugging, the wells "are stable at this point," Hawaii Governor David Ige said, according to the Associated Press.
In a Monday statement, Ige sought to quell concerns provoked by the eruption in the state's important tourism industry, saying that "travel is safe to the Hawaiian Islands."
"Our foremost concern is for the residents in the affected communities. They are receiving all available support from government agencies and officials to cope with the volcano activity and carry on with their lives as best as possible," Ige said.
"Visitors to Hawaii can be assured that the volcanic activity is having no effect whatsoever on the other islands, Oahu, Maui, Molokai, Lanai and Kauai. Visitors can book their trips comfortable in the knowledge that their vacation experience will provide all the enjoyment they expect when coming to our beautiful islands."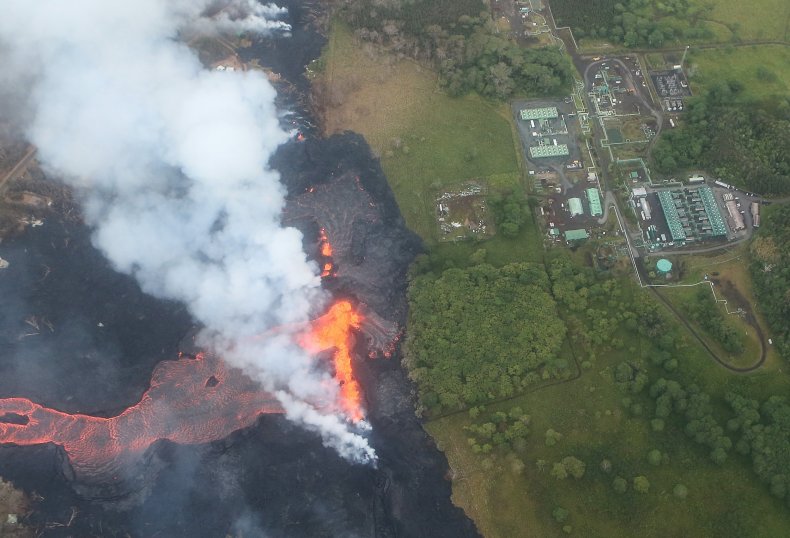 The Puna Geothermal Venture had long been contentious on the island, the Associated Press reported, with some native Hawaiians saying that it desecrated Kilauea, where the goddess of fire, Pele, is said to live."
We have a skilled contingent of scientists, geologists, meteorologists, and health experts whose work is being supported around the clock by emergency officials and law enforcement personnel from federal, state and county agencies," Gov. Ige said. "They are continuously scrutinizing the activity within Kīlauea volcano and providing clear, carefully thought-out advice with the purpose of keeping the public safe and informed."
The latest update from the U.S. Geological Survey's Hawaiian Volcano Observatory said that a "moderate-level eruption" of lava was continuing to flow from Kilauea. The eruption "is still evolving," the observatory said.